NEW YORK, NY.- Sotheby's 4 November auction of 19th Century European Art in New York will feature three works by the prominent Italian painter Giovanni Boldini. This offering comes just after the close of the important exhibition Giovanni Boldini in Impressionist Paris, which opened at the Palazzo dei Diamanti in Ferrara in 2009 and traveled to the Sterling and Francine Clark Art Institute in Williamstown, Massachusetts in early 2010. This exhibition represented the first major show of the artist's work outside of Europe, and an exciting opportunity for Americans to discover Boldini's impressive and varied oeuvre.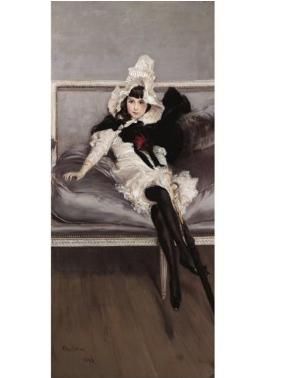 Giovanni Boldini, Portrait of Giovinetta Errazuriz. Signed Boldini and dated 1892 (lower left). Oil on canvas. 201.3 by 101 cm. Esti: $1,000,000 - 1,500,000. Photo: Sotheby's
Boldini's Portrait of Giovinetta Errazuriz was included in this major exhibition, traveling both to Ferrara and Williamstown (est. $1/1.5 million*). Boldini's compelling portrait of the ten-year-old Giovinetta demonstrates the artist's masterful ability to capture his sitters' distinctive personalities; his portraits of children, in particular, reveal of a level of individuality that was seldom accorded children in contemporary portraiture. Giovinetta slouches into the satin cushions, exposing an inch of thigh that caused a scandal when the painting was exhibited at the Venice Biennale in 1897. Perhaps the artist found it a fitting reference to the ambiguities subconsciously presented by Giovinetta herself, a child on the verge of womanhood. After leaving the artist's studio, the portrait entered the collection of Baron Maurice de Rothschild, legendary Boldini collector, and in 2005 it was included in a major Boldini exhibition in Padua and Rome.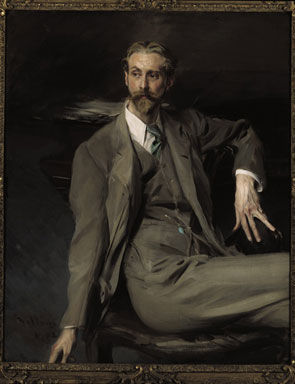 Giovanni Boldini, Portrait of the artist Lawrence Alexander ("Peter") Harrison. Signed Boldini and dated 1902. Oil on canvas, 126 x 101 cm. Est.: $ 1.000.000/1.500.000. Photo: Sotheby's
Portrait of the Artist Lawrence Alexander ("Peter") Harrison is among the most distinguished and sophisticated of Boldini's male portraits (est. $1/1.5 million). Boldini may have first met Peter Harrison through American artist John Singer Sargent, with whom Boldini was friends and whose portrait Boldini painted in 1889. The brilliant use of space creates the illusion that Harrison's imposing figure cannot be contained by the boundaries of the canvas. This portrait is one of Boldini's last paintings of an artist still in private hands. His portraits of Whistler, Degas, Helleu and Menzel reside in American and European museum collections.
Giovanni Boldini, Ladies of the First Empire. Signed Boldini and dated 75. Oil on panel, 33.3 x 27.3 cm. Est.: $ 400.000/600.000. Photo: Sotheby's.
Boldini's Ladies of the First Empire also boasts an illustrious provenance, having once been in the collection of William Henry Vanderbilt, and later the collection of his son, George Washington Vanderbilt II, creator of The Biltmore estate in North Carolina (est. $400/600,000). It is a charming example of Boldini's small-scale depictions of eighteenth-century ladies gracing the magnificent halls of Versailles. The elongated, sinuous form of the woman in pink is particularly compelling; Boldini even takes care to render the soft musculature of her back peeking above her off-the-shoulder gown. Ladies of the First Empire was also once in the collection of the Standard Oil heiress, Millicent Rogers.

The 4 November auction of 19th Century European Art offers 82 works with an overall pre-sale estimate of $20/30 million. The sale is timed to coincide with Sotheby's auction of Impressionist & Modern Art, and offers a full picture of the fine arts in Europe–in particular Paris–in the nineteenth century. In addition to two paintings by William Bougeureau and Alfred Stevens from the collection of actress Demi Moore, other highlights of the auction include The Finding of Moses, which stands as one of Sir Lawrence Alma-Tadema's greatest masterpieces (est. $3/5 million), two excellent Parisian scenes by Jean Béraud (est. $700,000/1M each), and numerous important works by influential Orientalist, Sporting, French, Spanish and Polish artists. The works will be on exhibition in New York beginning 29 October in advance of the sale.

*Estimates do not include buyer's premium