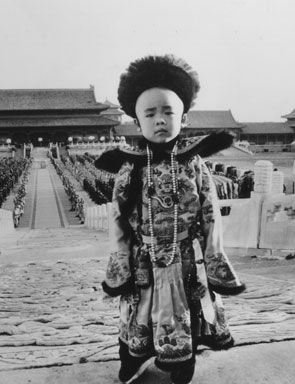 The Last Emperor. 1987. China/Italy/Great Britain/France. Pictured: Richard Vuu. Courtesy of The Museum of Modern Art.
NEW YORK, NY.- The Museum of Modern Art and Cinecittà Luce, Rome, present the cinematic oeuvre of Bernardo Bertolucci, with all new prints, December 15, 2010, through January 12, 2011. One of the most revered living masters of contemporary cinema, Bertolucci will be present to introduce the opening night screening of The Conformist (1970), a film that has deeply influenced American filmmakers as diverse as Martin Scorsese and Steven Spielberg. The retrospective will also present the US premiere of a rare documentary by the director, Oil (1967), which was restored by Eni and Cineteca Nazionale and re-discovered at the 2007 Venice Film Festival.

At the age of twenty-one, Bernardo Bertolucci debuted at the Venice Film Festival with his first film, La commare secca (The Grim Reaper) (1962); he has subsequently won every award and accolade there is to aspire to in the world of film. Tirelessly experimental in form and content, his films have enjoyed popular as well as critical acclaim. Renowned for pushing the boundaries and creating works for adventurous audiences, as with Partner (1968) starring Pierre Clémenti, his oeuvre also contains its share of popular Oscar-winning blockbusters, including The Last Emperor (1987), which garnered nine Oscars and starred John Lone, Joan Chen, and Peter O'Toole.

The 20 films within this comprehensive retrospective have been remastered by Cinecittà Luce, with sound and color correction overseen by several of the cinematographers who have worked with the director (Vittorio Storaro, Darius Khondji, and Fabio Cianchetti), and include such notable classics as Ultimo tango a Parigi (Last Tango in Paris) (1972), starring Marlon Brando and Maria Schneider; Novecento (1900) (1976) with Robert De Niro, Gérard Depardieu, and Donald Sutherland; The Sheltering Sky (1990) with Debra Winger, John Malkovich, and Campbell Scott; Little Buddha (1993) with Keanu Reeves, Bridget Fonda, and Chris Isaak; and Stealing Beauty (1996), with Liv Tyler, Sinéad Cusack, and Jeremy Irons.

Bertolucci has worked with many accomplished artists, including cinematographers Vittorio Storaro, Darius Khondji, and Fabio Cianchetti; writers Franco Arcalli and Mark Peploe; composers Georges Delerue, Ennio Morricone, and Alessio Vlad; production and costume designers Ferdinando Scarfiotti, Gitt Magrini, and Metka Kosak; and producers Giovanni Bertolucci, Alberto Grimaldi, and Jeremy Thomas, who have put their distinctive mark on the style and content of their collaborations. The same holds true for many of cinema's leading actors whose bold, indelible performances have graced Bertolucci's films throughout his career. However, the signifying element that unites the works and gives them the cinematic texture and depth that makes them Bertolucci originals is his ability as a director to create enormously passionate works in grand as well as smaller scale that successfully fuse the lyrical and the dramatic.

The exhibition is co-produced by the Department of Film of The Museum of Modern Art and Cinecittà Luce, Rome. It is organized by Jytte Jensen, Curator, Department of Film; Camilla Cormanni and Paola Ruggiero, Cinecittà Luce; and Alessandra Bracaglia.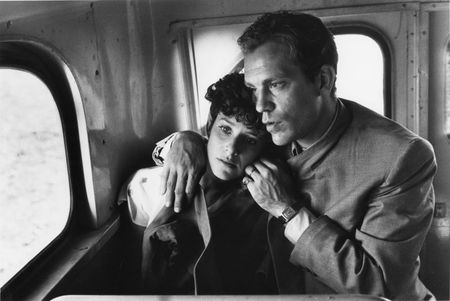 The Sheltering Sky. 1990. Great Britain/Italy. Pictured: Debra Winger, John Malkovich. Courtesy of The Museum of Modern Art.