06 novembre 2010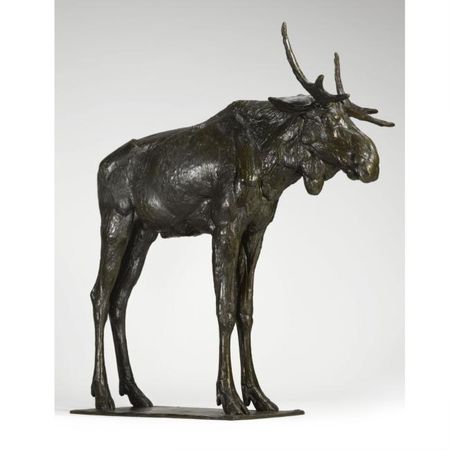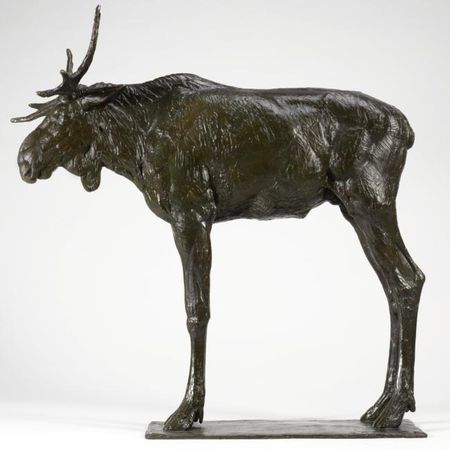 Rembrandt Bugatti (1884 - 1916), Grand Élan. photo courtesy Sotheby's
Bronze. Conceived circa 1913-14 and cast between 1913 and 1922. This bronze is unique. Inscribed with the signature R. Bugatti, stamped with the foundry mark A.A. Hébrard Cire Perdue and numbered 1; length: 29 1/2 in. (75 cm) - 750,000—1,000,000 USD
Lot Sold 1,202,500 USD
PROVENANCE: Ettore Bugatti (brother of the artist)
Private Collection, Europe
Sale: Hôtel Drouot, Paris, December 10, 1996, lot 26
The Sladmore Gallery, London (in 1998)
Private Collection, Switzerland
Lefevre Fine Art, London
Acquired from the above
EXHIBITED: Paris, Galerie A.A. Hébrard, Rembrandt Bugatti Rétrospective, 1922
Antwerp, Société royale de Zoologie, Rembrandt Bugatti Rétrospective, 1955
London, Sladmore Galleries, Rembrandt Bugatti - Twenty Bronze Sculptures, 1998
LITERATURE AND REFERENCES: Mark Harvey, The Bronzes of Rembrandt Bugatti, London, 1979, no. 84, illustrated p. 65 (titled Young Elk)
Philippe Dejean, Jacques Boulay, Nadine Coleno & Uwe Hucke, Carlo-Rembrandt-Ettore-Jean Bugatti, New York, 1982, illustrated p. 181 (titled Great Elk)
Jacques Chalom des Cordes & Véronique Fromanger des Cordes, Rembrandt Bugatti, Catalogue raisonné, Paris, 1987, illustrated p. 305
Edward Horswell, Rembrandt Bugatti, Life in Sculpture, London, 2004, illustrated pp. 204-205
Véronique Fromanger, Rembrandt Bugatti - Sculpteur, Répertoire Monographique, Paris, 2009, no. 306, illustrated p. 332
NOTE: The magnificent Grand Elan is the only bronze to have been cast from Bugatti's original plaster, now in the Musée d'Orsay, Paris. In earlier publications the animal was identified as an elk, but with its bulbous muzzle and thick gruff it is clearly a moose. Bugatti would have seen this animal, indigenous to North America, among those in captivity at the Zoo in Antwerp, where he sculpted his impressive menagerie throughout the decade prior to his death in 1916. One of the artist's last major works, Grand Elan was intended by the Hébrard foundry to be cast in an edition of ten, but only this unique bronze was made at the request of the artist's brother Ettore.
Edward Horswell has written the following about Grand Elan in his monograph on the artist: "As one of Bugatti's last sculptures, the emphasis is on the mood of the animal as opposed to an anatomical accuracy of attitude which he had mastered with earlier works. The young moose is portrayed with tremendous depth of feeling. His expression is fundamentally doleful, even melancholic, but is also tinged with quizzical bewilderment" (E. Horswell, op. cit., p. 203).
Sotheby's. Impressionist & Modern Art Evening Sale. 02 Nov 10 New York www.sothebys.com
Commentaires sur Rembrandt Bugatti (1884 - 1916), Grand Élan.