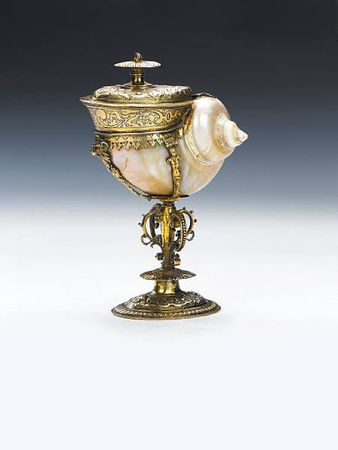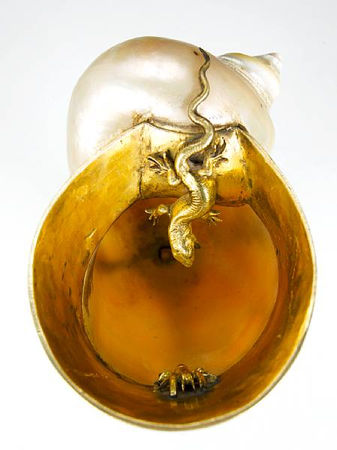 A late 16th-early 17th century Dutch silver-gilt mounted "turban" shell nautilus cup and associated cover © 2002-2010 Bonhams 1793 Ltd
Utrecht, date letter "K", possibly 1605, maker's mark three lozenges in a shield, for Eersten (Ernst) Jansz van Vianen, cover unmarked,
the interior upper band applied with a salamander having a protruding tongue and attempting to lure a lobster opposite, the outer band engraved/etched with trailing foliage and a pierced and engraved stiff leaf and arc border below, the shell is secured with three hinged straps, central strap with lion mask upper mount above two entwined dolphins, side mounts modelled as a caryatid above female mask motifs, central column with bead-capped scroll mounts, above an oval pierced and engraved flange, on an oval base embossed with winged cherub masks and fruit motifs within entwined scroll decoration on a matted ground, egg and dart border, the associated cover of ovoid form, central terminal (a.f), oval disc mount with engraved and drilled fluted decoration, embossed with foliate scrolls on a matted ground, plain outer rim, height including cover 19cm, without cover 15.5cm.Sold for £45,600 inclusive of Buyer's Premium

Note: For an example of the "K" mark see 'Goldschmiede Hessens Daten, Werke, Zeichen", Wolfgang Scheffler, Walter de Gruyter, Berlin, New York, 1976 edition, page 44, entry 78a, where it is noted on the frame of a late 16th century nautilus in the Neues Palais, Darmstadt.

For a mark similar to the three lozenge punch see 'Der Goldschmiede Merkzeichen', Marc Rosenberg, IV Band, page 414, entry 7712, where it is noted in the Utrecht section. It is tentatively ascribed to Eersten Jansz van Vianen who was working circa 1600 and was based in Haarlem.
Bonhams. Fine Silver, Gold boxes and Objects of Vertu, 3 Nov 2010 New Bond Street www.bonhams.com