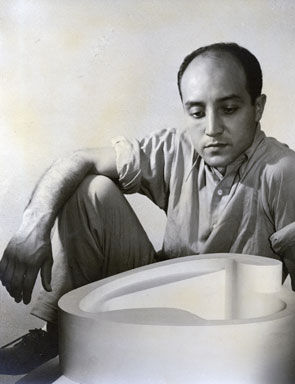 Isamu Noguchi with model for Josef von Sternberg pool, 1935.
LONG ISLAND CITY, NY.- This fall, The Noguchi Museum marks its twenty-fifth anniversary with an important exhibition that explores the relationship between Isamu Noguchi (1904–88) and some forty figures from the worlds of art, architecture, design, and theater. On view from November 17, 2010, through April 24, 2011, On Becoming an Artist: Isamu Noguchi and His Contemporaries, 1922–1960 will integrate artworks and documentary materials to examine Noguchi's relationships with figures such as artists Constantin Brancusi, Alexander Calder, Stuart Davis, Arshile Gorky, and Frida Kahlo; designer and inventor Buckminster Fuller; architects including Gordon Bunshaft, Louis Kahn, and Richard Neutra; and dancers and choreographers Martha Graham, Erick Hawkins, and Merce Cunningham, among many others both famous and less well-known. In so doing, it will provide a singular portrait of the art world at critical points during the twentieth century.

On Becoming an Artist has been organized for The Noguchi Museum by independent curator Amy Wolf in coordination with Museum Curator Bonnie Rychlak. Exhibition design is by South Side Design & Building.

Noguchi Museum Director Jenny Dixon notes, "In focusing on Noguchi's collaborations with a great diversity of creative individuals, as well as with institutions, On Becoming an Artist will illuminate Noguchi's truly protean creativity. At the same time, it will provide a view of modernism that includes both well-known figures and those who have been overlooked in traditional histories."

On Becoming an Artist is organized by discipline, moving from sculpture and painting to works for the theater, to furniture, and finally architecture. Within these sections, artworks, photographs, documentary materials, and ephemera will combine to provide salient portraits of Noguchi's seminal relationships with individuals, galleries, and other commercial enterprises, as well as of the periods in which they took place.

Sculpture and Painting
One of the most formative stages of Noguchi's artistic development was his 1927–28 sojourn in Paris, where the young sculptor worked for Brancusi and met a range of American expatriate artists. On Becoming an Artist will explore this period through such displays as an installation of work by Brancusi and Noguchi that demonstrates the impact of the older artist on his assistant; photographs and written materials that expand upon the relationship between the two men; photographs of Noguchi by Berenice Abbott, along with a portrait-head of Abbott by Noguchi; and a group of items devoted to Calder's Circus, including drawings for the project, a photograph of Calder performing the "circus," an invitation to an exhibition of the work, and other related documentary items.

Back in New York, Noguchi formed and renewed numerous close friendships, including with the artist Marion Greenwood, whom he had met in Paris and with whom he remained exceptionally close. In 1936, he traveled to Mexico City in order to join Greenwood in a mural project being directed by Diego Rivera. There, he befriended Frida Kahlo. On Becoming an Artist will portray Noguchi's relationships with Greenwood and Kahlo, as well as others in their orbit, through a range of items, including a drawing of Noguchi by Greenwood, Kahlo's painting The Suicide of Dorothy Hale (Hale was close friend of Noguchi), numerous expressive photographs— including several of Noguchi and Greenwood and a number of portraits of Kahlo—and a rich selection of letters and other documents.

Noguchi's New York friends and teachers constituted a broad and artistically diverse circle, from Arshile Gorky, to sculptor Ahron Ben-Shmuel, to Buckminster Fuller, to name but a few. He was particularly close with Gorky for a period of time and collaborated with him and the artist De Hirsch Margulies on the drawing Hitler Invades Poland, created on September 1, 1939, when the three men heard news of the invasion on the radio. It will be displayed alongside other drawings and photographs.

Theater
Noguchi's unusually close and sustained relationship with the legendary Martha Graham— lasting some four decades—is regarded by many as a high point in the history of modern dance theater. Set elements that he designed for Graham, including the
"Tent of Holofernes," from the dance Judith, and the rocking chair from Appalachian Spring, among others, will be displayed near photographs of the dances being performed. These will reveal the ways in which Noguchi's designs were at once integral to the dances for which they were made and independent works of art in which the artist pursued his sculptural interests.

Noguchi's first dance collaboration was with New York-based Japanese dancer and choreographer Michio Ito, who provided an important example for the younger artist of a Japanese-born performer whose craft had been refined and enhanced by European studies. The papier-mâché masks that Noguchi made in 1925 for Ito's Noh-inspired production of Yeats's "At The Hawk's Well" were the artist's first foray into theater.

Another early theatrical collaboration was with dancer Ruth Page, whom Noguchi met in the early 1930s. In 1932, he created the sack-like costumes for Page's modernist ballet Expanding Universe and the related aluminum sculpture for which she was the model. The sculpture (which Buckminster Fuller named Miss Expanding Universe), drawings for the costumes, and materials related to Noguchi's work for Page's dance The Bells (with music by Darius Milhaud) will be accompanied by drawings, letters, programs, and other materials that evoke this productive and inventive relationship.

Other theatrical partnerships to be examined by the exhibition include those with George Balanchine, Merce Cunningham/John Cage, and Erick Hawkins.

Design
Noguchi's ongoing—and prescient—integration of art and design resulted in some of the greatest and best-known design works of the twentieth century. From furniture to household items, these objects continue to inspire artists and designers worldwide.

Two of the artist's most productive relationships were with George Nelson, design director at Herman Miller Company, and Florence Knoll, of Knoll Associates. These companies not only enabled Noguchi's (and other artists') design work, but also helped to usher in an era in which "good design" became a prominent part of American popular culture. Herman Miller is perhaps best known as the purveyor of Noguchi's now ubiquitous 1947 coffee table, but the company also sold the artist's chess table, originally created for a 1944 exhibition at the Julien Levy Gallery; a dinette set; and his free-form couch and ottoman, while Knoll Associates produced the artist's three legged cylindrical lamp and his rocking stools, among other items. Several of these objects are included in the exhibition, along with photographs and advertisements that provide a vivid picture of the ways in which design of the era was promoted to the public.

Other significant relationships explored here include those with Jeanne Reynal, with whom Noguchi collaborated on a mosaic-and-plaster table, and Edison Price. The latter's lighting factory was the site of fertile collaborations between Noguchi and architect Shoji Sadao (later director of the Noguchi Foundation), and the place where Noguchi first explored the use of aluminum in sculpture and design.

Architecture
Noguchi's passionate belief that art should play a role in daily life led to collaborations with some of the leading architects of his day. These included Gordon Bunshaft, for whose buildings Noguchi designed various outdoor plazas and sculpture gardens. A range of materials related to projects for such buildings as Lever House and Chase Manhattan Bank, in New York City, and Yale University's Beinecke Rare Book and Manuscript Library, in New Haven, Connecticut, will illuminate this work and the relationship with Bunshaft.

In his "playscapes," Noguchi attempted to redefine the children's playground, moving away from the standard swing, slide, and climbing structure to an array of geometric shapes intended to be climbed upon, slid down, hid behind, and generally used as canvasses for the imagination. (Perhaps a bit too unconventional for government officials, only one of these, in Atlanta, Georgia, was built during his lifetime.) His final such design was a collaboration with Louis Kahn for the Adele Levy Memorial Playground, intended to occupy eight acres of New York City's Riverside Park. Rejected by the City government—after five redesigns—the playground will be represented in the exhibition through models, drawings, and photographs.

Other collaborations presented here include Noguchi's design for a swimming pool—a triumphant marriage of form and function— for film director Josef von Sternberg's Los Angeles house, by Richard Neutra; the brilliant Jardin Japonais at Marcel Breuer's UNESCO building, in Paris; and the unrealized Ghandi Memorial, planned for Delhi, among other projects undertaken with Edward Durell Stone.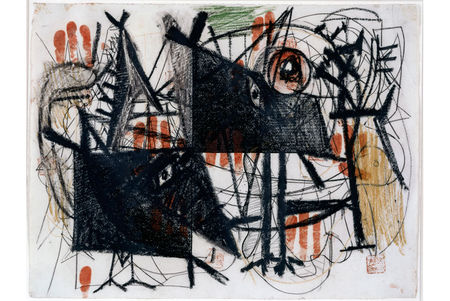 Isamu Noguchi, Arshile Gorky, & De Hirsh Margulies, Hitler Invades Poland, September 1, 1939.