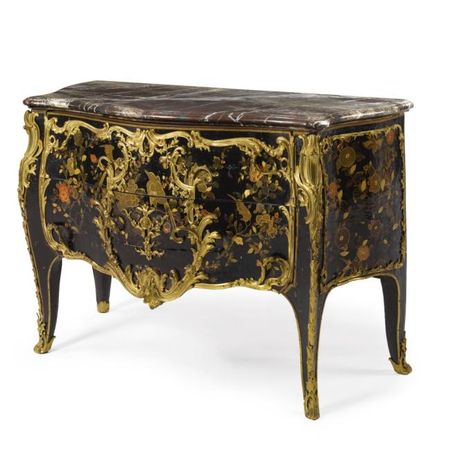 A Louis XV ormolu-mounted Chinese lacquer commode, attributed to N. Marchand, circa 1755. photo courtesy Sotheby's
86 cm; 128.5 cm; 59 cm. Est. 150,000—250,000 USD. Lot Sold 182,500 USD.
LITERATURE AND REFERENCES: Illustrated Life Magazine, August 9, 1954, p. 66.
NOTE: The attribution to Marchand rests on the distinctive ormolu mounts quite specific to this maker found on a small group of mainly royal commodes, in particular to the central cartouche. Nicolas Marchand, born circa 1697, was elected maître in around 1735 and retired in the 1760s. He supplied the royal household with a number of commodes through Gilles Joubert (1689-1775), who held the title of ébéniste du Roi. Four of Marchand's commodes were purchased by the Garde-Meuble de la Couronne in 1755: a pair for the bedchamber of the king at the château de Fontainebleau: Livré par le Sr. Joubert, du 11 septembre 1755 pour servir dans la Chambre du Roy au château de Fontainebleau - no. 2016 - Deux commodes de laque de la Chine fond noir à figures et fleurs du païs... The second, smaller pair, was delivered for the queen's bedchamber in the same palace: pour servir dans la chambre de la Reine audit château. [...] Deux commodes de laque de Chine [...] ayant par devant deux grands tiroirs. One of each pair, both stamped by Marchand, are now in the Wallace Collection (F 70 and F 88) and are mounted in a very similar fashion with foliate rinceaux framework occupying the slightly bombe front, see Peter Hughes, The Wallace Collection, Vol. 1., London, 1996, pp. 298-306. A further commode, apparently not royal, attributed to Marchand and decorated with these mounts was sold at Sotheby's New York, 1 November 1986, The Patiño Collection, lot. 96. The many similarities among the ormolu mounts used on these commodes suggest not only that these pieces were made at the same workshop but that Marchand was actively involved in the design and production process. In fact, Marchand is known for employing his own bronziers, such as Augustin Bonnière (maître-fondeur in 1755), a practice that brought him into conflict with the bronze-casters' guild in 1756.
Sotheby's. Important French Furniture, Ceramics and Carpets including Property from the Estate of Mrs. Robert Lehman, 18 Nov 10, New York www.sothebys.com