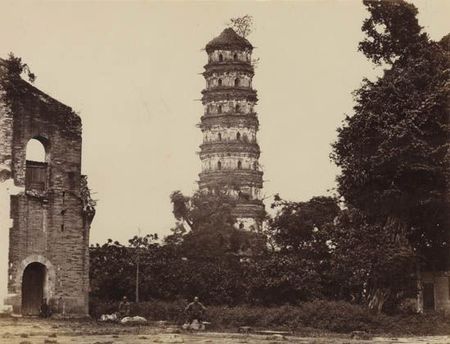 Select group of 13 historic photographs including one by Felice Beato and 4 by A. Fong, 1865-1870s courtesy of Swann Auction Galleries.
with views of ancient pagodas and temples, a woman with bound feet, picturesque scenes of Hong Kong, Kowloon, and Canton, 8 are uncredited scenes. Albumen prints, most are 8 1/2x 11 inches (21.5x27.9 cm.), mounted, many with handwritten or printed captions. Estimate $3,500-4,500

The illustration is titled "Flower Pagoda, Canton" (Circa 1865) and by Beato. There are 4 photographs of Canton by Fong, which were produced in the 1870s; each has a printed caption on mount recto: "Temple of Heaven" * Waterway and Bridge" * "Sun-Chew Temple" * "The Dutch Folly Fort." The remaining photographs include "Whampoo, Pagoda," "Street Scene," "A road in Kowloon," a fisherman, 4 women musicians, flower boat, a woman's bound feet, and 4 men in winter costumes.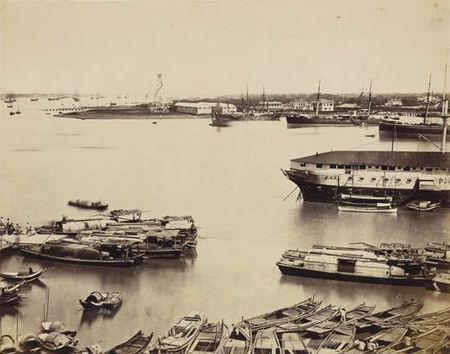 THOMSON, JOHN (1837-1921) "Iron-clad Gun boat, Hong Kong.". Circa 1870 ©courtesy of Swann Auction Galleries.
Albumen print, 8 1/2x10 1/4 inches (21x26 cm.), with notations, in pencil, in a contemporary hand, on mount recto. Estimate $1,200-1,800
Select group of 6 remarkable ethnographic studies of figures in India (2), Vietnam (1) and China (3), plus a hand-colored portrait of a Japanese empress. 1860s-1880s courtesy of Swann Auction Galleries.
Albumen prints, sizes range from approximately 4 1/4x6 to 9x12 inches (10.8x15.2 to 22.9x30.5 cm.), and the reverse, one with Samuel Bourne's credit and date in the negative. Estimate $600-900
Album containing more than 40 photographs. Late 1880s-early 1890s courtesy of Swann Auction Galleries.
that was apparently made by an American diplomat during his Asian travels, comprising 17 of Korea, 18 of China and 6 of Ceylon. Albumen prints, 4 1/4x7 1/4 inches (10.8x18.4 cm.), and smaller, many with handwritten captions, in English, below the photograph. Oblong 4to, gilt-lettered morocco, backstrip torn, edges worn; a few pages are loose/detached. Estimate $4,000-6,000

A "snapshot" album featuring rare photographs of Korea made by a talented photographer that includes: intimate studies of native people, pictures of the King and American legation at Seoul, views of women in elaborate costumes, scenics of temples and prehistoric sites, and a group portrait of a delegation. The photographs of China include views of Shanghai, a picture of a mandarin figure, a group portrait in a photographer's studio, and informal pictures of daily life. The images of Ceylon depict informal street scenes and lush landscapes.
Swann Galleries. PHOTOBOOKS & IMPORTANT PHOTOGRAPHS. Dec 09 2010 http://catalogue.swanngalleries.com