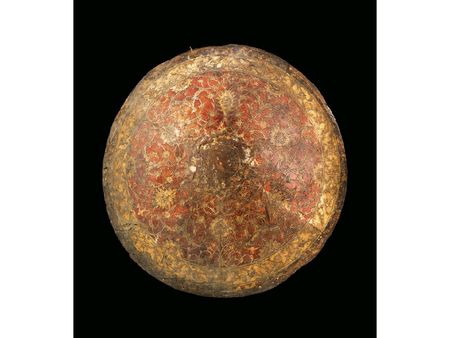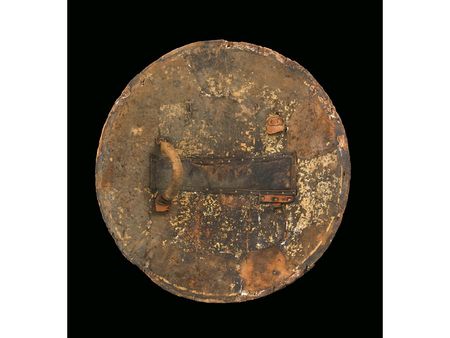 A fine and rare Venetian parade shield made for the bodyguard of Wolf Dietrich von Raitenau, Prince Archbishop of Salzburg, late16th century. photo Thomas Del Mar Ltd
of convex near circular form, constructed of two-ply wood covered with leather decorated on its front face, within an outer border of foliate chevrons and engrailing and an inner border of running foliage and flower-heads, with a pattern of foliate interlace and flowerheads all tooled and lacquered gold over silver, the ground of the main field additionally covered with translucent red lacquer, and the detail picked out throughout with red and green lacquer, the rear retaining traces of yellow-painted decoration, and fitted with a quilted leather arm-pad, a forward enarme and the remains of a rear enarme, the outer edge fitted with a screw and hook for suspension, (the leather covering showing some cracking and worm on both faces, as well as peripheral losses, the lacquering with areas of wear); 56.5cm; 22 1/4in wide - Estimate 8,000-12,000 €
This shield is one of a series made in the time of Wolf Dietrich von Raitenau, who ruled as Prince Archbishop of Salzburg, 1587-1612. An inventory of 1669, now in the archives of the Städtisches Museum, Salzburg, mentions 398 gilded and painted shields. Some seventy of these shields are still to be found in the Carolina-Augusteum Museum, Salzburg.
When Salzburg was occupied by the Bavarian troops in 1809 a number of these shields were transferred to the main Zeughaus at Munich, and sold from there after the First World War.
Other examples of this distinctive group of shields are to be found in the Metropolitan Museum of Art, New York (Acc. No. 29.158.586) the Philadelphia Museum of Art, the Art Institute, of Chicago, the Wallace Collection, London, the Historisches Museum, Dresden (Inv. No. N1), and Schloss Vaduz, Liechtenstein (cat. no. 871 & 881). Another was in the collection of Lord Astor of Hever (sold Sotheby's, London, 5 May 1983, Lot 29).
The fashion for Turkish-style arms is recorded in Europe as early as the middle years of the 16th Century. King Philip II had a 'Turkish' bodyguard for his entry into Milan in 1548. The influence of Turkish taste is evident in both the style and technique of decoration of the Salzburg shields which has its origins in Turkish bookbindings of the period. During the 16th Century Venice had its own leatherworkers guild and many bookbindings as well as helmets, shields and quivers were made in this manner.
For a contemporary discussion on the Venetian technique of varnishing and gilding see Leonardo Fioravanti, Compendio de' Secreti Nationali, Venice 1562 and Tommaso Garzoni, La Piazza universale di tutte le professioni del mondo, Nuovamente ristampata, posta in luce da Thomaso Garzoni da Bagnacauallo, con l'aggiunta d'alcune bellissime annotationi a discorso per discorso, Venice 1589. See E.J. Grube, 2007, pp. 231-251.
Related shields of this type, but not part of the Salzburg contract are preserved in the armoury of the Palazzo Ducale, Venice (See U. Franzoi 1990, pp. 82-3). Another, set with a late 15th Century besagew in the centre and perhaps related to a group in the Correr Museum, Venice, was sold Sotheby's, Milan, 14th October 2009, lot 1217, €17,500 (including premium).
Thomas Del Mar Ltd . Antique Arms, Armour & Militaria Sale. Wednesday 8th December 2010