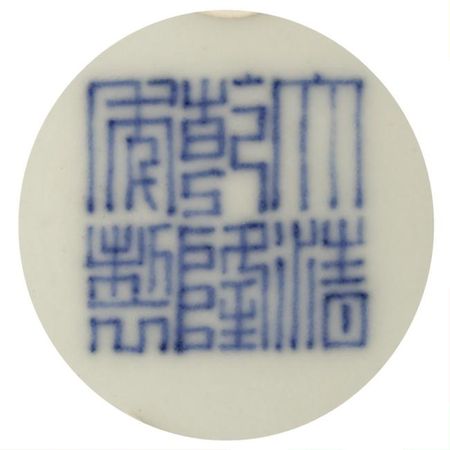 A blue and white vase, Hu. Qianlong Seal Mark And Period. photo Sotheby's
of archaistic hu form, well-painted in brilliant cobalt-blue tones with simulated 'heaping and piling', the baluster body encircled by two bands, the upper with continuous lotus scroll, the lower with a composite floral meander, all between slightly raised double-line borders, the shoulder set with animal mask and mock-ring handles, below the waisted flared neck decorated with ruyi-bordered stiff upright plantain leaves and a narrow wave band around the rim, the bottom register with a further wave band above a band of pendant petal panels encircling the high flared foot; 25 cm., 9 7/8 in.. Est. 60,000—80,000 GBP. Lot Sold 169,250 GBP
PROVENANCE: Marchant and Son, London.
Private Irish Collection.
NOTE: Vases of this type belong to a group of Qianlong blue and white wares with decoration adapted from fifteenth century designs but on a Chinese bronze shape 'alien to the fifteenth century' (see Julian Thompson, 'Decorative Motifs on Blue and White Porcelain in the S.C. Ko Collection', Chinese Porcelain. The S.C. Ko Tianlinlou Collection, pt. II, Hong Kong, 1987, p. 31.). A closely related example in the National Palace Museum, Taipei, is illustrated in Porcelain of the National Palace Museum. Blue and White Ware of the Ch'ing Dynasty, bk. II, Hong Kong, 1968, pl. 2; and another was sold in our Hong Kong rooms, 8th October 2008, lot 2566, and again at Christie's Hong Kong, 31st May 2010, lot 1904.
This type of vase remained popular and continued to be made throughout the Qing period; for example see a Daoguang vase included in Geng Baochang, Ming Qing ciqi jiandong, Hong Kong, 1993, pl. 510.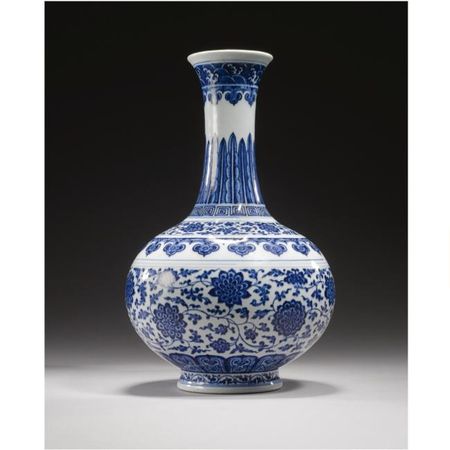 A Ming-style blue and white bottle vase. Qianlong Seal Mark And Period. photo Sotheby's
the globular body rising from a short spreading foot to a tall elegant waisted neck, moulded around the body with double filets and a further single filet at the stepped shoulder, finely painted in rich 'heaped and piled' cobalt-blue tones with a composite flower scroll band, all between lotus-lappet and classic scroll bands at the base and a ruyi band at the shoulder, the neck with stiff leaf and keyfret bands below a wave band at the rim; 36.8cm., 14 1/2 in. Est. 40,000—60,000 GBP. Lot Sold 157,250 GBP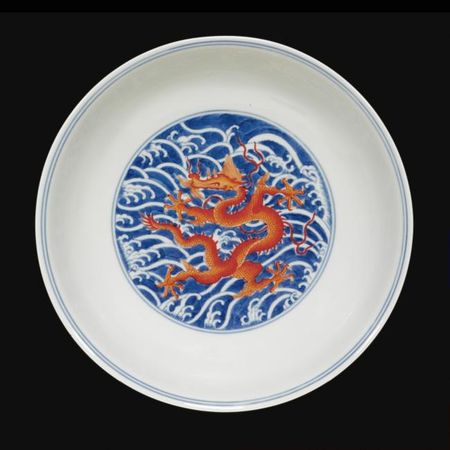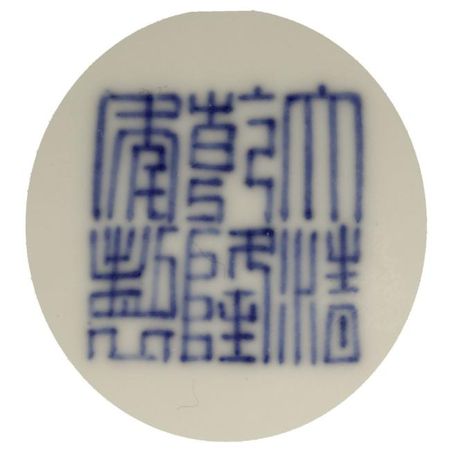 A fine blue and red 'Nine Dragon' Dish.Qianlong Seal Mark And Period. photo Sotheby's
the gently rounded sides rising from a short tapering foot to an everted rim, painted to the interior with a medallion enclosing a large iron-red scaly five-clawed dragon reserved on underglaze blue foaming waves, the exterior similarly painted with nine dragons on a wave ground below a floret and cloud band at the rim; 17.6cm., 7in. Est. 20,000—30,000 GBP. Lot Sold 27,500 GBP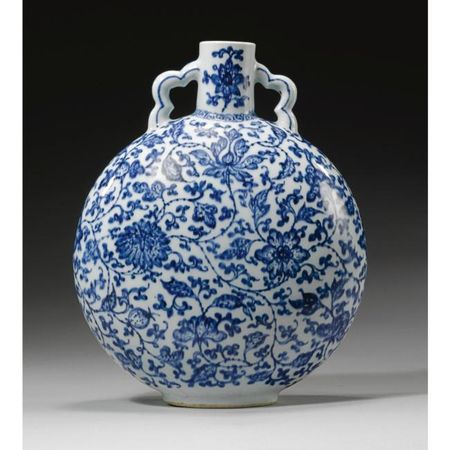 A small blue and white moon flask. Qing dynasty, Qianlong period. photo Sotheby's
the flattened globular body rising from a short tapering oval foot to a tall tapering cylindrical neck set with a pair of ruyi handles, painted in the Ming style in rich cobalt-blue tones with a leafy undulating composite floral scroll below a classic scroll collar, the neck with two simple floral sprays; 24cm., 9 1/2 in. Est. 6,000—8,000 GBP. Lot Sold 21,250 GBP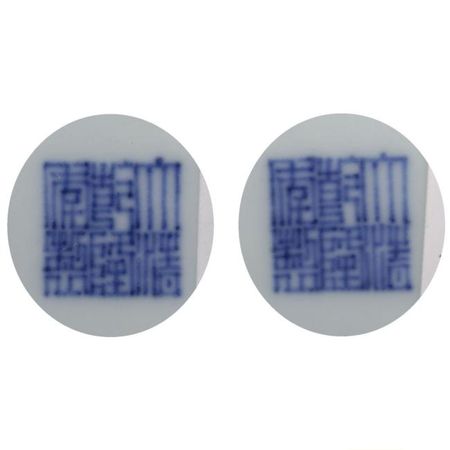 A pair of blue and white quatrelobe sweet meat dishes. Qianlong Seals Mark And Period. photo Sotheby's
the central recess painted with a single floret, bordered with four fan-shaped recesses with stylized lotus scroll, similarly painted to the underside (2); 12.5cm., 5 1/4 in. Est. 6,000—8,000 GBP. Lot Sold 21,250 GBP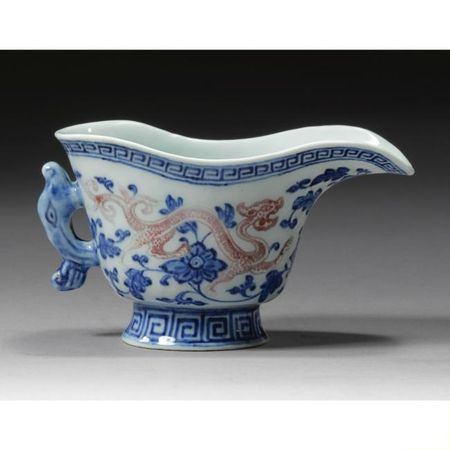 A rare small underglazed blue and red libationn vessel, Jue. Qing dynasty, Qianlong period. photo Sotheby's
the deep U-shaped body rising from a short spreading circular foot to a flaring rim forming a spout to one side and set to the other side with a dragon handle, painted to each side with a sinuous copper-red dragon amidst an underglaze cobalt-blue leafy floral scroll, all between key-fret bands at the rim and foot; 11.5cm., 4 1/2 in. Est. 3,000—5,000 GBP. Lot Sold 12,500 GBP
Sotheby's. Fine Chinese Ceramics and Works of Art, 10 Nov 10, London www.sothebys.com