Hans Holbein the Elder, »The Grey Passion, The Betrayal and Capture of Christ« (Detail), between 1494 and 1500, Staatsgalerie Stuttgart
Hans Holbein the Elder's "The Grey Passion" has undergone thorough and elaborate restoration and – in a unique and exclusive presentation in Stuttgart – is now on display within the context of the most superb works of the artists time. Among the artist's precursors, contemporaries and successors are such well-known masters as Martin Schongauer, Albrecht Dürer, the Master of 1477 and Hans Schäufelein, who are represented in the show with panel paintings and print series on the same theme. In juxtaposition with these superb loans, Holbein's idiosyncratic interpretation of Christ's Passion, his formally calm compositions and the intensity of his physiognomic characterizations stand out all the more vividly.
In a special exhibition the Staatsgalerie will devote itself to one of the central themes of Christian art: the Passion of Christ. Hans Holbein the Elder executed his The Grey Passion, a work consisting of altogether twelve panels, between 1494 and 1500. The Staatsgalerie succeeded in purchasing this major work by Holbein in 2003 with the help of a large-scale fundraising campaign. In preparation for the exhibition, the twelve panels are presently undergoing thorough restoration and in-depth examination.
An encounter replete with superlatives awaits the viewer. The exhibition will show Holbein's Passion of Christ series in the context of panel paintings and graphic series on the same theme by important predecessors and contemporaries of the artist such as Dirk Bouts, the Master of Frankfurt, Martin Schongauer, the Master AG, Israhel van Meckenem and others. Against this background, the compact emotionality and compositional coherence with which Holbein interpreted the history of Christ's sufferings will become apparent to a very special degree. With his formally calm compositions and his idealized figure of Christ, the painter was already anticipating a pictorial ideal of the Renaissance. Placing his confidence entirely in his own artistic possibilities, Holbein departed from traditional pictorial forms and avoided the drastic style of description which characterizes the Passion of Christ by many of his forerunners.
An aspect already alluded to in the title of The Grey Passion, the colouration of these works – unparalleled throughout European altar painting – is worthy of special attention. At the same time, it is to be understood in the context of fourteenth- to sixteenth-century depictions which relinquished the colour spectrum of the real world as a means of removing their subjects to an otherworldly realm. The artists whose example Hans Holbein the Elder followed in the area of grisaille painting – e.g. Jan van Eyck, Rogier van der Weyden, Hans Memling and their circles and successors – and those of his German contemporaries who experimented with monochrome palettes – among them Matthias Grünewald and Hans Baldung Grien – will also be represented in the show, by which means Holbein's own aims will become all the more distinct.
Hans Holbein the Elder, "The Grey Passion, Agony in the Garden", between 1494 and 1500, Staatsgalerie Stuttgart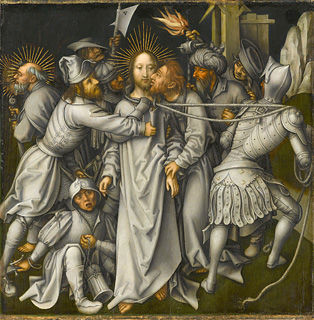 Hans Holbein the Elder, "The Grey Passion, The Arrest of Christ",between 1494 and 1500, Staatsgalerie Stuttgart
Hans Holbein the Elder, "The Grey Passion, The Flagellation of Christ",between 1494 and 1500, Staatsgalerie Stuttgart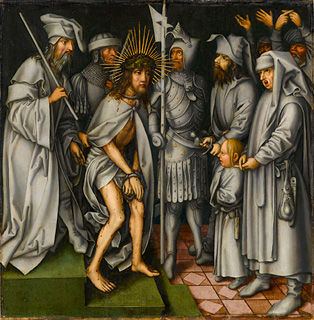 Hans Holbein the Elder, "The Grey Passion, Ecce Homo", between 1494 and 1500, Staatsgalerie Stuttgart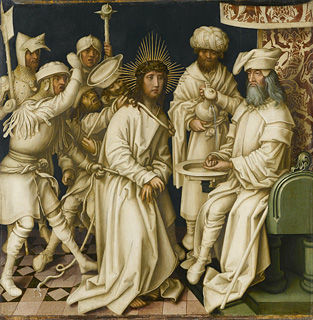 Hans Holbein the Elder, "The Grey Passion, Christ before Pilate", between 1494 and 1500, Staatsgalerie Stuttgart
Hans Holbein the Elder, "The Grey Passion of Christ, The Descent from the Cross",between 1494 and 1500, StaatsgalerieStuttgart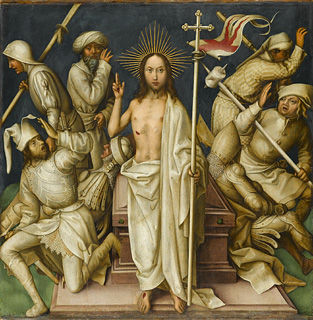 Hans Holbein the Elder, "The Grey Passion, The Resurrection", between 1494 and 1500, Staatsgalerie Stuttgart
Hans Holbein the Elder, (Workshop) "Study of Four Heads",about 1500, London, UCL Art Collections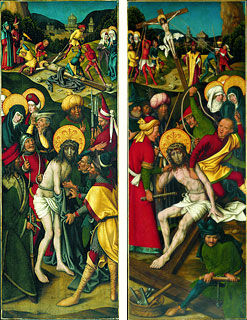 Sigmund Holbein, "The Nailing of Christ to the Cross, Christ stripped of his garements",about 1500, Montreal, The Montreal Museum of Fine Arts, Purchase, Horsley and Annie Townsend Bequest
Jan Van Eyck, "The Annunciation", between 1435-40, Madrid, Museo Thyssen-Bornemisza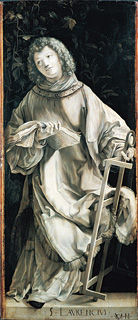 Matthias Grünewald, "St Lawrence",about 1509/1511 Frankfurt a. M., Städel Museum, loan of Historisches Museum
Dirk Bout (Follower), Triptych showing the Deposition from the cross, the Crucifixion and the Resurrection,about 1500, Valencia, Real Colegio Seminario de Corpus Christi, Museo del Patriarca