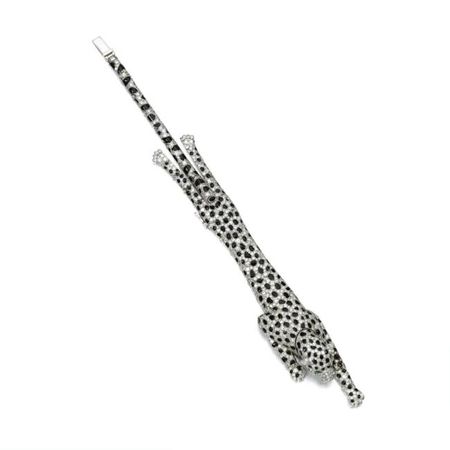 The onyx and diamond Panther bracelet, Cartier, Paris, 1952. photo Sotheby's
The articulated body designed to encircle the wrist and to assume a stalking attitude, pavé-set with brilliant- and single-cut diamonds and calibré-cut onyx, the eyes each set with a marquise-shaped emerald, wearing length approximately 165mm, total length approximately 195mm, signed Cartier, Paris and numbered, French assay and maker's marks; the bracelet divides in two places, under the head and in the centre of the back, the tongue-piece of the latter inscribed, Cartier, Paris; the clasp numbered, several small stones deficient. Est. 1,000,000—1,500,000 GBP. Lot Sold 4,521,250 GBP
EXHIBITED: Cartier & America, San Francisco, USA, 19th December 2009 - 9th May 2010, item 124, page 119.
Cartier, Goldsmith's Hall, London, 1988.
LITERATURE AND REFERENCES: Cf: Sotheby's, The Jewels of the Duchess of Windsor, Geneva, Thursday 2nd April 1987, Lot 57.
Cf: Suzy Menkes, The Windsor Style, London, 1987, chapter entitled Objects of Desire with details of several items in the jewellery collection of the Duchess of Windsor.
Cf: Hans Nadelhoffer, Cartier, London, 2007, pages 228-233 for examples of Cartier Cat jewels and the designers involved in creating them.
Cf: Stefano Papi & Alexandra Rhodes, Famous Jewelry Collectors, London, 1999, pages 114 – 129 regarding the Duchess of Windsor's jewellery collection.
Cf: David Bennett & Daniela Mascetti, Understanding Jewellery, London, 2003, page 396
NOTE: Cartier's celebrated 'Great Cat' jewels were inspired by Jeanne Toussaint, (1887-1978), whose association with the firm began in 1915. The cats are among her most famous animal jewels. Jeanne was an intimate companion of Louis Cartier, (1874-1942), by whom she was affectionately known as 'Pantherè'. She indulged her passion for the animal by scattering her apartment in Paris with animal skins and jewelled objects decorated with panthers. In 1933 she became responsible for the Haute-Joaillerie of the firm by Louis Cartier, and soon afterwards began conferring with the Duke of Windsor on many jewellery projects.
Jeanne Toussaint oversaw the whole panther range collaborating with the firm's designers, most notably Peter Lemarchand, (1906–1970). He established the panther silhouette in the 1940s and subsequently the appearance of lifelike panther and tiger jewels in every sort of pose. Lemarchand was very quick at putting his ideas onto paper. He would visit the zoo at Vincennes to draw the cats from life, studying their distinctive feline movement and physical structure.
The first three-dimensional panthère brooch made in the Cartier workshops was created for the Duke and Duchess of Windsor in 1948. It depicted a gold panther decorated with black enamel spots outstretched on a cabochon emerald, weighing 116.74 carats, which was from the Duke's own collection of stones, (Lot 55 from 2nd April 1987 auction at Sotheby's). Other well known owners of 'cat' jewels include Barbara Hutton, Princess Nina Aga Khan and Daisy Fellowes.
The Duchess of Windsor had several 'cat' jewels in her collection which began with the emerald brooch in 1948 and this particular area of her collection was continued to be added to over the next nearly twenty years. In 1949 the Duke purchased a panther clip with sapphire spots seated on a Kashmir cabochon sapphire weighing 152.35 carats. This particular onyx and diamond bracelet in the form of an outstretched panther was purchased from Cartier in December 1952; the sale is recorded unusually as being by the Duchess herself and not to their very good client S.A.R Le Duc de Windsor. The most striking thing about this piece is not only the realistic design but its supple highly articulated linking allowing it to move very elegantly; the matching brooch to this jewel was not purchased until 1966. Other cat jewels included an unusual pair of lorgnettes, the handle designed as a tiger with a raised paw which was purchased in 1954. A pair of Cartier tiger jewels set with onyx and fancy yellow diamonds in the form of a bracelet was acquired in 1956 and the matching clip in 1959.
Sotheby's. Exceptional Jewels and Precious Objects Formerly in the Collection of The Duchess of Windsor, 30 Nov 10, London www.sothebys.com