The emerald, ruby and diamond 20th anniversary brooch, mounted by Cartier, Paris, 1957. photo Sotheby's
Of heart-shaped design, applied to the centre with a monogram of the initials W and E set with calibré-cut emeralds, above the Roman numeral XX set with calibré-cut rubies, surmounted by a Royal Duke's coronet similarly set, to a background pavé-set with brilliant- and single-cut diamonds, measuring approximately 34mm x 38mm x 10mm, Cartier maker's mark and numbered, French assay marks. Est. 100,000—150,000 GBP. Lot Sold 205,250 GBP
LITERATURE AND REFERENCES: Cf: Sotheby's, The Jewels of the Duchess of Windsor, Geneva, Thursday 2nd April 1987, Lot 26.
Cf: Suzy Menkes, The Windsor Style, London, 1987, chapter entitled Objects of Desire with details of several items in the jewellery collection of the Duchess of Windsor including the Anniversary heart brooch.
Cf: Stefano Papi & Alexandra Rhodes, Famous Jewelry Collectors, London, 1999, pages 114 – 129 regarding the Duchess of Windsor's jewellery collection.
NOTE: This jewel was created in May 1957 by Cartier commissioned by the Duke to commemorate the Duke and Duchess of Windsor's Twentieth Wedding Anniversary. This jewel was composed of gems un-set from other pieces belonging to the Duke.
Throughout their time together the Duke and Duchess assembled a personal collection of jewels that were often very thoughtful, romantic and poignant to them. Her collection was composed mostly of modern and contemporary jewels by designers and houses including Suzanne Belperron, David Webb, Van Cleef & Arpels and Cartier. These jewels were often created specifically for the Duchess, sometimes using gems from the Duke's collection.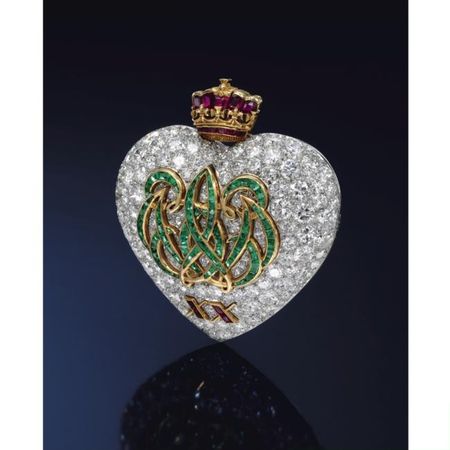 The emerald, ruby and diamond 20th anniversary brooch, mounted by Cartier, Paris, 1957. photo Sotheby's
Sotheby's. Exceptional Jewels and Precious Objects Formerly in the Collection of The Duchess of Windsor, 30 Nov 10, London www.sothebys.com