Sale of antiquities from The Collection of Clarence Day totals $ 36,769,250, four times the high estimate. Photo: Sotheby's.
NEW YORK, NY.- Tonight at Sotheby's, A Marble Portrait Bust of the Deified Antinous, Roman Imperial, Reign of Hadrian, Circa A.D. 130-138 sold for $23,826,500, many multiples of the high estimate (est. $2/3million).* The bust led the auction of Antiquities from the Collection of the Late Clarence Day, known as one of the finest private collections of Antiquities in the United States. The 'white glove' sale achieved a total of $36,769,250, far exceeding the high estimate (overall est. $5.7/8.6 million). Proceeds from the sale will benefit the charitable foundation established by Mr. Day.

The Marble Portrait Bust of the Deified Antinous is the only known Classical representation of Antinous, outside of his coin portraits, to be identified by an inscription. Auctioneer Hugh Hildesley opened the bidding at $900,000 and two clients in the room and one on the phone began to battle. The winning bidder, a European collector, entered the fray at $6.5 million and prevailed against the three existing bidders as well as another client who only joined the competition at $11.2 million. In all, it took more than eleven minutes for the lot to sell and when the hammer finally fell the room broke out in applause.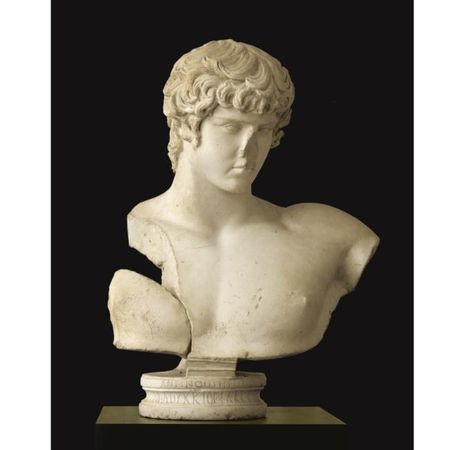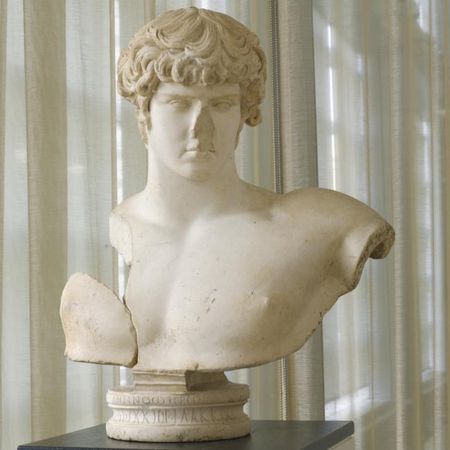 A Marble Portrait Bust of Antinous, Roman Imperial, reign of Hadrian, circa A.D. 130-138;
the deified youth turned to his left, his face with deep-set, almond-shaped eyes, straight brow, aquiline nose, and full lips, his luxuriant hair falling in cascading wavy locks, the molded circular base inscribed in Greek: "M. Lucius Flaccus (dedicated this) to the hero/god Antinous.". height 33 in. 83.7 cm. Estimate 2,000,000—3,000,000 USD. Lot Sold 23,826,500 USD.
PROVENANCE: found at ancient Banias (or Paneas), later Caesarea Philippi (modern-day Baniyas in the Golan Heights)
M. Pérétié, Chancellor of the French Consulate, Beirut, 1879-1882
Louis de Clercq, 1882-1901
Comte Henri de Boisgelin, 1901-1967
Nicholas Koutoulakis, Paris and Geneva
Robin Symes, London
London art market
Albrecht Neuhaus Kunsthandel, Würzburg, 1983
Jean-Luc Chalmin, December 1992
LITERATURE AND REFERENCES: Beaudoin et Pottier, "Collection de M. Péretié. Inscriptions," Bulletin de correspondance hellénique, vol. 3, 1879, p. 259, no. 2
Salomon Reinach, review of L. Dietrichson, Antinoos, Christiana, 1884, in Revue critique d'histoire et de littérature, vol. 19, 1885, p. 366
Wernecke, s.v. Antinoos, in Paulys Real-encylopedia der classischen Altertumswissenschaft, vol. 1, Stuttgart, 1894, col. 2441
André De Ridder, Catalogue de la collection de Clercq, vol. IV: Les marbres, les vases peints et les ivoires, Paris, 1906, p. 39, no. 35, pls. 15-17
P. Marconi, "Antinoo, saggio sull'arte dell' eta adrianea," Monumenti antichi. Reale Accademia dei Lincei, vol. 29, 1923, p. 208
René Mouterde, Inscriptions grecques et latines de la Syrie, 1929, pp. 50-51, no. 1300
Erich Holm, Das Bildnis des Antinous, diss., Leipzig, 1933, p. 26
Christoph W. Clairmont, Die Bildnisse des Antinous: Ein Beitrag zur Porträtplastik unter Kaiser Hadrian, 1966, p. 41
H. v. Heintze, Gnomon, vol. 43, 1971, p. 397
Veronika Krüse-Berdoldt, Kopienkritschen Untersuchungen, Göttingen, 1975, p. 63
Orangerie '83. Deutscher Kunsthandel im Schloss Charlottenburg, September 15th to 29th, 1983, p. 4, illus.
A. Stepken, Art Journal, 1983, fas. 9, p. 4, illus.
Burlington Magazine, September 1983, p. 580, fig. 58
Artis, vol. 35, 1983, p. 54
Die Weltkunst, vol. 53, 1983, p. 2188
Hugo Meyer, Antinoos. Die archäologischen Denkmäler unter Einbeziehung des numismatischen und epigraphischen Materials sowie der literarischen Nachrichten. Ein Beitrag zur Kunst- und Kulturgeschichte der hadrianisch-frühantoninischen Zeit, Munich, 1991, p. 99f., no. I 77, pl. 88
Antike Welt, vol. 29, 1998, p. 496, fig. 21
John Francis Wilson, Caesarea Philippi: Banias, the Lost City of Pan, 2004, p. 41
Caroline Vout, "Antinous, Archaeology and History," The Journal of Roman Studies, vol. 95, 2005
Thomas Maria Weber and Mathaf Dimashq, Sculptures from Roman Syria in the Syrian National Museum at Damascus, 2006, p. 51
Caroline Vout and Penelope Curtis, Antinous: The Face of the Antique, Leeds, 2006, p. 29, fig. 5
Caroline Vout, Power and Eroticism in Imperial Rome, Cambridge, 2007, p. 77, fig. 23
Arachne, nos. 36040 and 56099
NOTE: The present bust is the only known Classical representation of Antinous, outside of his coin portraits, to be identified by an inscription.
Sometime within the decade following the tragic death of Hadrian's favorite Antinous in A.D. 130, a local military figure or magistrate of Syria, Marcus Lucius Flaccus (himself a descendant of one of the most prominent patrician families of Rome, the Gens Valeria) acted as a public benefactor of the city of Banias by acquiring for her a finely carved and polished portrait bust of Antinous. The youth was represented larger than lifesize in the heroic nude, in the guise of the Greek hero or god into which Hadrian had turned him by Imperial decree immediately upon his death in A.D. 130. Flaccus then had a inscription carved on the socle of the bust in which he dedicated the sculpture for public display to the "hero Antinous," thus acknowledging the quasi-divine status of the youth.
Other highlights included A Green Porphyry Figure of an Egyptian Royal Sphinx, Roman Imperial, Circa 1st Century A.D, which sold for $5,234,500 after a contest between five bidders (est. $800,000/1.2 million). The piece is a direct Roman emulation, or replica, of a specific ancient Egyptian sphinx of the New Kingdom that was excavated in the 1850s.
Clarence Day
Clarence Day will be remembered as a devoted philanthropist. An obituary in the Memphis Commercial Appeal mentioned a number of organizations that had received gifts from Mr. Day and The Day Foundation, including the Mayo Clinic Foundation, St. Mary's School, the Memphis Symphony Orchestra, The Early Childhood Institute at Mississippi State University, Boy Scouts, and Rhodes College. Another beneficiary of The Day Foundation is Youth Villages, a Memphis-based charity committed to children's behavioral and mental health. Mr. Day was also a patron of the arts, his most notable donation being his gift in 1989 of 60 pieces of Greek, Roman, Iranian, Egyptian, Etruscan and Byzantine antiquities to the Memphis Brooks Museum of Art.

*Estimates do not include buyer's premium