o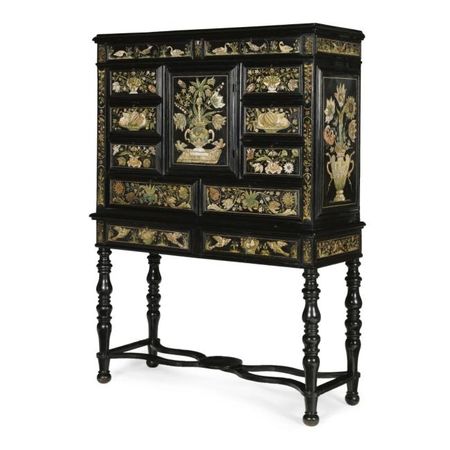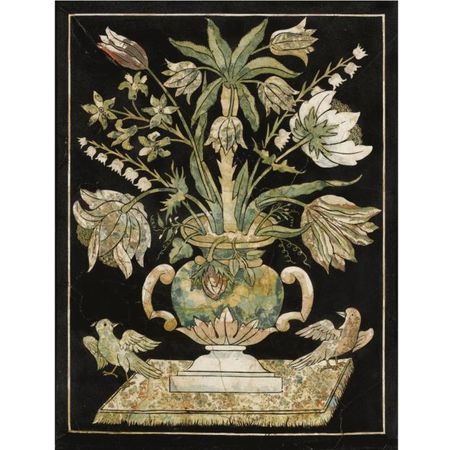 A scagliola mounted ebony veneered and ebonised cabinet, the scagliola panels attributed to Baldassare Artima. Charles II, circa 1670. photo Sotheby's
with two drawers above a door decorated with a vase of flowers flanked by a bird on a fringed textile enclosing a recess and a drawer flanked on either side by three short drawers above two long drawers the stand with two further frieze drawers, the panels decorated with vases of flowers bowls of fruit, butterflies and birds, and swans, each side with a vase of flowers with serpent handles, the stand with two drawers, on later ebonised turned legs joined by an x-form stretcher centred by a roundel; restorations; 165cm. high., 121.5cm. wide, 45cm. deep; 5ft. 5in., 3ft. 11¾in., 1ft. 5¾in. Estimate 70,000—100,000 GBP. Lot sold 85,250 GBP
NOTE: The scagliola panels on this cabinet are almost certainly the work of Baldassare Artima, an immigrant Italian craftsman working in England between 1670 and c.1686. He was one of two Italians enrolled as 'scene-keepers' in the King's Company of players in July 1670, the other being Diacinto Corcy. When the King's playhouse was destroyed by fire in January 1672 both men had to seek new employment. Artima remained in London where he found work with wealthy patrons such as the Duchess of Lauderdale. In June 1672 Artima installed the scagliola chimneypiece in the Queen's Closet at Ham House, and the payment for this work is recorded in the Tollemache archives at Buckminster House, Dorset. In the late 1670s Artima was in the employ of Sir John Williams, whose house at 14 St James Square was remodelled under his supervision. About this time he also installed a scagliola chimneypiece in the Queen's private apartments in St James's Palace. Corcy, meanwhile, went to Suffolk, where he worked around Bury St Edmunds as an itinerant craftsman. The scagliola funerary monuments at Hawstead, Mildenhall and Westhorpe churches are his work.
Recent research has linked the Ham chimneypiece to a distinctive group of scagliola furniture, of which this cabinet is the most recent discovery. Other pieces include the 'Warwick' table in the Victoria and Albert Museum; a table, stands and looking-glass made for the 2nd Earl of Peterborough at Drayton House; a further table in a private collection; a looking-glass sold in these rooms on 6th July 2010, lot 1; and a spectacular cabinet on stand currently on loan to the National Trust at Ham. All these pieces share similarities in style, subject matter and technique which suggest the work of a single artisan – Baldassare Artima. The present cabinet also shares elements of carcase and drawer construction with the one on loan to Ham which suggest the same cabinet-maker's shop may have been responsible for both.
The work of Baldassare Artima is the subject of a paper to be published in Ham 400: 1610-2010, a book of essays in celebration of the 400th anniversary of the building of Ham House (Yale University Press, forthcoming 2011).
We are grateful to Adam Bowett for his help in supplying the above footnote.
Sotheby's. Important Furniture, Silver and Ceramics. 07 Dec 10. London www.sothebys.com