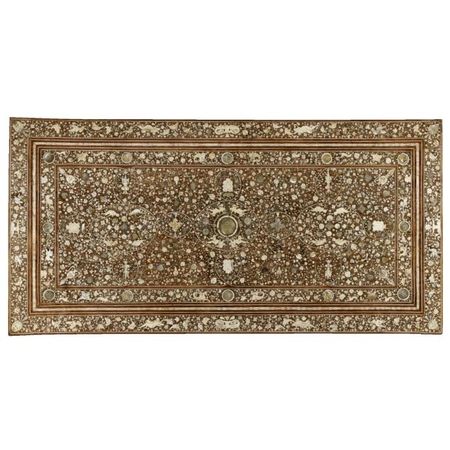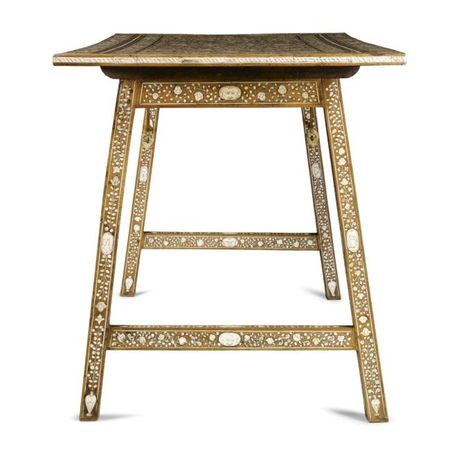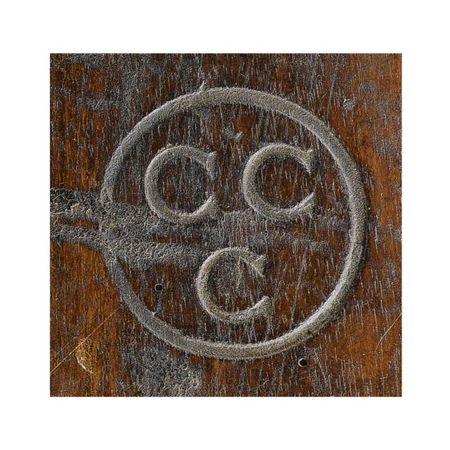 An Italian mother-of-pearl, horn and green stained horn inlaid walnut centre table, Venetian, circa 1604. photo Sotheby's
with a rectangular top centred by a roundel with a lion mask the whole profusely inlaid with strapwork containing vases of flowers, grotesques, profile medallions, masks, birds, flowers, scrolling foliage and the coat-of-arms of the Conti family, on hinged folding trestle supports joined by gilt wrought iron stretchers, the underside with the incised mark `CCC' within a circle for Cardinal Carlo Conti; feet retipped; 77cm. high, 141cm. wide, 70cm. deep; 2ft. 6¼in., 4ft. 7½in., 2ft. 3½in. Estimate 100,000—150,000 GBP. Lot Sold 145,250 GBP
PROVENANCE: Almost certainly commissioned by Cardinal Carlo Conti (1556-1615) in around 1604.
NOTE:
Comparative Literature: Alvar González-Palacios, Il Gusto dei Principi, Arte di corte del XVII e del XVIII secolo, Milan, 1993, Vol. I, p. 335 and Vol. II, pp. 293-297, plates 584-592.
Alvar González-Palacios, Il Tempio del Gusto, Il Granducato di Toscana e gli Stati Settentrionali, Milan, 1993, Vol. I, p. 307 and Vol.II, pp. 326-327, plates 693 and 694, p. 328, plates 695 and 696.
This stunning table with intricate marquetry decoration in mother-of-pearl, horn and green stained horn belongs to a group of Venetian furniture in the same technique which had been studied in detail for the first time by Alvar González-Palacios.
There are various types of furniture including cabinets, tables and travelling desks all in this technique, the decoration of which takes its inspiration from Islamic prototypes. Trade with the East through the port of Venice also influenced the Venetian craftsman who produced furniture in this technique. All the aformentioned furniture presents an architectural structure with sophisticated decoration with tendrils, grotesque masks and figures and medallions inlaid in ivory, horn and mother-of-pearl.
In particular one should consider two tables of identical form, discussed by Alvar González-Palacios, Il Tempio del Gusto, Vol. II, op. cit., p. 328, and illustrated in plates 695 and 696 (sold lot 85, Ader Picard Tajan, Paris, 19th March 1982 (105cmx115cmx34cm). The aforementioned table is dated 1604 and has exactly the same coat-of–arms with the cross-hatched eagle and the three letter C's impressed, as on the offered table. The offered table and the illustrated one share identically shaped trestle supports ending in an inlaid baluster vase above the foot.
Alvar González-Palacios also discusses another table which was on the French market (74cmx135cmx66cm), in Il Gusto dei Principi, Vol. II, op. cit, illustrated in plates 584 and 585, of the same shape and which has identical coat-of-arms as on the offered table and it also has the impressed initials CCC. One should also include in this same group, a similar table illustrated by Alvar González-Palacios, in the same publication p. 294, plate 586. It has the same coat-of-arms as on this table plus the three impressed C's and is dated 1603. Finally, there is a cabinet belonging to the same group with the impressed three C's and a cardinal's hat. This leads to the conclusion that it cannot be purely coincidental that all these related pieces have the same coat-of-arms which are of the illustrious Conti family and the initials `CCC'. Cardinal Conti a member of this family enjoyed his illustrious career in the Church under the Pontificate of Pope Clement VIII and became Bishop of Ancona in 1604 and died in 1615. Furthermore, Ancona had a relationship with the Venetian republic and the Cardinal visited the Lagoon on several occasions. Finally, all the tables with the Cardinal Conti impressed initials seem to share exactly the same ironwork which is not the case with the other related tables in this technique.
Professor Alvar González-Palacios, in his essay on the Duke of Urbino table, sold in these Rooms, Treasures Aristocratic Heirlooms sale, 6th July 2010, lot IV, draws a parallel between that table and these Venetian tables for the technique and identical shape-see Furthermore, it is a curious coincidence that Cardinal Conti and the Duke of Urbino were related.
Sotheby's. Important Furniture, Silver and Ceramics. 07 Dec 10. London www.sothebys.com