A pair of gilt-bronze and rock crystal chandeliers, Louis XV. photo Sotheby's
each of cage form with nine scrolled candlearms hung with faceted pear and diamond shaped drops, beads and flowerheads, one drop with the printed paper label Pietro Accorsi Antichita Via Po 55 Torino, in ink number 4637; formerly drilled for electricity, each approx: 82cm. high, 68cm. diameter; 2ft.8¼in., 2ft.2¾in. Estimate 80,000—120,000 GBP. Lot Sold 87,650 GBP
PROVENANCE: Pietro Accorsi, Turin
Formerly in the collection of Alberto Bruni Tedeschi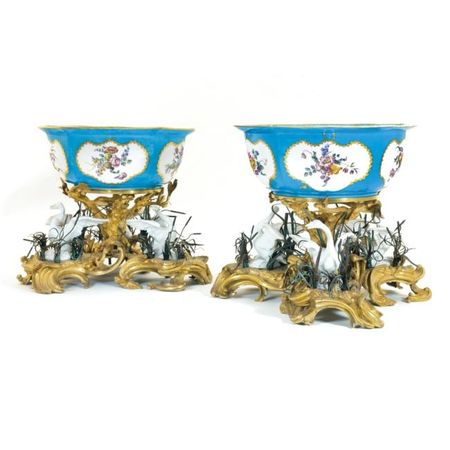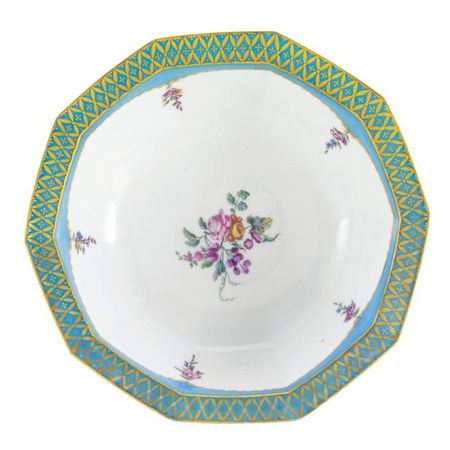 The Louis XV Service. A pair of Vincennes salad bowls (saladiers à mortier or jattes forme d'ancien) from the service made for Louis XV, 1753. photo Sotheby's
of deep ten-sided form, each painted on a bleu celeste ground with panels of fruit and flowers within gilt rose-thorn borders, on later ormolu tripod bases set with a central tree support surrounded by small Meissen-style swans among ormolu bulrushes, both with interlaced L marks and painter's marks of a pin for Louis-Jean Thevenet, the darker-ground bowl with date code A, and incised A.D., the paler bowl with incised pin mark; 19cm by 30cm overall, the bowls 27.8cm. Estimate 20,000—30,000 GBP. Lot Sold 32,450 GBP
PROVENANCE: (The darker-ground bowl) :Louis XV, King of France, presumably part of the first delivery, 24th December 1753.
(The two together, now mounted in ormolu), Robert von Hirsch, his sale, Sotheby's 23rd June 1978, vol.III, lot 525.
NOTE: The Louis Quinze service was the first extensive service made at the Sevres factory, and was delivered to Versailles in three batches over two years, 1753 and 1754. In total, the service comprised 1,749 pieces, with a number of later additions and replacements.
Both the celebrated ground colour and many of the forms themselves were expressly created for the service, setting the Sevres style for the factory's most influential and important years.
The complicated history of the manufacture and supply of this service, and related pieces which seem to have been held back or eventually delivered to other buyers, has been largely disentangled by David Peters, to whom we owe thanks for his assistance.
In this instance, it seems most likely that the darker-ground bowl formed part of the initial delivery of the service to the King at Versailles, while the other bowl, with its paler ground colour and weaker gilding, may have been intended for the service, but held back, or even unfinished and gilded later.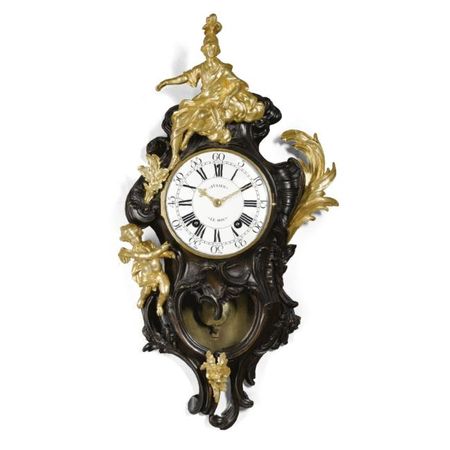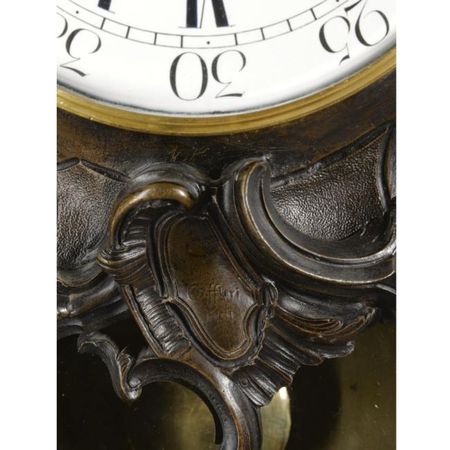 A very fine and rare Louis XV ormolu and patinated bronze cartel clock by Jacques Caffieri and Julien Le Roy, Paris, circa 1750. photo Sotheby's
7-inch enamel dial signed Julien Le Roy, finely engraved fleur-de-lys hands, the bell striking movement with numbered outside count wheel, silk suspension and rare Chevalier de Bethune escapement, signed on the backplate Julien Le Roy A Paris, the finely cast and chased rococo case surmounted by a figure of Minerva amidst billowing clouds and above a winged cherub, leaves and scrolls, signed in a cartouche Caffieri Fecit; 75cm. 29½in. high. Estimate 20,000—30,000 GBP. Lot Sold 25,000 GBP

NOTE: Jacques Caffieri (1678-1755) was a sculptor in bronze whose father had entered service as a decorative sculptor for Louis XIV in 1660. Jacques became maitre fondeur-ciseleur in 1714 and in 1736 was attached to the Batiments du Roi as fondeur-ciseleur. At this time, the arts of patinating and gilding bronze were kept separate but in 1740 his wife purchased a Royal privilege allowing Cafieri to produce patinated and gilt bronze in the same workshop.
Julian Le Roy (1686-1759), an important clockmaker, became maitre in 1713 and in 1739 was made Horloger du Roi at the Louvre. His name has been associated with many of the great bronziers of the 18th Century including St Germain, Osmond and Caffieri.
This is example is exceptionally rare in being a combination of ormolu and patinated bronze and it is interesting that Caffieri was permitted to produce both products. The Chevalier de Bethune escapement of this clock was often used by Le Roy.
Sotheby's. Important Furniture, Silver and Ceramics. 07 Dec 10. London www.sothebys.com