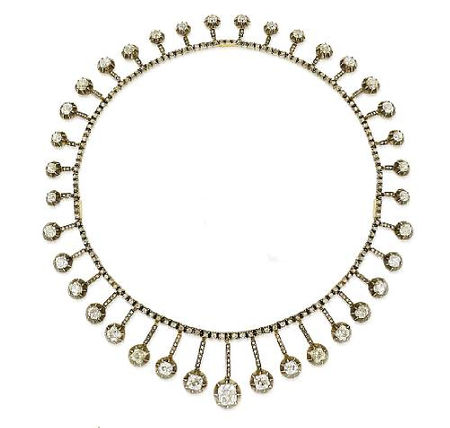 A late 19th century diamond necklace, circa 1870. photo Bonhams
Designed as a single line of old brilliant-cut diamonds suspending a fringe of graduated old brilliant-cut diamond drops to pinched collet settings, mounted in silver and gold, diamonds approximately 20.30 carats total, length 38.4cm..Sold for £26,400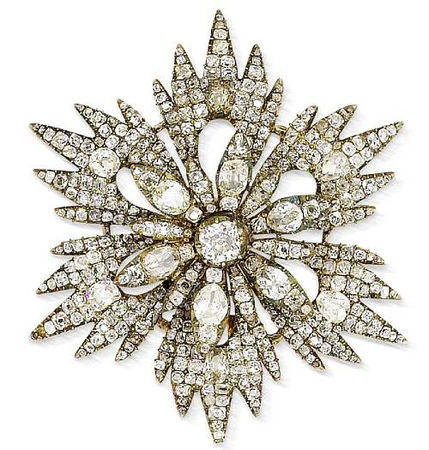 A Georgian diamond star brooch, circa 1800. photo Bonhams
Of double starburst formation, the central star mounted en tremblant and set centrally with a cushion-shaped diamond within a surround of old pear-shaped and cushion-shaped diamond rays, the outer burst pavé-set throughout with cushion-shaped and pear-shaped diamonds, closed-back settings throughout, mounted in silver and gold, diamonds approximately 23.50 carats total, originally part of a necklace or a dress ornament, later converted to a brooch, two diamonds deficient, diameter 7.0cm. Sold for £19,200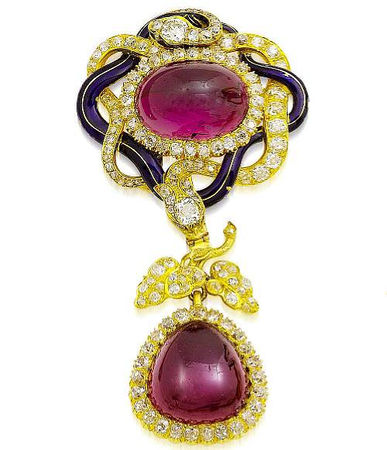 A mid 19th century gold, enamel, garnet and diamond corsage ornament and a pair of garnet and diamond earrings, circa 1850. photo Bonhams
The corsage ornament composed of a large garnet carbuncle and old brilliant-cut diamond oval cluster, bordered by entwined writhing serpents decorated with royal blue enamel and cushion-shaped and old brilliant-cut diamonds, suspending a detachable pendant designed as a fruiting vine, set with similarly cut diamonds and a large pear-shaped cabochon garnet, the pendent earrings of similar fruiting vine design, set with garnet carbuncles in closed-back settings and old brilliant-cut diamonds, brooch: diamonds approximately 9.80 carats total, earrings: approximately 1.60 carats total, brooch with snakeskin and foliate engraving to reverse, later pin and earring fittings, lengths: brooch 10.1cm., earrings 5.0cm. (2) -Sold for £18,000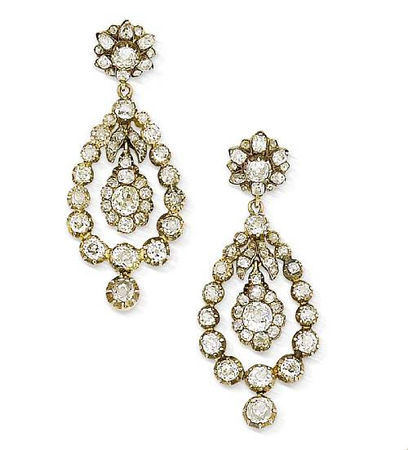 A pair of 19th century diamond earrings. photo Bonhams
Each stylised flowerhead surmount suspending an openwork pear-shaped pendant with a foliate cluster swing centre, terminating in a single articulated drop, collet-set thoughout with cushion-shaped and old brilliant-cut diamonds, mounted in silver and gold, composite, diamonds approximately 7.50 carats total, length 5.6cm., later post fittings, fitted case by Harvey & Gore, 1 Vigo Street, London. Sold for £16,800
Two mid 19th century enamel and diamond bangles, circa 1840. photo Bonhams
1st: designed as a coiled snake, the hinged body decorated with royal blue enamel, the head pavé-set with a cushion-shaped diamond crest, one eye set with a foiled rose-cut ruby with rose-cut diamond highlights, the other with a collet-set rose-cut ruby;
2nd: decorated with royal blue enamel, with a rose-cut diamond eternal knot motif and glazed compartment to reverse, 1st: diamonds approximately 3.40 carats total, inner diameter approximately 5.4cm., 2nd: inner diameter 5.3cm.- Sold for £13,200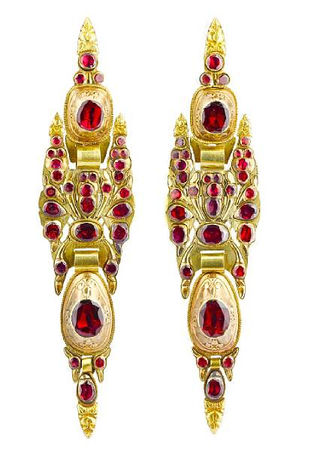 A pair of late 18th century Catalan gold and garnet pendent earrings. photo Bonhams
Each navette-shaped earring composed of four hinged sections set throughout with foiled garnets of various shapes and sizes all within closed-back settings, embellished with repoussé-work foliate finials and delicate floral engraving to the reverse, length 11.5cm. Sold for £9,000
Footnote: See Mascetti, Daniela and Triossi, Amanda 'Earrings from antiquity to present', Rizzoli New York, 1990, pp 60-61 for similar examples of Catalan earrings from this period.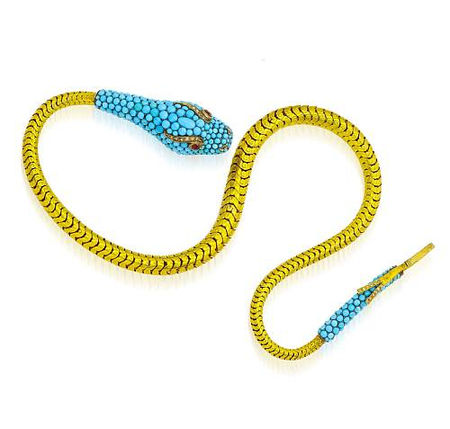 A gold, turquoise, garnet and diamond snake necklace, circa 1840. photo Bonhams
The pavé-set cabochon turquoise head with garnet eyes and rose-cut diamond accents, on a highly articulated snake-link body of engraved decoration, the tip of the tail pavé-set with cabochon turquoise, the clasp designed as a rose-cut diamond forked tongue, length 42.2cm., fitted case by I&T Turner, 58 & 59 New Bond Street, London - Sold for £7,800
A late 19th century emerald and diamond dress ring, probably Indian, circa 1880. photo Bonhams
The cushion-shaped emerald within a rubover setting, the gallery and shoulders of pierced foliate design, set throughout with rose-cut diamonds, one diamond deficient, ring size N. Sold for £7,200
A diamond necklace, third quarter of the 18th century. photo Bonhams
The central interlaced ribbon bow suspending a drop-shaped pendant, between highly stylised floral and foliate plaques, set throughout with rose-cut diamonds in closed-back settings, connected by a later trace-link chain, to a later cluster clasp, mounted in silver, composite, length 38.0cm. Sold for £4,560
A garnet cameo and diamond ring, circa 1820. photo Bonhams
The oval garnet carved to depict a bearded gentleman in profile, within a surround of single-cut diamonds, the shoulders and gallery set with rose, single-cut and cushion-shaped diamonds, diamonds approximately 2.50 carats total, ring size O. Sold for £4,560 .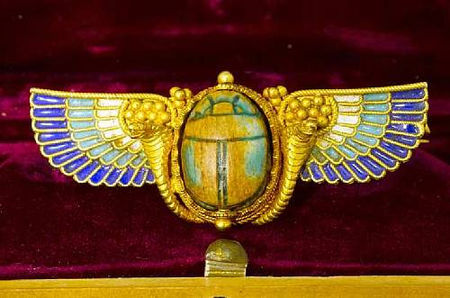 An enamel, steatite and gold winged scarab brooch, attributed to Giacinto Melillo, circa 1870. photo Bonhams
In the Etruscan style, the central steatite scarab with green glaze, dated 2000-1000 BC, the reverse engraved with hieroglyphics for Papyrus stem flanked by blossoms, the scarab set within a collet of fine granulation and ropetwist decoration, flanked by two cobras, the outstretched wings with further ropetwist and granulation work, decorated with blue, green and white enamel, unsigned, length 4.3cm., fitted wooden case by Giacinto Melillo, Napoli - Sold for £2,880
Footnote: Giacinto Melillo (1845-1915) was the manager of Castellani's workshop in Naples and his jewels are therefore very similar to those of Castellani in terms of archaeological influence and high quality workmanship. Melillo won the Grand Prix and the Legion d'Honneur at the Exposition Universelle of 1900 in Paris. Melillo's jewels sometimes bear his initials but are more often than not unsigned.
Bonhams. Fine Jewellery, 9 Dec 2010. New Bond Street www.bonhams.com