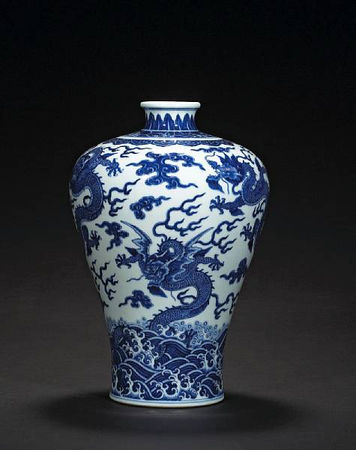 A blue and white porcelain meiping, Qianlong Mark, Late Qing-Republic Period, 14in (35.5cm) high. Est. $10,000-15,000. Courtesy of Bonhams & Butterfields
SAN FRANCISCO, CA.- A blue and white porcelain Dragon jar sold for $7,658,000 in the Fine Asian Works of Art sale on Monday December 13th at Bonhams & Butterfields in San Francisco. The 360-lot sale brought more than $19 million with the vast majority of the lots fetching multiples of their estimates.

The excitement in the standing-room-only saleroom was palpable, as determined bidders on the telephone and in the audience fought to win the much-coveted jar. Brooke Sivo, the sale's principal auctioneer and a 22-year veteran of the art world, expertly guided the bidding along until it culminated in the record price.

There was much anticipation and deliberation over the Dragon jar. Following careful pre-sale research and consultation, the firm described the jar conservatively as Qianlong Mark, Late Qing/Republic Period and gave it a pre-sale estimate of $10,000-15,000 USD.

Ultimately, two key bidders backed their own judgment and the Dragon jar sold for a remarkable $7,658,000 USD.

Dessa Goddard, Vice President and Director, Asian Works of Art, commented, "The jar proved to be a puzzle for several clients with whom I spoke who all declared it to be unique. Without a consensus of opinion we felt obliged to be cautious with our attribution. Needless to say, we are elated that the jar achieved such a spectacular price. Its sale provided a fantastic slice of auction drama that our clients and staff will remember for many years to come."

The blue and white porcelain jar measures an impressive 14 inches high and is decorated with bands of plantain leaves, waves, and a cloud-collar at the waisted neck and broad shoulders. The sides are densely painted with six meticulously rendered five-clawed dragons portrayed emerging from crashing waves and flying amid stylized clouds and flames.

Additional highlights from the sale included: a gilt copper alloy and colored glass overlay model of an elephant, 19th/20th Century (sold for $1,834,000 USD); a set of eighteen carved ivory luohan, 19th Century (sold for $506,000 USD); a pair of hanging scroll paintings titled "Morning Glories and Gourds" by Qi Baishi (sold for $458,000 USD); a rare carved rhinoceros horn libation cup, 17th/18th Century (sold for $386,000 USD) and a set of carved ivory eighteen lohan, 19th Century (sold for $338,000 USD).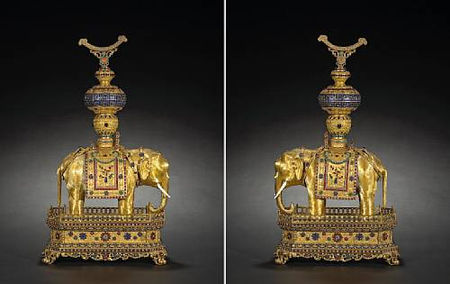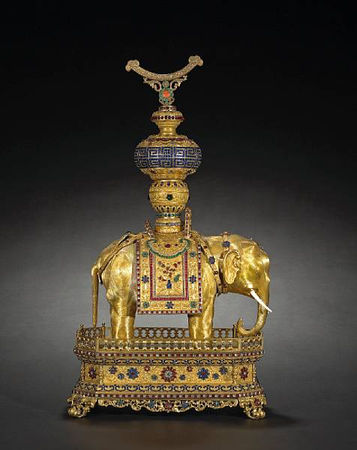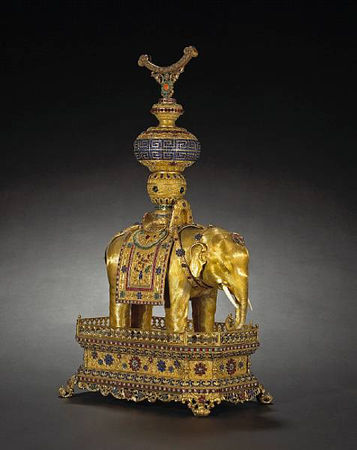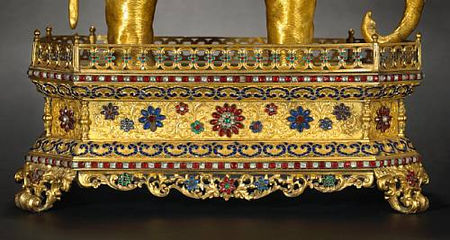 Gilt copper alloy and colored glass overlay model of an elephant. 19th/20th Century. Courtesy of Bonhams & Butterfields
Lavishly constructed of multiple sections and inlaid throughout with brilliantly colored glass; all supported by cabriole legs separating an ornately reticulated apron below a the waisted plinth with sides of ruyi lappet and flowering leafy vine bands surmounted with a delicate balustrade upon which stands the elephant with ivory tusks, veined ears, and wrinkled skin rendered in detailed whorls and attired in an elaborate saddle and caparison, the former including a blanket each side of which with tableaux of auspicious emblems above churning waves surrounded by bands of stylized vines and lotuses and supporting a multi-lobed elaborately decorated urn with multiple bands of lotus petals and ruyi lappets, the widest lobe with a wide leiwen scroll band, all surmounted by a arc-shaped finial designed to support a flat circular object.; 26 3/4in (68cm) high. Sold for $1,834,000
Footnote: The image of an elephant (xiang) supporting a vase (ping) is a propitious rebus implying that, with the rule of a sage emperor, come signs (xiang) of peace (ping): taiping you xiang. Terese Tse Bartholomew points out in Hidden Meanings in Chinese Art (San Francisco, 2006) that during the Qing dynasty, real elephants with vases were paraded to celebrate the emperor's birthday.

For a prototype of this lot, see the elaborate pair dated to the Qianlong era and sold at Nagel Auktionen, Stuttgart as lot 118, May 17th, 2007.
A set of eighteen carved ivory luohan. 19th Century. Courtesy of Bonhams & Butterfields
Each Buddhist disciple simply but subtly portrayed with an individuated expression on his face, his robes falling in soft cascading folds as he stands holding an identifying attribute, each of which is intricately rendered with incised details, the surfaces of each sculpture tinted with a pale sepia wash and understated black highlights; 10 1/2in (27cm) high. Sold for $506,000
:
Provenance: Purchased in Tianjin circa 1940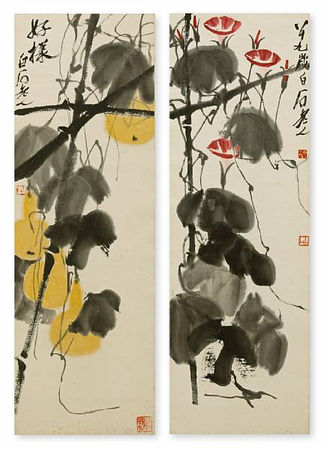 Qi Baishi (1863-1957), Morning Glories and Gourds. Courtesy of Bonhams & Butterfields
A pair of paintings, each a hanging scroll now framed and glazed, ink and color on paper; inscribed and signed bashijiu sui Baishi lao ren or Baishi lao ren, with four seals of the artist reading nian bashijiu, Baishi (2), and wu suo neng zhe le shi; 40 1/2 x 13 1/4in (103 x 34cm) each painting. Sold for $458,000
Provenance: Acquired by the present owner's parents in Beijing in the 1950's