18 décembre 2010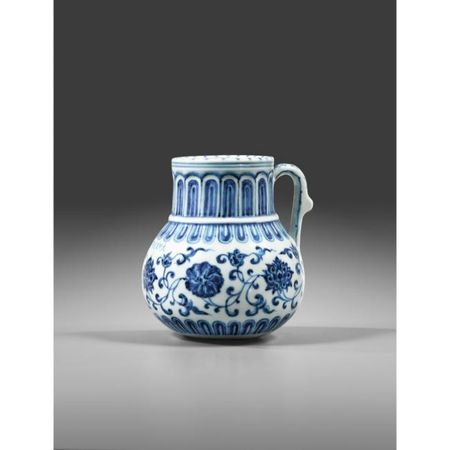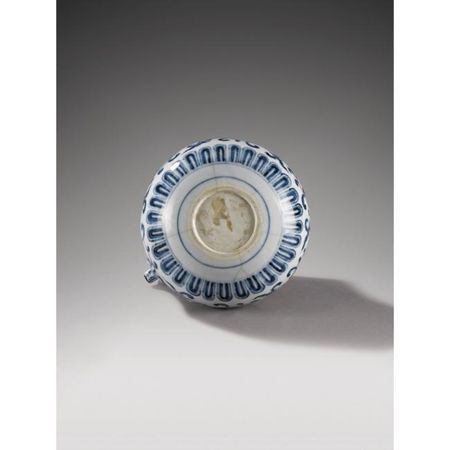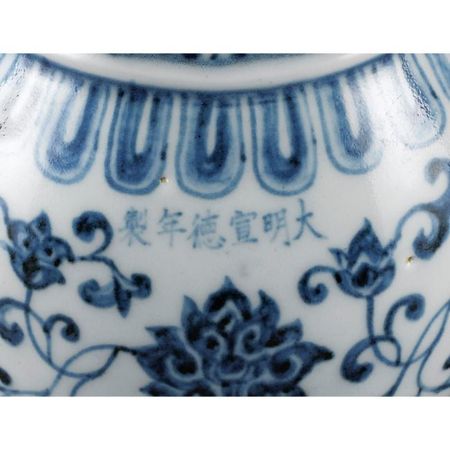 Tankard en porcelaine bleu blanc, danbaguan. Chine, dynastie Ming, marque et époque Xuande (1426-1435). photo Sotheby's
la panse globulaire surmontée d'un col cylindrique et agrémentée d'une anse se terminant en ruyi, le pourtour délicatement décoré de fleurs de lotus et pivoines dans des rinceaux feuillagés, une frise de pétales autour du col, à l'épaulement et autour de la base, marque à six caractères Xuande à l'avant du vase; 13,6 cm, 5 3/8 in.. Est. 150,000—200,000 EUR. Lot Sold 912,750 EUR
NOTE: An undecorated monochrome white tankard of this form, of the early Yongle stratum, is published in the exhibition catalogue Imperial Porcelain of the Yongle and Xuande Periods Excavated from the Site of the Ming Imperial Factory at Jingdezhen, Hong Kong, 1989, cat.no. 11, where unmarked Yongle blue-and-white examples from the kiln site are also mentioned, and where it is stated that this tankard form, which was made from the early Yongle until the Xuande period was adjusted in the Xuande reign, when the knob on the handle was moved higher up, and the proportions, including the belly, the fluting on the neck and the recessed centre of the base, were expanded. The white Yongle piece is published again together with a strongly crazed and misfired blue-and-white example of Xuande mark and period from the Xuande stratum in Imperial Hongwu and Yongle Porcelain Excavated at Jingdezhen, Chang Foundation, Taipei, 1996, cat. nos 90 and 138.

For several examples of Xuande mark and period in the National Palace Museum, Taipei, and the Palace Museum , Beijing, see Catalogue of the Special Exhibition of Selected Hsüan-te Imperial Porcelains of the Ming Dynasty, Taipei, 1998, no. 11; Catalogue of a Special Exhibition of Hsuan-te Period Porcelain, Taipei, 1980, no. 23; Geng Baochang, ed., Gugong Bowuyuan cang Ming chu qinghua ci, Beijing, 2002, vol. 1, pl. 94; and The Complete Collection of Treasures of the Palace Museum. Blue and White and Underglazed Red (I), Hong Kong, 2000, pl. 121. One in the Shanghai Museum is published in Lu Minghua, Mingdai guanyao ciqi, Shanghai, 2007, pl.3-27, where several West Asian metal and jade tankards of the 15th century, but with dragon handles, are illustrated for comparison, p. 111.

A similar tankard from the collection of Mrs. Rachel Wright Segelin was sold in our London rooms 20th February 1968, lot 88, and again in our Hong Kong rooms 14th November 1989, lot 21; one from the J. M. Hu Family collection, sold in our New York rooms 4th June 1985, lot 2, is now in the Meiyintang collection, illustrated in Regina Krahl, Chineses Ceramics from the Meiyintang Collection, London, 1994, vol. 2, no. 674; one from the collection of Mr. and Mrs. R.H.R. Palmer was sold in our Hong Kong rooms, 17th May 1988, lot 22. Compare also another tankard of this form but with a different design, sold in our Hong Kong rooms, 30 October 2002, lot 283.
Sotheby's. Asian Art, 16 Dec 10, Paris www.sothebys.com
Commentaires sur Tankard en porcelaine bleu blanc, danbaguan. Chine, dynastie Ming, marque et époque Xuande (1426-1435).