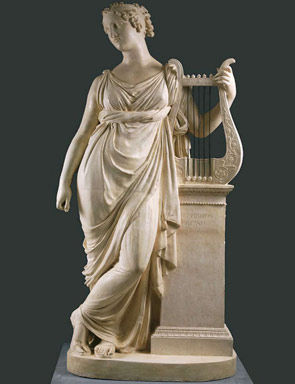 Antonio Canova, Terpsichore.
PITTSBURGH, PA.- Carnegie Museum of Art announce two major acquisitions representing the museum's strengths in 19th century neoclassical art and contemporary art. The works are Terpsichore, Muse of Lyric Poetry, 1812, an exceptionally rare sculpture by Antonio Canova, a leading artist of 19th century Europe; and five works, which together comprise a single installation, by one of the most provocative American artists to emerge in the last decade, Gedi Sibony.

"While Canova's Terpsichore and Sibony's five pieces were made in different time periods and from different materials, they each contribute to strengthening the breadth and depth of Carnegie Museum of Art's collection and illustrate our commitment to collecting diverse and important works," said Lynn Zelevansky, The Henry J. Heinz II Director of Carnegie Museum of Art.

Terpsichore, Antonio Canova
"Terpsichore is one of those great works that has the ability to elevate Carnegie Museum of Art's 19th-century sculpture collection to an international standing," says Louise Lippincott, the museum's curator of fine arts. "As the most famous artist of his time, Canova defined the Neoclassical style and the practice of sculpture for almost a century. Terpsichore, a full-length, life-size ideal figure, exemplifies this style and was one of the artist's most popular subjects."

The sculpture was originally intended as a portrait of Alexandrine Bonaparte for Canova's patron, Lucien Bonaparte (brother of Napoleon.) When Lucien abandoned the commission, Canova changed the sculpture to a figure of a muse, and one of his favorite subjects: Terpsichore. Terpsichore is traditionally identified as the muse of dance, but the sculpture's inscription "Terpsichore Lyran" associates her with lyric poetry, as do the lyre that she holds and the caduceus (an insignia commonly associated with the medical profession) on the side of the pedestal.

According to Lippincott, the Canova sculpture is rare because it is the original plaster worked on by Canova, himself; many other finished sculptures of the time—particularly those in marble—were the products of workshop technicians. Evidence of the artist's involvement includes a change in the position of Terpsichore's head, undercutting in the draperies and carved and modeled additions to the figure, lyre, and pedestal. The skill of Canova is evident in the fluidity of line, smooth surface, and graceful form creating a classic ideal of feminine beauty.

Five Works by Gedi Sibony
"Encountering a Gedi Sibony installation is like walking into an abstract painting," said Daniel Byers, associate curator of contemporary art at Carnegie Museum of Art. "Using urban detritus, Sibony creates poetic meditations on space, form, texture, and the almost magical life of everyday materials."

The materials Sibony uses—packing tape, cardboard, foam core, plastic sheet and wire, among others—are often disposable objects, yet Sibony repurposes them for display by reactivating these cast-off materials.

"This installation represents the full range of the artist's work," adds Byers. "It is an important acquisition of work by an artist at the forefront of aesthetic experimentation and whose importance to contemporary art will only grow in the future."

Currently, only a few museums in the United States—the Museum of Modern Art, Whitney Museum of American Art, and Walker Art Center—own art work by Sibony.

Both works of art are currently on display in the museum galleries. Terpsichore is on exhibit in Scaife Gallery 2 under the main skylight while Sibony's five pieces (which were last seen at the 2010 Basel Art Fair) are in the contemporary galleries and will be on view until February 2011.
The materials Sibony uses—packing tape, cardboard, foam core, plastic sheet and wire, among others—are often disposable objects, yet Sibony repurposes them for display by reactivating these cast-off materials