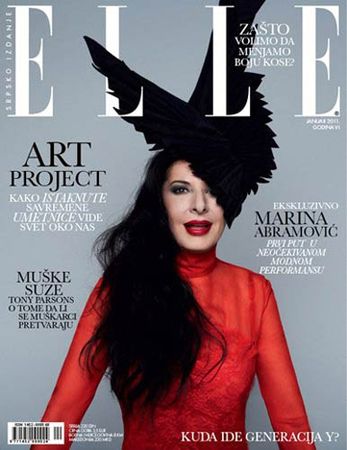 Marina Abramovic by Dusan Reljin for Elle Serbia January 2011
BELGRADE (SERBIE) [31.12.10] - Marina Abramovic, artiste contemporaine serbe connue pour ses performances où elle met en scène son corps nu qu'elle mutile, fait la couverture du magazine Elle Serbie de janvier 2011.
L'artiste serbe Marina Abramovic, performeuse sans limites du « body art » réputée pour s'exposer nue et meurtrir son corps, est en page de couverture du magazine Elle Serbie du mois de janvier 2011.

Ce n'est pas la première fois que Marina Abramovic fait la une d'une revue de mode. Après Lady Gaga et Marc Jacobs en couverture de V magazine du mois de septembre 2010, c'est à son tour de poser à nouveau aux côtés du top model Tyson Ballou pour une nouvelle parution du magazine féminin.

En 2010, Marina Abramovic a fait parler d'elle avec son exposition au MoMA « Marina Abramovic : The artist is present». La performance de plusieurs artistes nus qui recherchaient l'interaction avec le public n'était pas sans provoquer un certain malaise.

Depuis les années 1970 jusqu'à son projet d'Institut des Arts de la Performance, elle ne cesse de repousser les frontières du « body art » et de la performance. www.artclair.com
World acclaimed contemporary artist Marina Abramovic fronts the January issue of her homeland Elle magazine, Marina is lensed by fashion photographer Dusan Reljin.