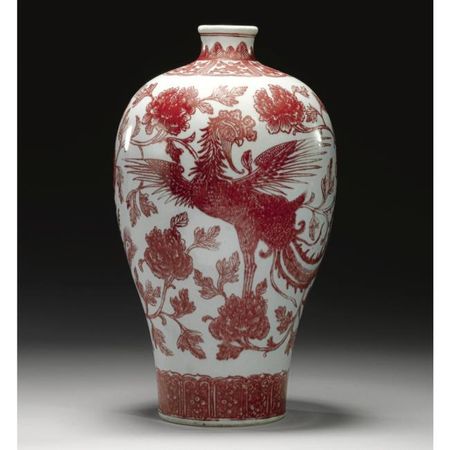 A rare underglaze copper-red 'phoenix' Meiping, Qing dynasty, 18th century. photo Sotheby's
the broad round-shouldered body rising from a recessed base to a narrow short neck with everted rolled rim, painted in rich red tones around the exterior with two large phoenix amidst leafy peony sprays, all between a lotus-lappet band at the base and a flower-filled lappet collar and stiff leaf band at the neck; 35.5cm., 14in. - Est. 25,000—35,000 GBP. Lot Sold 37,250 GBP
PROVENANCE: A Private French Collection.
NOTE: This vase is impressive for the skilful and freely rendered design of phoenix and peonies using the temperamental copper red pigment, and no other related example appears to have been published. For a slightly smaller meiping decorated with a wide central band of a phoenix amongst flowering branches between a band of stiff leaves at the foot and a peony scroll on the shoulder, see one sold at Christie's Hong Kong, 13th January 1987, lot 518. For a meiping vase decorated with a related design in the doucai palette, see one illustrated in The Complete Works of Chinese Ceramics, vol. 15, pt. II, Shanghai, 1999, pl. 128.
Further vases of various forms with copper red decorated designs of phoenix include a pear shape example sold in our Hong Kong rooms, 12-13th May 1976, lot 166; and a globular vase sold at Christie's Hong Kong, 13th January, 1987, lot 517.
A pair of Iron-Red wine cups. Xianfeng marks and period. photo Sotheby's
each with u-shaped sides rising to a flared rim, painted to the exterior with plump feathery tailed goldfish swimming amongst waves in sgraffiato technique; 5.7cm., 2 1/4 in. - Est. 6,000—8,000 GBP. Lot Sold 15,000 GBP
PROVENANCE: Sotheby's Hong Kong, 27th October 1993, lot 227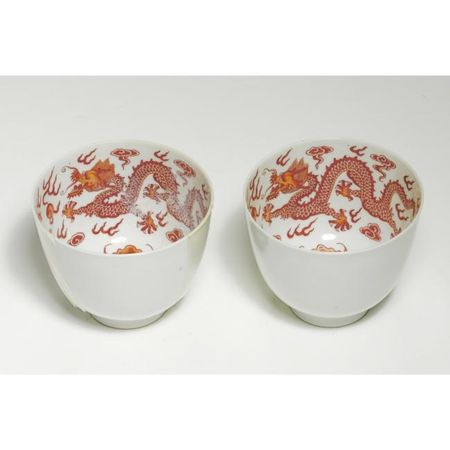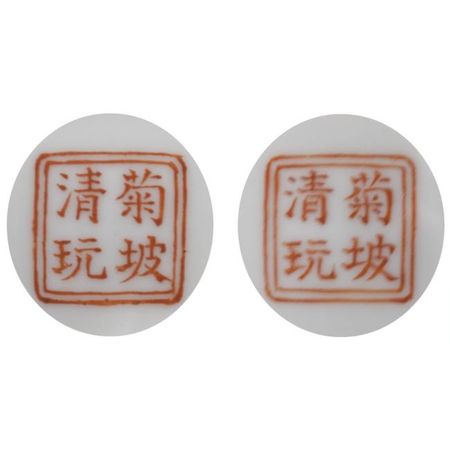 A pair of Iron-Red decorated wine cups. Qing dynasty, Qianlong period. photo Sotheby's
each finely painted to the interior with two scaly dragons in pursuit of flaming pearls, above five bats encircling a shou character, the base with Jupu Chingwan mark; 6.5cm., 2 5/8 in. - Est. 4,000—6,000 GBP. Lot Sold 12,500 GBP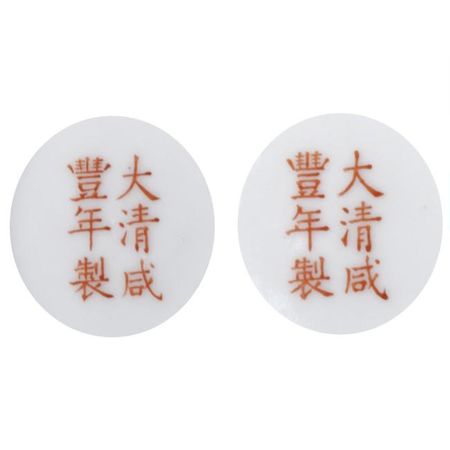 A pair of Iron-Red wine cups. Xianfeng marks and period. photo Sotheby's
each with u-shaped sides rising to a flared rim, painted to the exterior with plump feathery tailed goldfish swimming amongst waves in sgraffiato technique; 6.5cm., 2 1/2 in. - Est. 8,000—12,000 GBP. Lot Sold 11,875 GBP
Sotheby's. Fine Chinese Ceramics and Works of Art, 10 Nov 10, London www.sothebys.com