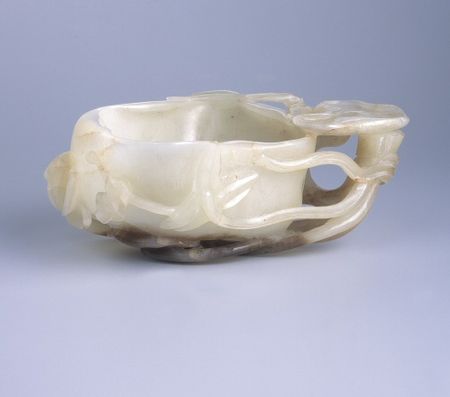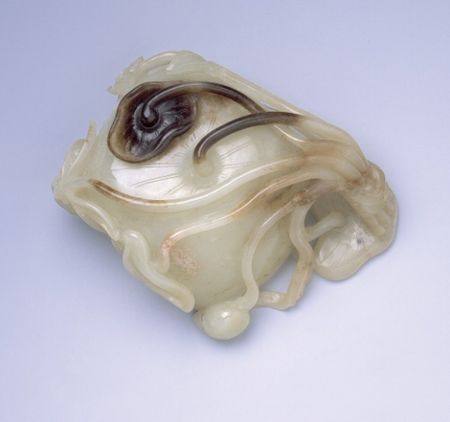 Waterpot in the form of a large open lotus-leaf with curled edge, Yuan dynasty, circa 1300. photo Marchant
and further branches of lotus leaves, arrow head, flower and bud tied to form the handle, supporting another lotus leaf, which could act as a shallow brushwasher, three of the branches and the brown lotus leaf on the underside forming a footrim, the stone white with brown, russet and natural markings. 7/8 inches, 14.9cm long, 2 ¼ inches, 5.8cm high. Price on application
Formerly in a private English collection, Oxfordshire, purchased from Spink & Son, Ltd, 28th December 1966.
An article written by Craig Clunas, titled Object of the Month, Song Dynasty Jade Brushwasher, October 1986, published in Selected Articles from "Orientations", 1983-1996, compares a similar lotus leaf brushwasher in the Victoria & Albert Museum (1623-1882, Wells Bequest) to another excavated from the tomb of Shi Shengzu, Quzhou, Zhejiang Province, dated 1274, where the author discusses the excavation of Shi's tomb in 1974 and how this Grand Official for Court Deliberations was laid to rest in 1274. Both brushwashers are similar to the above piece.
A related lotus waterpot and brushwasher, dated to the Ming dynasty, in the Museum of East Asian Art, Bath, is illustrated by Angus Forsyth and Brian McElney in Jades from China, 1994, no. 308, p. 376; another, in the Qing court collection dated to the Ming dynasty is illustrated in Jade Ware (II), The Complete Collection of Treasures of the Palace Museum, Beijing, Volume 41, no. 159, p. 193.
The lotus leaf, heye, and the lotus flower, lianhua, symbolise marriage and purity. He, is a pun for harmony, and lian, a pun for "continuous or successive", as in "the continuous birth of illustrious sons". The lotus is one of the few plants whose seed-pod is already evident when the flower begins to bloom. The seed-pod, lianfang, bursting with seeds symbolises fertility.
Marchant Antiques.. 120 Kensington Church Street, London, United Kingdom W8 4BH www.marchantiques.com