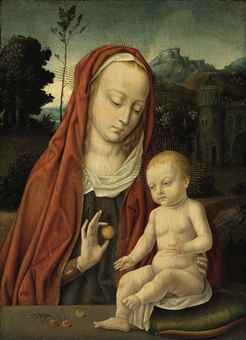 Follower of Hans Memling, The Virgin and Child. Photo: Christie's Images Ltd., 2011
oil on panel, 20 x 14¾ in. (50.8 x 37.5 cm.). Estimate $100,000 - $150,000
Property of a Family Trust
Provenance: with John Levy Galleries, New York, December 1932, as 'Gerard David'.
Henry Blank; Sotheby's, New York, 16 November 1949, lot 30, as 'Bruges Master, circa 1490', where purchased by
Bailey Stanton and Dr. Maurice H. Goldblatt, Chicago, from whom purchased by
the grandfather of the present owners, 10 January 1952, as 'the Master of Moulins'.
Notes: The Virgin and Child in the present composition relate to the figures found in the left panel of Memling's Diptych of Maarten van Nieuwenhove of 1487 (Bruges, Sint-Janshospitaal, Memlingmuseum), in which the Virgin similarly presents an apple to the Christ Child, as well as to the Standing Virgin and Child with donor and Saint Anthony of 1472 (Ottawa, National Gallery of Canada).

Wilhelm Valentiner knew this painting in the 1920s according to the Sotheby's catalogue of November 1949. That catalogue also states that Max J. Friedländer saw the painting first-hand and suggested that it was by a late-fifteenth century follower of Memling.
Christie's. Old Master & 19th Century Paintings, Drawings & Watercolors Part I, 26 January 2011, New York, Rockefeller Plaza www.christies.com