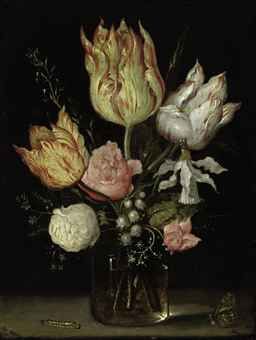 Ambrosius Bosschaert the Elder (Antwerp 1573-1621 The Hague)? Tulips, roses, a bluebell, Narcissus tortuosis, forget-me-nots, lily of the valley and cyclamen in a flask, on a ledge with a caterpillar, butterfly and dragonfly. Photo: Christie's Images Ltd., 2011
oil on copper. 7½ x 5 2/3 in. (19 x 14.5 cm.) - Estimate $800,000 - $1,200,000
Provenance: with Gallery P. de Boer, Amsterdam, 1959.
S. van Praag, Blaricum, 1963.
Mrs. Boas-Kogel, Baarn, on loan to Centraal Museum, Utrecht.
with Gallery P. de Boer, Amsterdam, 1974, from whom purchased by the father of the present owner.
Literature: P. de Boer, De Helsche en de Fluweelen Brueghel, exhibition catalogue, Amsterdam, 1934, p. 57, no. 249.
P. de Boer, Bloemstukken van oude Meesters, exhibition catalogue, 1935, no. 25.
M.L. Hairs, Les peintres flamands de fleurs au XVII siècle, Paris and Brussels, 1955, p. 198; second edition, 1965, p. 354.
L.J. Bol, The Bosschaert Dynasty. Paintings of flowers and fruit, Leigh-on-Sea, 1960, p. 64, no. 29.
L.J. Bol, Nederlandse stillevens uit de zeventiende eeuw, exhibition catalogue, Dordrecht, 1962, p. 20, no. 28, fig. 25.
R.G. de Boer, Modernen van toen 1570-1630, exhibition catalogue, Laren, 1963, p. 11, no. 24.
Exhibited: Amsterdam, Gallery P. de Boer, De Helshe en de Fluweelen Brueghel, 10 February-26 March 1934, no. 249.
Amsterdam, Gallery P. de Boer, Bloemstukken van oude Meesters, 20 June-20 July 1935, no. 25.
Dordrecht, Dortrechts Museum, Nederlandse stillevens uit de zeventiende eeuw, 21 July-21 September 1962, no. 28.
Laren, Singer Museum, Modernen van Toen 1570-1630, 15 June-1 September 1963, no. 24.
Utrecht, Centraal Museum, on loan.
Amsterdam, Waterman Gallery, Masters of Middelburg, March 1984, no. 1.
Notes: This still life is the prime version of three known renditions of the composition -- and the only one by Bosschaert, according to Fred Meijer (written communication, 10 December 2010). Another version, bearing a signature, is recorded as having formerly been with P. de Boer Gallery, Amsterdam (op. cit., Bol, p. 64, no. 28, pl. 18b).

Only about fifty works by Bosschaert are known, although as one of the founders of the floral still life genre, he would influence many artists throughout several generations during the seventeenth century. Bosschaert mastered an elegantly simple and balanced composition -- as is evident in the present work -- of a vertical bouquet in a narrow vase placed on a ledge. These works were doubly appreciated as a display of the beauty of the natural world as well as the skills of the artist. This view was best expressed by the humanist theologian Erasmus (1466-1536) who wrote in his Colloquia,
'Morever, we are twice pleased when we see a painted flower competing with a living one. In one we admire the artifice of nature, in the other the genius of the painter, in each the goodness of God.'

Much has been made of the symbolic importance of still life painting -- especially in vanitas or memento mori subjects, but as Eramsus' words indicate they were also very simply appreciated for their beauty. Bosschaert was at the advent of the still life tradition when symbolic value had not yet infused every flower bulb or piece of fruit; however, his paintings are by no means simple. Every petal is painted with scientific precision, and in order to achieve this accuracy the artist would have had to have observed the flowers from life, over the course of different seasons. In addition, Bosschaert clearly delighted in depicting the play of texture, light and reflection -- thus the white ground that he applied to the copper plate enhanced its enamel-like colors and luminous reflections.
Christie's. Old Master & 19th Century Paintings, Drawings & Watercolors Part I, 26 January 2011, New York, Rockefeller Plaza www.christies.com