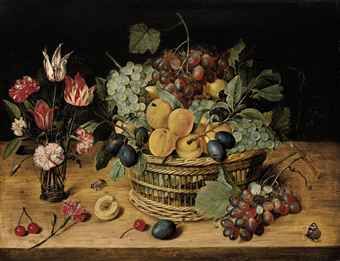 Isaac Soreau (active Hanau 1620-1638), Carnations, tulips and other flowers in a glass vase with peaches, grapes and plums in a basket on a ledge with cherries, a butterfly and a beetle. Photo: Christie's Images Ltd., 2011
oil on panel, 19½ x 25¼ in. (49.5 x 64 cm.), stamped on the reverse with the coat-of-arms of the city of Antwerp and the maker's mark of Guilliam Gabron (active Antwerp 1609-1662) - Estimate $700,000 - $1,000,000
Provenance: L.W. sale, Fiévez, Brussels, 18 December 1928, lot 13, as 'Ambrosius Breughel', whence acquired by Stuyck.
Fernand Stuyck collection, Antwerp; his sale, Palais des Beaux-Arts, Brussels, 7 December 1960, lot 106, where presumably unsold or purchased by the family.
Yolande Stuyck, Antwerp; Sotheby's, London, 8 July 1981, lot 40.
Acquired shortly afterward by the present owner.
Literature: P. de Boer, De Helsche en de Fluweelen Brueghel, exhibition catalogue, Amsterdam, p. 64, no. 331.
M.L. Hairs, Les peintres flamands de fleurs au 17e siècle, Brussels, 1955, pp. 131 and 242, as 'Jean Soreau'.
E. Greindl, Les peintres flamands de nature morte au XVIIe siècle, Sterrebeek, 1956, p. 189, as 'Jean Soreau'.
Fluers et jardins dans l'art flamand, exhibition catalogue, Brussels, 1960, no. 331.
G. Bott, 'Stillebenmalerei des 17. Jahrhunderts. Isaak Soreau, Peter Binoit', Kunst in Hessen und am Mittelrhein, I and II, 1962, p. 70.
M.L. Hairs, Les Peintres Flamands de Fleurs au XVIIe Siècle, Brussels, 1977, p. 369.
G. Bott, Die Stillebenmaler Soreau, Binoit, Codino und Marrell in Hanau und Frankfurt 1600-1650, Hanau, 2001, p. 179, no. WV.IS.23, p. 111, pl. 92.
Exhibited: Amsterdam, Gallery de Boer, De Helsche en de Fluweelen Brueghel, 10 February-26 March 1934, no. 331, as 'Jan Soreau'.
Antwerp, Stadsfeestzaal, Tentoonstelling van kunstwerken uit Antwerpse verzamelingen, 10 August-22 September 1935, no 137, as 'Jan Soreau'. Ghent, Musée des Beaux-Arts, Fleurs et jardins dans l'art flamand, 10 April-26 June 1960, no. 140, as 'attributed to Jan Soreau'.
Notes: The reverse of this panel bears an Antwerp brand which supports the widely held assumption that Soreau spent time in Antwerp in the 1630s. Soreau trained in the studio of his father, Daniel and is recorded in Hanau until 1626, after which he is believed to have spent time in Antwerp along with his contemporary Jacob van Hulsdonck (1582-1647). Very little else is known about his life or the development of his art, as there are only two known dated works by the artist. Fred Meijer made the interesting proposal that since Soreau was not a member of the Antwerp guild and therefore unable to sell paintings under his own name in Antwerp that perhaps he sold them under Hulsdonck's name (see F. Meijer, The Collection of Dutch and Flemish Still-Life Paintings bequeathed by Daisy Linda Ward to the Ashmolean Museum, Oxford, Zwolle, 2003, p. 281). This hypothesis, if true, would also provide an explanation for the dearth of signed works by Soreau between 1626-1638.

This is one of Soreau's most accomplished still lifes and can be compared to a painting sold at Christie's, London, 16 December 1998 (lot 8). The slightly elevated viewpoint, the combination of a basket and vase and the artfully strewn flowers, fruits and insects on the ledge are distinctive of Soreau's compositions. The motif of a straw basket filled with flowers resting on a ledge derives from Caravaggio's Basket of fruit executed circa 1595-1601 for Cardinal Federico Borromeo and now in the Pinocoteca Ambrosiana, Milan.

We are grateful to Fred Meijer, of the RKD in The Hague, for confirming the attribution on the basis of photographs (private communication, 10 December 2010).
Christie's. Old Master & 19th Century Paintings, Drawings & Watercolors Part I, 26 January 2011, New York, Rockefeller Plaza www.christies.com