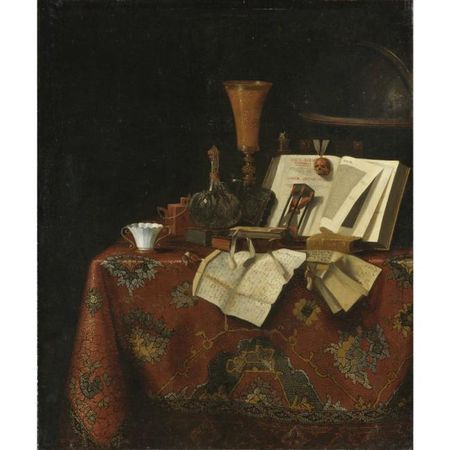 Pseudo-Roestraeten (ACTIVE CIRCA 1675 - 1725), A Vanitas Still Life of a Goblet, a Wine Vessel, a Yixing Stoneware Teapot, Books, an Hourglass, Letters and a Globe on a Carpeted Table. photo courtesy Sotheby's
oil on canvas, unframed; 44 1/2 by 37 1/4 in.; 113 by 94.6 cm. Estimate 25,000—35,000 USD. Lot Sold 80,500 USD
PROVENANCE: Anonymous sale, New York, Christie's, 7 October 1993, lot 92 (as Attributed to Pieter Gerritsz. van Roestraeten);
There purchased by the present collector.
NOTE; The Pseudo-Roestraeten is the name given to the anonymous artist who produced a fairly large number of still lifes, usually depicting arrangements of books, documents and precious objects displayed on an oriental carpet. Though related to still lifes by Pieter Gerritsz. Roestraeten, who was active in Holland and England, Fred Meijer of the RKD, The Hague, thinks the Pseudo-Roestraeten may have had a German or Scandinavian origin. He notes that many works by this master have turned up in old English collections and, therefore, the artist may have been active in England.1
We are grateful to Fred Meijer for confirming this as a work by the Pseudo-Roestraeten.
1. See A. Willigen and F.G. Meijer, A Dictionary of Dutch and Flemish Still-life Painters Working in Oils, 1525-1725, Leiden 2003, p. 227.
Sotheby's. Important Old Master Paintings & Sculpture, 27 Jan 11, New York www.sothebys.com