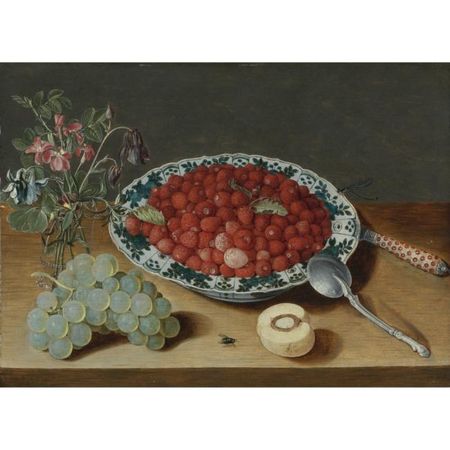 Isaak Soreau (Frankfurt-Am-Main 1604 - in or after 1645), A Still Life with Strawberries in a Wan-li Porcelain Bowl, a Bunch of Grapes, a Glass Vase with Columbines and Eglantine, a Silver Spoon, An Inlaid Knife and a half Peach with a Fly and Dragon Fly on a Wooden Table Top. photo courtesy Sotheby's
oil on panel, 11 by 15 3/8 in.; 27.9 by 39.1 cm. Estimate 250,000—350,000 USD. Lot Sold 302,500 USD
PROVENANCE: Anonymous Sale, Clermont-Ferrand, France, Claude Aguttes & Vernard Vassy, 30 June 1993, lot 2;
With Galerie de Jonckheere, Paris;
Anonymous Sale, New York, Sotheby's, 22 January 2004, lot 106;
Private European Collection.
NOTE: This elegant and sparse composition is highly characteristic of the work of Isaak Soreau, whose style was deeply influenced by the works of the Antwerp still life painters Osias Beert the Elder and Jacob van Hulsdonck. It has been suggested that Soreau may have studied in Antwerp, perhaps even in Hulsdonck's studio, as many elements in his paintings are derived from the older artist's work. In fact, a flower painting by Soreau that was on the market in 1998 was painted on a panel stamped with the coat of arms of the city of Antwerp (London, Christie's, 16 December 1998, lot 8), which further supports this theory.1

Each object in Soreau's composition is meticulously rendered and given its own distinct space within the composition. The porcelain bowl, with its bounty of ripe, red strawberries, is depicted at a slightly up-turned angle, no doubt to allow the artist to more fully display the berries within. The grapes, halved peach and vase of flowers are all volumetric objects that occupy distinct spaces within the composition, relating to one another with a sense of harmony and balance. Like many still life painters, objects reappear frequently in Soreau's work: the small glass vase, for example, can be seen in the panels in the Ashmolean Museum, Oxford (no. A 594) and the Walters Art Gallery, Baltimore (acc. no. 37.1902). The artist's only known signed and dated still life ("I. Soreau 1638"), executed on copper, is in the collection of the Staatliches Museum, Schwerin (inv. no. G 638).

1. A. van der Willigen and F. Meijer, A Dictionary of Dutch and Flemish Still-Life Painters Working in Oils, 1525-1725, Leiden 2003, p.187.
Sotheby's. Important Old Master Paintings & Sculpture, 27 Jan 11, New York www.sothebys.com