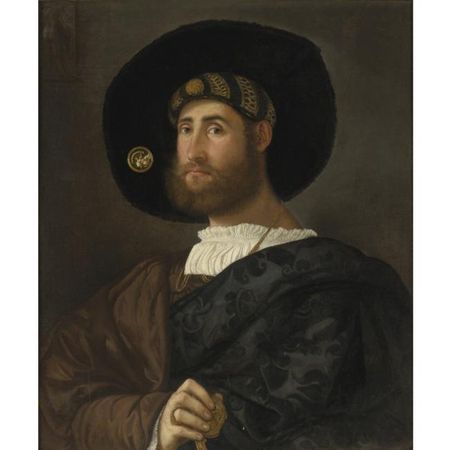 Lombard School, circa 1520 - 1530, Portrait of a Bearded Man with a Sword. photo courtesy Sotheby's
Oil on canvas, 29 by 24 1/2 in.; 73.7 by 62.2 cm. Estimate 100,000—200,000 USD. Lot Sold 146,500 USD
PROVENANCE: Hugh Morrison, Fonthill House, Tisbury, Wiltshire;
And thence by descent to The Rt. Hon. Lord Margadale of Islay, T.D., Fonthill House, Tisbury, Wiltshire;
His sale, London, Christie's, 2 July 1965, lot 55 (as by Giulio Campi);
Where purchased by Heinemann, on behalf of Baron Hans Heinrich Thyssen-Bornemisza, Lugano.
EXHIBITED: London, Grosvenor Gallery, Third National Loan, 1914-1915, no. 39 (as A Gentleman of the Colonna Family by Giorgione);
London, Burlington House, Exhibition of Italian Art: 1200 – 1900, 1 January – 20 March 1930, no. 375 (as Attributed to Giulio Campi).
LITERATURE AND REFERENCES: B. Berenson, Italian Pictures of the Renaissance, Oxford 1932, p. 124 (as by Campi);
B. Berenson, Italian Pictures of the Renaissance: Central Italian and North Italian Schools, London 1968, v. 1, p. 74 (as by Campi);
R. Heinemann, et. alia, The Thyssen-Bornemisza Collection, entry by R. Palluchini, Castagnola 1969, pp. 289-90, reproduced pl. 248.
NOTE: This refined and imposing depiction of a nobleman exemplifies the elegant portrait style practiced in eastern Lombardy in the opening decades of the 16th Century. It depicts a young aristocrat, fashionably dressed in muted colors, against a grey-brown background, his right hand resting on the hilt of his sword. Stylistically it is datable to the mid 1520s, a dating which appears to be confirmed by the dress of the young nobleman. He is wearing a brown doublet over a white chemise which was fashionable in Northern Italy throughout the opening years of the cinquecento. His headdress, however, is typical of the third decade of the century: a beret or large black hat, adorned with an elaborately decorated hat pin, worn over a richly decorated, turban-like cap. This fashion had a wide currency in Italy, from Rome to the North, during this decade. Interestingly, the hat pin is also suggestive of this date. Such hat pins were worn by gentlemen throughout Europe in the early 16th Century, and usually bore their owner's impresa, patron saint, or some other relevant emblem. In the present case, this seems to be a female allegorical figure of some sort, holding a banderole above her head.1 This figure is strikingly similar to the depictions of Old Testament prophets painted by the Brescian artist Gerolamo Romanino in circa 1522-24 in the San Sacramento chapel, and would suggest a similar date for the portrait.2
While the earliest history of this elegant portrait remains unknown, it was first recorded in the illustrious collections of the Morrison family at Fonthill House, in Wiltshire (see Provenance). As was the case with much of the Fonthill collection, it was probably acquired by the wealthy antiquarian Alfred Morrison (1821-1897), but it was only recorded when it was lent by his son Hugh to an exhibition in 1914.3 The attribution of this portrait has intrigued scholars since its reappearance nearly one hundred years ago. Dismissing the name of Giorgione which it bore while in the Fonthill collection, Berenson considered it a work of the Cremonese painter Giulio Campi, and it remained as such until Ridolfo Palluchini published it as a work of Romanino after it was cleaned in the late 1960s and entered the Thyssen collection (see 1969 Literature). The painting has not been discussed in more recent literature, undoubtedly due in part to its inaccessibility in private collections. It was, however, known to scholars through photographs, including Federico Zeri, who endorsed the attribution to Romanino, at least on the basis of images. More recently, a number of other possibilities have been proposed, including Giovanni Cariani.
What is certain is that the portrait was made by an artist working within the triangle of the cities of Bergamo, Brescia and Cremona. Certain Venetian influences are perceptible (hence the early attribution to Giorgione), and the pose and presentation of the portrait are certainly reminiscent of a number of artists from these three artistic centers. The attribution to Romanino, for example, was likely based on comparison to the Portrait of a Gentleman, now in the collection of the Allentown Art Museum, Allentown Pennsylvania (inv. 60.23). That painting depicts a similarly bearded man, with a the same type of headdress and also grasping his sword with his right hand, although turned three quarters to the right. The two canvases are even of nearly identical sizes, so close as to almost act as a pendant pair. Similarly, there are echoes of Moretto da Brescia in the present work, such as the magnificent full length Portrait of a Man, dated 1526, now in the National Gallery, London. The artist who painted the present Portrait of a Bearded Man was clearly aware of the innovations of his fellow artists, and had the skill and finesse to rival them.
Sotheby's. Important Old Master Paintings & Sculpture, 27 Jan 11, New York www.sothebys.com