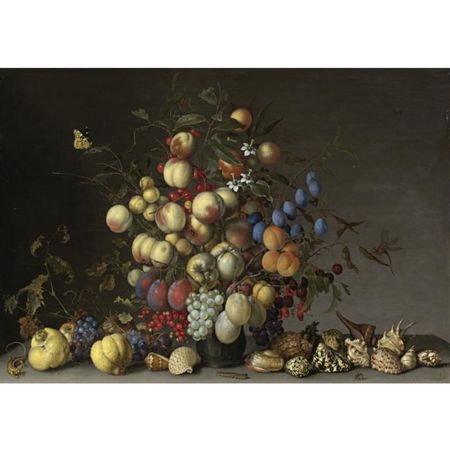 Balthasar van der Ast (Middlebug 1593/94 - 1657 Delft), Peaches, Plums, Oranges, Apples, Cherries, Grapes, Red Currants, Black Currants, Crab Apples and Other Fruit in a Pewter Vase, with a Red Admiral, a Dragonfly and Other Insects, with Grapes and Other Fruit, Seashells, a Lizard, a Caterpillar and a Wasp on a Ledge. photo Sotheby's
signed lower right: B Van der Ast, oil on panel, 23 11/16 by 33 3/4 in.; 60.2 by 85.7 cm. Estimate 800,000—1,200,000 USD. Lot Sold 818,500 USD
PROVENANCE: Anonymous Sale ("The Property of a Foreign Deceased Estate"), London, Sotheby's, 28 March 1979, lot 17;
Anonymous sale ("The Property of a Trust"), London, Christie's , 7 July 1989, lot 51;
There purchased by the present collector.
NOTE: Daniëlle Lokin will publish this painting in her forthcoming catalogue raisonné on the works of van der Ast. She dates the painting to the period after 1632 when the artist was living in Delft.
This unusually large panel showcases van der Ast's extraordinary ability as a still life painter. He trained in Middelburg in the studio of his brother in law, Ambrosius Bosschaert the Elder and, like his teacher, painted mainly still lifes of flowers and fruit. As he matured, van der Ast's compositions became more complex than those of his teacher. Through an increasingly deft use of light and shade, he succeeded in giving the objects depicted more volume, and his overall compositions an illusion of depth. He also became one of the foremost painters of shells which he developed into a genre in its own right. Shells had gained enormous popularity as exotic collectibles and, like tulips, were the subject of great monetary speculation.
This type of composition, depicting a lavish spray of mixed fruit arranged in the manner of flowers, is somewhat unusual in van der Ast's oeuvre. Another example, in an upright format, was formerly in the van Hoorn collection and sold London, Sotheby's, 3 July 1996, lot 30. Based on the elaborate depiction of the fruit and shells and the greater emphasis on creating a feeling of space around the objects, the present painting can be considered a mature work by the artist.
Sotheby's. Important Old Master and 19th Century Paintings from the Collection of Jacob Elie Safra, 26 Jan 11, New York www.sothebys.com