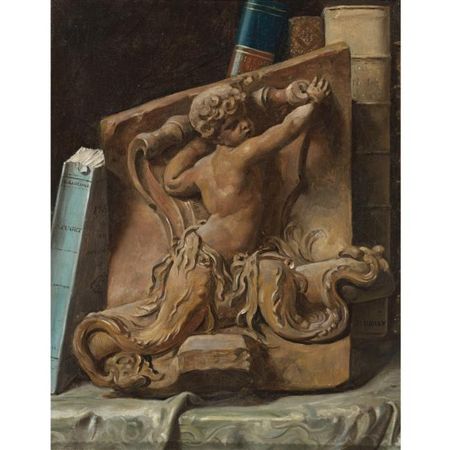 Jules-Léopold Boilly (Paris 1796-1874), Trompe l'Oeil of a Bookshelf with a Terracotta Relief . photo Sotheby's
signed J s. BOILLY, oil on canvas, 15 15/16 by 12 13/16 in.; 40.5 by 32.5 cm. - Estimate 150,000—200,000 USD. Lot Sold 152,500 USD
PROVENANCE: Possibly in the collection of Jules-Léopold Boilly;
Anonymous sale, New York, Christie's, 31 January 1997, lot 95;
There purchased by the present collector.
NOTE: The terracotta relief of a Triton depicted in this painting once belonged to Jules Boilly and was included in the auction of his property in Paris, Hôtel Drouot, on March 19-20, 1869, lot 336.1 At that time, the sculpture was thought to be by Pierre Puget (1620-1694). Indeed, in the present painting, Boilly has depicted the terracotta on a bookshelf with a copy of the then recently published catalogue raisonné by Léon Lagrange on the works of Puget leaning against the left side of the sculpture. As Lagrange's book was published in 1868 and Boilly sold the sculpture in March of 1869, it gives us a fairly secure circa date of 1868-9 for the execution of the present painting. Given that the artist sold the sculpture so soon after painting it, it is possible that he was creating for himself a memento of a favorite object. The terracotta has since been re-attributed to the sculptor François Caravaque (circa 1640/45 – 1698), who collaborated with Puget, and is now in a private collection, London (see fig. 1).
Jules Léopold Boilly was the son of the painter Louis Léopold Boilly. He studied with his father and was apprenticed to Baron Gros; in 1814 he entered the Ecole des Beaux-Arts. After traveling to Italy in 1826, he returned to Paris where he became known primarily as a portrait painter and lithographer. The 1869 sale of his collection included other terracottas by Clodion and Bouchardon as well as drawings, furniture and lithographs.
1. In the 1869 sale, lot 336 is listed as a terracotta relief by Pierre Puget and described as: "Haut-relief représentant un jeune Triton dont les jambes se terminent en queue de poisson. Il est assis sur un tronc d'arbre et se retourne pour appuyer ses mains sur le navire. Etude pour la decoration d'un vaisseau. Monument rare, d'une exécution délicate et très soignée." It sold for the then enormous sum of 1080 francs.
Sotheby's. Important Old Master and 19th Century Paintings from the Collection of Jacob Elie Safra, 26 Jan 11, New York www.sothebys.com