Thomas Gainsborough, Giovanna Baccelli, exhibited 1782, oil on canvas, 89 1/4 x 58, 1/2 in. (226.7 x 148.6 cm), Tate, London, Purchased with assistance from the Friends of the Tate Gallery, 1975. Photo: © Tate, London 2010
SAN DIEGO, CA.- The portraits of notorious society women painted by Thomas Gainsborough (1727-1788) are considered among the greatest portraits of the Western tradition. Thomas Gainsborough and the Modern Woman is the first exhibition devoted to Gainsborough's feminine portraiture and the first to focus specifically on modernity and femininity in Georgian England from the perspective of Gainsborough's groundbreaking images of women. The San Diego Museum of Art is the second and final venue for this momentous exhibition.

The exhibition brings together a choice selection of 11 paintings from renowned museum collections in the United States and Britain. Among those portraits on view at The San Diego Museum of Art from January 29 through May 1, 2011 will be Mrs. Sarah Siddons (National Gallery, London), the Duchess of Devonshire (National Gallery of Art, Washington), Giovanna Baccelli (Tate, London), Grace Dalrymple (Metropolitan Museum of Art), Viscountess Ligonier (Huntington Library, Art Collections and Botanical Gardens), and Ann Ford, later Mrs. Thicknesse (Cincinnati Art Museum). The exhibition will also feature a small selection of period dresses from the Cincinnati Art Museum, further contextualizing Gainsborough's portraits while affording visitors a view of the material accessories of the "modern woman."
Thomas Gainsborough, Giovanna Baccelli, exhibited 1782, oil on canvas, 89 1/4 x 58, 1/2 in. (226.7 x 148.6 cm), Tate, London, Purchased with assistance from the Friends of the Tate Gallery, 1975. Photo: © Tate, London 2010
"These stunning portraits give us a perspective on the history of portrait painting and celebrity and also on the history of women's progressive self-fashioning. These are provocative women provocatively painted," explains Benedict Leca, the exhibition's curator.

Eighteenth-century viewers appreciated these paintings differently than we do today. In his own time, Gainsborough's portraits of actresses, performers and courtesans were seen as unconventional, even radical, not only because of the women they portrayed but also because of the unconventional way in which they were painted. In his use of provocative postures and slashing brushwork, Gainsborough's portraits of notorious women differed from those of his peers: they were the way he asserted his own place as the premier painter of modern life. The exhibition's thesis is that a special complicity between artist and sitter formed the basis from which both conspired to upend traditional portraiture and calcified gender roles. These women were the leading celebrities of their time, and Gainsborough's portraits helped create that fame.

Thomas Gainsborough and the Modern Womanis organized by the Cincinnati Art Museum in association with The San Diego Museum of Art. The exhibition was conceived by Benedict Leca, the Cincinnati Art Museum's curator of European paintings, sculpture and drawings. Additional curatorial support for the exhibition's presentation in San Diego has been provided by John Marciari, Curator of European art, Julia Marciari-Alexander, Deputy Director for Curatorial Affairs, and Scot Jaffe, Associate Director for Exhibitions and Collections at The San Diego Museum of Art.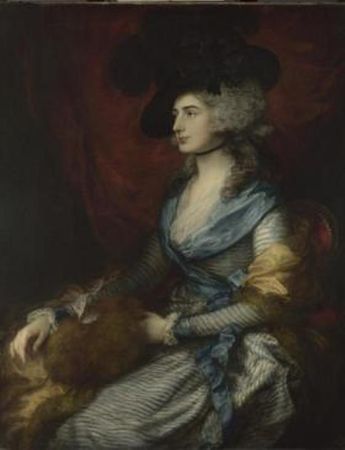 Thomas Gainsborough, Mrs. Siddons, 1785, oil on canvas. The National Gallery, London. Photo: © The National Gallery, London