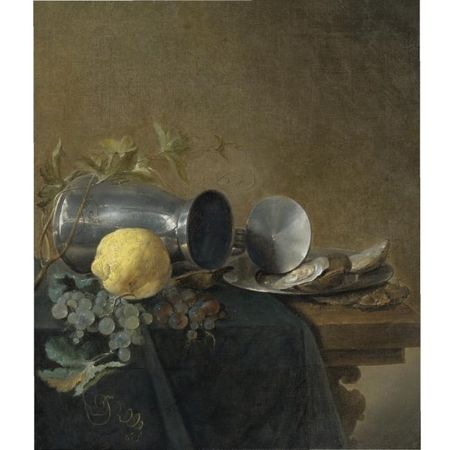 Jan Davidsz. De Heem (Utrecht 1606 - 1683/4 Antwerp), Still Life of a Pewter Tankard, Lemon, Oysters and Grapes. photo Sotheby's
oil on canvas, 21 by 18 in.; 53.3 by 45.7 cm. Estimate 30,000—50,000 USD. Lot Sold 28,125 USD
PROVENANCE: Possibly Elisabeth Murray, Countess of Dysart and John Maitland, 2nd Earl of Lauderdale, Ham House, London, by 1683;
Thence by descent until 1948;
Possibly with Ronald Lee, London, 1953 (perhaps sold by Lee as the agent for Sir Lyonel Tollemache 4th Bt. (1854-1962));
With P. de Boer, Amsterdam, 1963;
From whom acquired by the parents of the present owners.
EXHIBITED: Amsterdam, Kunsthandel P. de Boer, Wintertentoonstelling 1963-1964, 1963-Febrary 15, 1964, no. 13.
LITERATURE AND REFERENCES: Wintertentoonstelling 1963-1964, exhibition catalogue, Amsterdam 1963-4, cat. no 13, reproduced;
I. Bergström, "Another Look at de Heem's Early Dutch Period", in Hoogsteder Mercury, 1988, pp. 44-46, reproduced, figs. 12, 49.
NOTE: The present still life was executed during de Heem's early career, a moment when he is influenced by Pieter Claesz and Jan Jansz den Uyl, but seems to have begun a transition away from his earliest influence in Leiden, Balthasar van der Ast. Here, de Heem employs a palette largely restricted to cool monochrome colors. The simplicity of color is echoed by the seemingly simple arrangment of objects, presented here to the viewer on a draped table. Like so many of his early still-lifes though, the placement of objects displayed is deceptive. The overturned pewter tankard begins a strong horizontal arrangment, completed by the plate of oysters which is placed just off the edge of the table.
De Heem is perhaps best known today for his innovative pronkstillevens or banquet still lifes, executed mostly in his maturity, with their tables heaped with exotic food, silver, sea shells, and other luxury objects. Yet at the same time he never abandoned painting smaller works such as the present work, which though simpler, convey a remarkable sense of the beauty and phsyical presence of the objects depicted.
We are grateful to Fred Meijer of the Rijksbureau voor Kunsthistorische Documentatie (RKD) for confirming the attribution to de Heem's early period, based on photographs. He plans to include the painting in his monograph on the artist.
Sotheby's. Old Master & 19th Century European Art, 28 Jan 11, New York www.sothebys.com