17 février 2011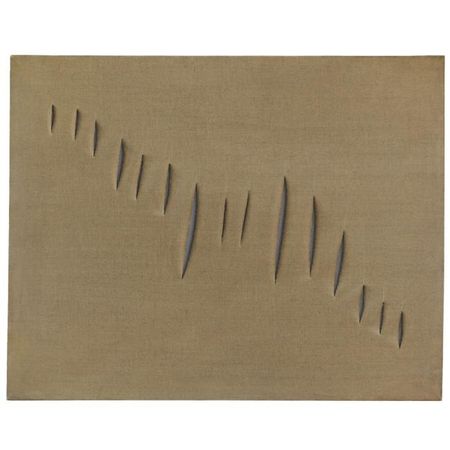 Lucio Fontana (1899 - 1968), Concetto Spaziale, Attese. photo Courtesy Sotheby's
signed, titled and dated 1959 on the reverse, aniline on canvas; 73 by 92cm.; 28 3/4 by 36 1/4 in. Estimate 280,000—360,000 GBP. Lot Sold 397,250 GBP
PROVENANCE: Galleria Notizie, Turin
F. Grosso Collection, Turin
Salvatore Ala, Milan
Acquired directly from the above by the present owner
LITERATURE AND REFERENCES: Enrico Crispolti, Lucio Fontana Catalogue Raisonné, Vol. II, Brussels 1974, p. 80, no. 59 T 18, illustrated
Enrico Crispolti, Lucio Fontana, Catalogo Generale, Vol. I, Milan 1986, p. 279, no. 59 T 18, illustrated
Enrico Crispolti, Lucio Fontana Catalogo Ragionato di Sculture, Dipinti, Ambientazioni, Vol. 1, Milan 2006, p. 447, no. 59 T 18, illustrated
NOTE: Executed in 1959, Concetto Spaziale, Attese represents an early and important work in the development of Lucio Fontana's most iconic series of 'tagli' or 'cuts' on canvas. Exquisitely crafted with disciplined precision and an apparent economy of intervention, the staccato cuts take on a neat parallel rhythm, diagonally traversing the canvas and tracing the course of the artist's hand. Almost meditative in its effect, their linear configuration is both clean-cut and absolute. Celebrating the simplicity of his material and the visual drama of his gestures upon it, Fontana works the canvas like a sculptor, incising and shaping the cuts into the analine soaked canvas. By breaking through the flat picture plane, he creates a contradictory impulse to go beyond the material, into the unknown, fourth dimension. His penetration of the canvas interrogates an imaginary space beneath the surface, evoking infinite depth with each laceration. In Concetto Spaziale, Attese, Fontana succeeds in showcasing the effects of gravity, creating the illusion of mass whilst suggesting a tension in the surface of the canvas. Although the cuts embody a certain degree of violence, the lyrical regularity of the composition, the pattern of pause and silence, restores equilibrium to the work. As Fontana himself, once described: 'with the Concetto Spaziale, I have succeeded] in giving the spectator an impression of spatial calm, of cosmic rigour, of serenity in infinity' (Lucio Fontana cited in: Enrico Crispolti, ed., Fontana, Milan 1999, p.38.)
Concetto Spaziale, Attese marks the mature inauguration of Fontana's Spatialist investigations. Initiated with his publication of the Manifesto Bianco in 1946 which championed art as a means of articulating a 'fourth dimension' in space, Fontana developed a new visual and linguistic category. The 'cuts' series spanned ten years and represented the largest, most varied and most important series of his oeuvre; Concetto Spaziale, Attese is a beautiful and groundbreaking example from this celebrated group.
Sotheby's. Contemporary Art Day Auction, 15 Feb 11, London www.sothebys.com
Commentaires sur Lucio Fontana (1899 - 1968), Concetto Spaziale, Attese.