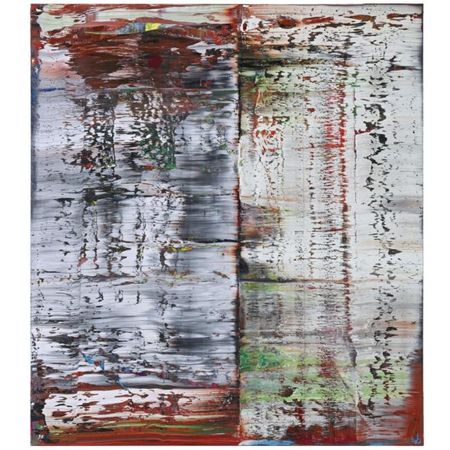 Gerhard Richter (B.1932), Abstraktes Bild. photo courtesy Sotheby's
signed, dated 1990 and numbered 725-1 on the reverse, oil on canvas, 225 by 200cm. Estimate 5,000,000—7,000,000 GBP. Lot Sold 7,209,250 GBP
PROVENANCE: Anthony d'Offay Gallery, London
Private Collection, Dublin
Anthony d'Offay Gallery, London
Marguerite and Robert Hoffman Collection, Dallas
Anthony Meier Fine Arts, San Francisco
Private Collection, Korea
Anthony Meier Fine Arts, San Francisco
Acquired directly from the above by the present owner in 2007
EXHIBITED: London, Anthony d'Offay Gallery, Gerhard Richter Mirrors, 1991, p. 41, no. 18, illustrated in colour
Dallas, Museum of Art, Gerhard Richter in Dallas Collections, 2000
LITERATURE AND REFERENCES: Angelika Thill, et al., Gerhard Richter Catalogue Raisonné 1962-1993, Ostfildern-Ruit 1993, Vol. III, no. 725-1, illustrated in colour
NOTE: 'There are few artists in the contemporary art world whose work has a presence like that of Gerhard Richter's.' (Kasper König and Chris Dercon in: Ulrich Wilmes, Ed., Gerhard Richter; Large Abstracts, Cologne and Munich, 2009)
Gerhard Richter's artistic contribution is internationally considered within the highest tier of this era; his inimitably diverse canon evidencing more than five decades of philosophical enquiry into the core natures of perception and cognition. Indeed, with its poignant critical reflections and groundbreaking advancements, it is undeniable that his output has opened up a wealth of possibilities for the future course of Art History. Since the early 1960s he has considered all genres of painting, delving into and pushing the boundaries of theoretical and aesthetic levels of understanding whilst exploring and challenging the fundamentals of their development. However, his extraordinary odyssey into the realm of abstract painting is often regarded as the culmination of his artistic and conceptual enquiries into the foundations of visual understanding. After decades of exploring the role of painting in relation to competing visual cultures; film and photography; and even painting itself, the emergence of the Abstraktes Bild stands as the crowning achievement of his oeuvre. As Benjamin H. D. Buchloh has highlighted, and as there can be absolutely no doubt, Richter's position within the canon of abstraction is one of 'incontrovertible centrality' (in: Exhibition Catalogue, Cologne, Museum Ludwig and Munich, Haus der Kunst, Gerhard Richter Large Abstracts, 2009, p. 9).
Although the title Abstraktes Bild that Richter has given to the impressive works he has produced since the 1980s is typically translated as 'Abstract Painting', the curator Robert Storr restores the meaning of Bild as 'picture', implying something beyond mere painting, and as this 'reinforces the impression...of shoals, riptides, and cresting waves amid the paintings' scraped and layered pigments' (in: Dietmar Elger, Gerhard Richter: A Life in Painting, Cologne 2002, p. XIII). The present Abstraktes Bild, executed in 1990, is a breathtaking masterwork of this epic cycle. Belonging to the concise 725 series of just five works, which includes examples currently housed in the National Gallery of Victoria, Melbourne (725-3) and Kunstmuseum Bonn (725-5), this museum-quality work is a paragon of the artist's most arresting and seductive language of abstraction. One of Richter's most stylistically stunning works, it measures in excess of two by two metres, thereby functioning on a monumental scale and enveloping the viewer entirely and irresistably into its chromatic expanse. The oil painting is organised by a central 'seam' that runs vertically down the canvas creating two sections that are distinct in terms of the artist's palette. There is a deep earthy red that runs consistently through the entirety of the painting, appearing most prominently around the edges of the canvas and down the central divide, and each side has been worked and re-worked with layers of thick impasto resulting in two subtly different halves that resonate both in concert and strive against each other. Although the present painting is fundamentally non-representational it emanates a shimmering fluidity that evokes a watery reflection or even an oil slick, an effect that the artist achieves by drawing a squeegee horizontally across the canvas creating paint tracks from the central seam to either side of the canvas. Richter's intense manipulation of the surface conjures a sensation of infinite paint layering.
To create this masterpiece Richter used his unique, highly-sophisticated method, as described by Dietmar Elger: 'Richter found a solution – that is, the appropriate form for the abstract paintings – by allowing first for the interplay of planning, composition, and homogeneity and second for spontaneity, arbitrariness, coincidence, destruction, and distance.' (Ibid., p. 251) Conducted through an extensive, time-consuming and labour-intensive process, he began by using several colours to blend a light ground, then would alternate between brush, palette knife and squeegee to generate a vibrant concoction of effects and would finally add what he himself refers to as a subject 'as colourfully and as complicatedly as possible' (the artist in: Ibid.)
Abstraktes Bild is an exquisite demonstration of Richter's employment of the squeegee, which during the later 1980s became his principal and most highly valued tool with which to create abstract paintings. The implement facilitated his desire to introduce spontaneity and chance into his creative approach, as the artist stated himself: 'It is a good technique for switching off thinking' for 'Letting a thing come rather than creating it' (Ibid.). The movements of the squeegee 'seem strangely empty, since they behave visibly indifferently to what they uncover, pull along, wipe, and cause to emerge.' (Gregor Stemmrich in: Exhibition Catalogue, Cologne, Museum Ludwig and Munich, Haus der Kunst, Gerhard Richter Large Abstracts, 2009, p. 31) The marks that Richter creates in his abstract works are essentially meaningless because they have no representational function. According to Richter, these paintings depict 'nothing' and therefore this kind of abstraction is a matter of 'sheer necessity' because it speaks of the real, of the present – and therefore possesses a transcendental quality. (Ibid.)
Richter is celebrated as a pioneer of abstract art. His approach is revered as being of particular significance because of its progressive nature, signifying a critical departure from the iconic geometricity which is the characteristic manifestation of modernist abstraction and a rejection of the expressionistic intentions of the movement's post-war practitioners. Richter's unique painterly abstraction is the remarkable product of a deep and clear understanding of these modes of abstraction and a response to the tension between them and their contrasting histories. Whereas the fundamental roots of the abstraction of Kandinsky and Malevich, for example, were founded on linear and systematic qualities in terms of conception and production, Richter's introduction of chance into his creative process radically undermines these relatively contrived approaches. He does not, however, rely entirely on gestural techniques as had been introduced by the action painting of Jackson Pollock, but maintains a consistent structure (and attention to minute detail within this) in his non-compositional works; essentially producing a sort of calculated chaos. 'Richter's deployment of texture, structure, and gesture in painting deliberately suspends itself between scientific and expressive conceptions of painterly process. It is oscillating with the same deliberation, between painting as an act and painting as an accident, between composition as a result of mere chance encounters of materials and structures, and composition as the tracing of a subject's residual intentionality.' (Benjamin H. D. Buchloh, "Working on the Picture: The Discretion of Gerhard Richter" in: Exhibition Catalogue, Cologne, Museum Ludwig and Munich, Haus der Kunst, Gerhard Richter Large Abstracts, 2009, p. 11)
Abstraktes Bild is arguably the most visually impressive of a number of large abstracts that Richter produced around the same date, several of which, born of the same techniques, share chromatic schemes. Amongst these are three paintings of 1989 titled, November, December and January that are housed in the St. Louis Art Museum, and two paintings of the same year Swan (2) and Swan (3) now in the Philadelphia Museum of Art and the Museum Boijmans Van Beuningen, Rotterdam, respectively. The particularly striking aesthetics of Abstraktes Bild were produced at the height of Richter's technical development. His expert practical ability, most notably a remarkable proficiency when employing his chosen utensils to manipulate the thick layers of oils, is combined with an intellectual sophistication. The result is an exquisite painting that embodies the fully mature aesthetic of the artist's abstract vision and is consequently an imperative work in his diversely abundant oeuvre.
Sotheby's. Contemporary Art Evening Auction, 15 Feb 11, London. www.sothebys.com