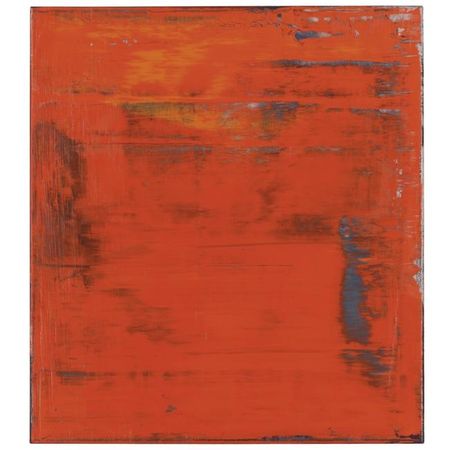 Gerhard Richter (B.1932), Abstraktes Bild. photo courtesy Sotheby's
signed, numbered 850-7 and dated 1998 on the reverse, oil on canvas, 50 by 45cm. Estimate 350,000—550,000 GBP. Lot Sold 657,250 GBP
PROVENANCE: Anthony d'Offay Gallery, London
Acquired directly from the above by the present owner in 1998
EXHIBITED: London, Anthony d'Offay Gallery, Gerhard Richter, 1998, p. 101, no. 850-7, illustrated in colour
Oslo, Astrup Fearnley Museet for Moderne Kunst, Gerhard Richter: The Art of the Impossible - Paintings 1964-1998, 1999, p. 109, illustrated in colour
LITERATURE AND REFERENCES: Exhibition Catalogue, Düsseldorf, K20 Kunstsammlung Nordrhein-Westfalen, Gerhard Richter, 2005, p. 283, no. 850-7, illustrated in colour
NOTE: When Gerhard Richter turned to gestural abstract painting in 1976, he did it vigorously and unapologetically in an environment highly mistrustful of expressionist qualities in picture-making. Richter has since come to personify the genre of contemporary abstract painting. A triumphant act of painting, Abstraktes Bild from 1998, epitomizes the mature achievement that is Richter's abstraction. Contrary to the perceived impulsiveness conveyed by the gestural quality of its surface, the present work is derived from a systematic enterprise and is more in tune with the techniques of the old masters than to those of contemporary artists.
Richter initially confronted abstract painting when he executed a group of vivacious and colourful sketches in 1976, and the present work stems from well over a decade of his investigation into various technical and aesthetic abstract possibilities. Richter's working practice for his Abstract Paintings has been described as remarkably methodical. First, he begins by placing a number of primed white canvases around the walls of his studio, eventually working on several or all of them simultaneously. The painting undergoes multiple variations in which each new accretion brings colour and textural juxtapositions that are reworked until they are completely harmonized. In turn, the viewer is afforded the opportunity to penetrate the canvas while being absorbed by its vast surface area, a referent to the large scale format of both academic painting and the New York School.
Abstraktes Bild's vibrant and brilliant red surface is the product of years of technical experimentation and was executed in the same year as the group of six paintings from 1998 titled Abstract Picture (Rhombus), all included in the 2001 Venice Biennale and now housed in the Museum of Fine Arts, Houston. These works contain technical passages of virtuosity similarly found in the present work. Abstraktes Bild, is characterized by a feeling of density, confusion and romance, but also intense colouristic harmony, lyricism and tonal resonances. These myriad details compressed upon and beneath the painting's surface both reveal and undermine the perceptual depth of the painting. The interplay of colours and the complex layering of the colour are deliberately ambiguous, both seem to reveal and conceal at the same time.
Furthermore, Richter's technique affords an element of chance that is necessary to facilitate the artistic ideology of the abstract works. As the artist has himself explained, "I want to end up with a picture that I haven't planned. This method of arbitrary choice, chance, inspiration and destruction may produce a specific type of picture, but it never produces a predetermined picture...I just want to get something more interesting out of it than those things I can think out for myself." (the artist interviewed in 1990 in: Hubertus Butin, Stefan Gronert, and the Dallas Museum of Art, Eds., Gerhard Richter: Editions 1965 – 2004: Catalogue Raisonné, Ostfildern-Ruit 2004, p. 36). Although constructed to remain devoid of any explicit meaning, the kaleidoscope of bright red hues and techniques act as subliminal triggers for emotional responses, revealing an innate colouristic sensitivity. Despite their appearance, the colours have not been juxtaposed with chance, frenetic gesture but with the artful analysis of what emotional response these juxtapositions would provoke. In Abstraktes Bild, Richter controls the composition through careful contrasts of colour and form, and with the instrument of his inimitable and immediately recognisable technique, deconstructs the act of painting itself.
Sotheby's. Contemporary Art Evening Auction, 15 Feb 11, London. www.sothebys.com