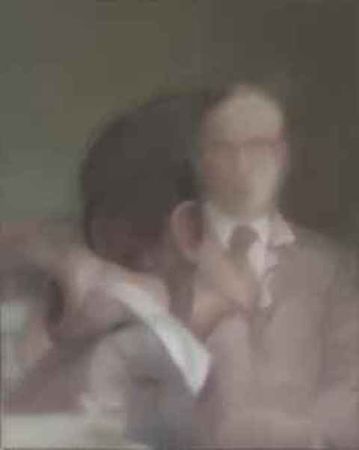 Gerhard Richter (b. 1932), Gilbert & George. Photo: Christie's Images Ltd., 2011
signed, titled, numbered and dated '382/2 Gilbert & George Richter 1975' (on the reverse), oil on canvas 19¾ x 15 7/8in. (50.3 x 40.5cm.) Painted in 1975 Estimate £600,000 - £800,000. Price Realized £735,650
Provenance: Private Collection, Dusseldorf.
Anon. sale, Lempertz Cologne, 31 May 1986, lot 841.
Private Collection, Europe.
Anon. sale, Christie's London, 8 February 2007, lot 25.
Acquired at the above sale by the present owner.
Literature: Gerhard Richter. Bilder, Paintings 1962-1985, exh. cat., Dusseldorf, Städtische Kunsthalle, 1986 (illustrated, p. 192).
B. Buchloh (ed.), Gerhard Richter, Werkübersicht/Catalogue Raisonné 1962-1993, Ostfildern-Ruit 1993, vol. III, no. 382-2 (illustrated in colour, unpaged).
D. Elger, Gerhard Richter, Maler, Cologne 2002, p. 281.
'Gerhard Richter', in Art Press, June 2003 (illustrated in colour, p. 27).
Gerhard Richter, exh. cat., Dusseldorf, K20 Kunstsammlung Nordrhein-Westfalen, 2005 (illustrated in colour, p. 27).
Exhibited: Dusseldorf, Galerie Konrad Fischer, Gerhard Richter. Tourist - Seestücke - Gilbert & George, 1975.
Venice, L Biennale di Venezia, Dreams and Conflicts, The Dictatorship of the Viewer. Pittura/Painting from Rauschenberg to Murakami, 1964-2003, 2003 (illustrated in colour, p. 443).
Notes: Gerhard Richter's enigmatic portrait Gilbert & George was painted in 1975, just as the British artists had established their reputation as being at the forefront of a new breed of conceptual art. One of very few portraits that Richter painted of contemporary artists, this personal depiction of two friends is part of a series of eight works that he painted of the pair. A diptych is in the permanent collection of Tate Modern in London and another single canvas hangs in the National Gallery of Australia in Canberra. The present lot was selected by curator Francesco Bonami to be included in an exhibition examining issues in contemporary painting staged as part of the 2003 Venice Biennale. Appearing through an atmospheric half-light, Richter captures the portraits of Gilbert Proesch and George Passmore as they come slowly into focus, though stopping short of complete clarity. An almost full length portrait of George can be seen front-on while Gilbert's face appears in close-up, in profile. A third face is visible by rotating the canvas ninety degrees in anti-clockwise direction to reveal a much larger head that has been placed along the bottom of the canvas. By painting Gilbert & George in this multi-layered way, executed in his ghostly, almost ethereal style, Richter turns the work away from its photographic roots and into a highly conceptual work that debates the relationship between photography and painting and figuration and abstraction.
Richter met Gilbert and George when the pair held their first exhibition at Konrad Fischer's gallery in 1970. A melting pot of the growing conceptual art movement, the gallery showed most of the significant artists who were involved and although Richter was slightly more established at the time, his post-modern project to de-construct painting was inspiring a number of artists, not least Gilbert & George who were experimenting in a similar way with photography. From their very first meeting Richter saw the artists as kindred spirits, noting... "They were the first people who liked my landscapes. I think that what impressed me most was the way in which they took their own independence as a matter of course" (Richter, quoted by D. Elger, Gerhard Richter: A Life in Painting, Chicago 2009, p. 224). It wasn't until later, at another event at the gallery in 1974, that the pair first approached Richter to discuss painting their portrait. Although the three men had become friends over the intervening years, Richter was not keen on taking on the project and in a bid to deflect them suggested they all meet somewhere in the Alps so he could take their photographs, hoping the pair would be put off by the location. When Gilbert and George promptly agreed Richter finally relented to the idea and arranged a photo shoot in his garden instead. Richter photographed the pair from numerous angles, making a series of double exposures in which their faces appear at jaunty angles and overlapping and folding into each other. Translating these photographic images into paint on canvas in his unique style, Richter turns the everyday object into a sublime work of art, "I wasn't able simply to declare a photograph to be a work of art by saying it out loud. That wouldn't have even been a ready-made" (Richter, quoted in T. Neff
(ed.), Gerhard Richter: Paintings, exh. cat., London, 1988, p. 47).
Gilbert & George is the product of an artistic meeting of minds. Richter's painting of Gilbert and George recalls their own Dark Shadow series from the mid 1970s, in which the pair produced a number of self-portraits using double exposed negatives. In his highly conceptual work, Richter builds on this idea by producing a painting shrouded with ambiguity. Does it take as its source an image of Gilbert and George the artists, Gilbert and George the sculptures, or indeed the photomontage created by Gilbert and George themselves? Has Richter appropriated one of their own images, or used his own photographs to create this portrait? The viewer, simply looking at Gilbert & George, is unable to tell, and this uncertainty is deliberately explored by Richter using his distinctive aesthetic style. Even considering the fact that he did in fact take the source photographs, Gilbert & George can be seen to augment, albeit in an indirect fashion, the oeuvre of those 'living sculptures,' documenting them as it does.
In 1975 Richter was in the middle of a transformative journey from the photo-realist style that dominated his early career, towards a far more expansive de-construction of painting. At this time he was becoming much more engaged with the different vocabularies of painting and style and abstraction was becoming more of a feature. Here the proximity between abstraction and figuration is tested by the double exposure and montage of images, so that an one looks at the painting, different images come into, and fade out of, view. Richter's painting is deliberately ambiguous; its formal qualities successfully mix figurative elements with abstraction and the method of execution begins to question the sustainability of the mutually exclusive relationship between painting and photography. Gilbert & George's paradoxical mix of qualities is quite apt as a means of capturing the essence of both parties involved in the artistic venture. By combining his mastery of the painterly process and personalities of his subjects, Richter produces a highly evocative work that captures the very essence of an exciting period in British and German art.
Christie's. Post-War and Contemporary Art Evening Auction, 16 February 2011, London, King Street www.christies.com