Willem Claesz. Heda (1594-1680), Still Life with Glasses and Tobacco, 1633. Oil on panel, 20 x 29 ¾ inches (50.8 x 75.6 cm). The Rose-Marie and Eijk van Otterloo Collection. Image courtesy Peabody Essex Museum
SALEM, MA.-One of the world's best private collections of 17th-century Dutch and Flemish paintings, including masterworks by Rembrandt, Frans Hals, Gerrit Dou, Jan Steen and others, were unveiled this winter at the Peabody Essex Museum(PEM) in Salem, Massachusetts. Golden: Dutch and Flemish Masterworks from the Rose-Marie and Eijk van Otterloo Collection presents paintings, furniture and decorative arts exceptional for their quality, superb condition and impeccable provenance. As exemplars of the Dutch Golden Age, the works are distinguished not only for the glowing quality of light achieved by the most talented artists of the time, but also for their place in an unsurpassed period of artistic, cultural, scientific, and commercial accomplishment in the Netherlands.
The Van Otterloo collection is on view for the first time in its entirety when the exhibition opened at PEM on February 26, 2011. "We are honored to present the Van Otterloo's exquisite private collection to our visitors for the first time. Golden highlights PEM's continued commitment to presenting outstanding works of art and culture and we are pleased for the opportunity to create an important new publication on 17th-century Dutch and Flemish art. We deeply appreciate the Van Otterloo's generosity for sharing their collection and look forward to the exhibition's national tour," said Dan L. Monroe, PEM Executive Director and CEO.
The 68 exquisite paintings in the Van Otterloo collection - portraits, still lifes, landscapes, history paintings, maritime scenes, city profiles and genre scenes - were created in the 1600s as the Dutch Republic increased in maritime strength and dominated international trade. Elsewhere in Europe, the nobility and the Catholic Church were the principal patrons of the arts, but in the Netherlands, merchants supported artists in unprecedented numbers. Corrigan notes that "the creative revival and widespread patronage of the arts in the Netherlands was by no means limited to paintings. Master craftsmen created works in silver, wood and mother-of-pearl that were equally prized by their collectors." The exhibition also features twenty-three examples of furniture and decorative arts from the Van Otterloo collection. All of these works graced domestic spaces in the Netherlands as people began to invest enthusiastically in fine art and welcome it into their homes.
Isaack Koedijck (1617/18-1668), Barber-Surgeon Tending a Peasant's Foot, c. 1649-50. Oil on panel, 35 ⅞x 28 ⅜ inches (91 x 72 cm). The Rose-Marie and Eijk van Otterloo Collection. Image courtesy Peabody Essex Museum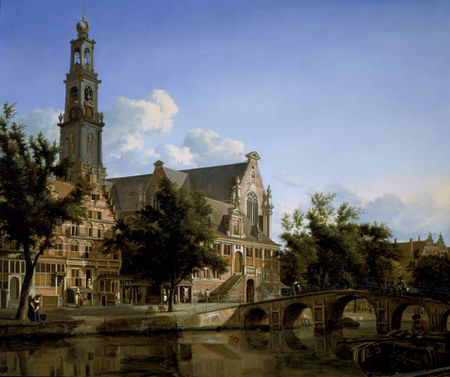 Jan van der Heyden (1637-1712), View of the Westerkerk, Amsterdam, c. 1667- 70. Oil on panel, 21 x 25 ¼ inches (53.5 x 64.2 cm). The Rose-Marie and Eijk van Otterloo Collection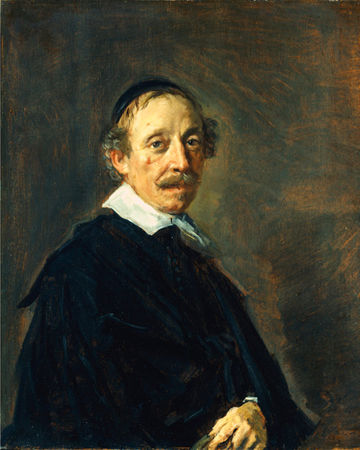 Frans Hals (1582/83-1666), Portrait of a Preacher, c. 1660. Oil on panel, 14 ¼ x 11 ⅞ inches (36 x 30 cm). The Rose-Marie and Eijk van Otterloo Collection
Gerrit Dou (1613-1675), Sleeping Dog, 1650. Oil on panel, 6 ½ x 8 ½ inches (16.5 x 21.6 cm). The Rose-Marie and Eijk van Otterloo Collection. Image courtesy of the Museum of Fine Arts, Boston
Ambrosius Bosschaert the Elder (1573-1621), Still Life with Roses in a Glass Vase, c. 1619. Oil on copper, 11 x 9 inches (28 x 23 cm). The Rose-Marie and Eijk van Otterloo Collection. Image courtesy Peabody Essex Museum
Aelbert Cuyp (1620-1691), Orpheus Charming the Animals, c. 1640. Oil on canvas, 44 ½ x 65 ¾ inches (113 x 167 cm). The Rose-Marie and Eijk van Otterloo Collection
Jacob van Ruisdael (1628/29-1682), View of Haarlem, c. 1670-75. Oil on canvas, 14 x 15 ¾ inches (35.6 x 40 cm). The Rose-Marie and Eijk van Otterloo Collection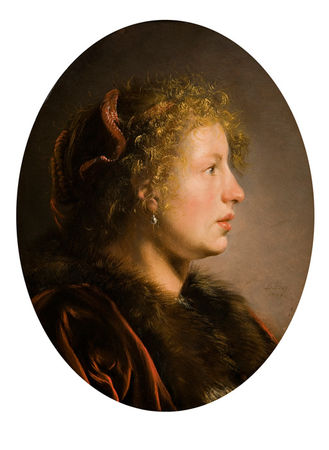 Salomon de Bray (1597-1664), Study of a Young Woman in Profile, 1636. Oil on panel. Oval 10 ½ x 8 inches (26.7 x 20.5 cm). The Rose-Marie and Eijk van Otterloo Collection. Image courtesy Royal Picture Gallery Mauritshuis, The Hague
Adriaen Coorte (Active c. 1665-1707), Still Life with Seashells, c. 1698, Oil on paper on panel, 6 ¾ x 8 ¾ inches (17.2 x 22.2 cm). The Rose-Marie and Eijk van Otterloo Collection. Image courtesy Museum of Fine Arts, Boston
Nicolaes Maes (1634-1693), Sleeping Man Having His Pockets Picked, c. 1655. Oil on panel, 14 x 12 inches (35.5 x 30.3 cm). The Rose-Marie and Eijk van Otterloo Collection. Image courtesy Museum of Fine Arts, Boston
Rembrandt (Harmensz.) van Rijn (1606–1669), Portrait of Aeltje Uylenburgh, 1632. Oil on panel. The Rose-Marie and Eijk van Otterloo Collection. Image courtesy of the Museum of Fine Arts, Boston