02 mars 2011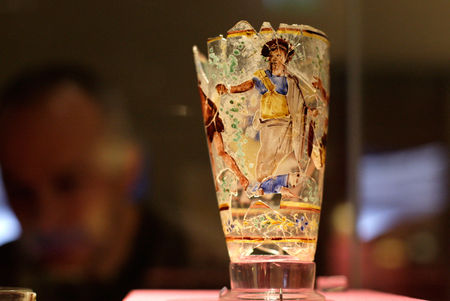 A 1st century AD Roman Egyptian enameled glass goblet discovered in Begram, Afghanistan, is seen on display in an exhibition entitled 'Afghanistan: Crossroads of the Ancient World', at the British Museum in London, Tuesday, March 1, 2011. The exhibition is showcasing over 200 objects belonging to the National Museum of Afghanistan which is currently undergoing reconstruction and accompanied by selected items from the British Museum. AP Photo/Sang Tan.
LONDON (AP).-The British Museum's latest exhibition displays ancient artifacts in gold, glass, stone and ivory from Afghanistan, a country whose fortune, and curse, has long been to lie at a crossroads of cultures, traders, artists and armies.

That these objects have survived for thousands of years is remarkable. That they have survived the last three decades of Soviet invasion, civil war, Taliban vandalism and continuing conflict seems little short of a miracle.

The items in this touring show, whose London leg was being opened Tuesday by Afghan President Hamid Karzai, were thought lost in the destruction of the National Museum of Afghanistan in the 1990s. In fact, they had gone underground, hidden away just before the Soviet withdrawal in 1989 by museum staff, who kept the secret, despite personal risk, during the years of Taliban rule.

"Many times they brought forces to the National Museum (to ask) 'Where are these artifacts?'" said Abdul Wasey Feroozi of Afghanistan's institute of archaeology."We said, 'We don't know.' Nobody gave answers to anybody about where these objects were."

Seventy percent of the museum's artifacts were wrecked or looted during the post-Soviet chaos or destroyed by the fundamentalist Taliban, who demolished much of the country's pre-Islamic art in the belief that it was idolatrous.

But two years after the Taliban regime was toppled by a U.S.-led 2001 invasion, Karzai announced that six safes full of objects had been found in an underground vault in the grounds of the presidential palace. When archeologists and museum curators cut into the cases with circular saws, they found a treasure trove — 22,000 gold items from a 2,000-year-old nomadic burial ground, some of which form the climax of the current exhibition.

"Being in that bank vault was like being in Tut's tomb,"said National Geographic Society archaeologist Fredrik Hiebert, who spent two years cataloguing the treasures and still bubbles with enthusiasm for the find. "It was all unexpected. I had been among the ranks of scholars to say, 'These things are lost.'"

Museum staff, who hadn't seen the items in years and were uncertain of their fate, were ecstatic to find they had survived.

"All of a sudden,"Hiebert said, "the Afghans realized that they themselves had saved their cultural heritage."

The exhibition of that heritage features artifacts from four remarkably different ancient societies, all found within the borders of modern-day Afghanistan — a Bronze Age farming civilization, a classical Greek city, a Silk Road palace and a nomads' cemetery.

They attest to the vast range of influences on the strategically located Central Asian land.

One room features artifacts from Ai Khanum, a Greek city in what is now northern Afghanistan, complete with houses, temples, a gymnasium and an amphitheater. Founded by a general of the Macedonian conqueror Alexander the Great in 300 B.C., it was a piece of Greece on the steppe, whose relics include sundials, the heavy tops of Corinthian columns and a statuette of the hero Heracles.

Also on display are treasures from China, India and the Roman Empire, hidden 2,000 years ago at Begram — present-day Bagram, site of a major U.S. air base north of Kabul. Archeologists are still debating whether it was the warehouse of a merchant moving goods along the Silk Road or the treasures of a palace, hidden for safekeeping during an invasion.

The most dazzling artifacts are also the most surprising, because they belonged to nomadic steppe dwellers who otherwise left few traces of their civilization.

Uncovered in 1978 at a site aptly known to locals as Tillya Tepe, the Hill of Gold, were 22,000 golden objects — crowns, daggers, bracelets, amulets, earrings and bowls — inside the graves of five women and a man from the 1st century A.D.

Adorned with a cross-cultural mix of symbols — Persian lions, Greek heroes, Indian swastikas — they are, Hiebert said, "an art we had never seen before in Afghanistan, a true Silk Road art."

"It was the first window on a whole new culture,"he said. "Unfortunately, that window closed suddenly in 1979."

The motto of the Afghan National Museum is "A Nation Stays Alive When Its Culture Stays Alive," and the exhibition reveals what a difficult process that can be.

The show opens with a small stone statue from the Greek period of a naked boy. Already damaged when it was dug up in 1971, it was restored and put on display in the museum. It was decapitated by the Taliban before being restored and put on display again — headless but proud.

New excavations in Afghanistan remain hampered by war and the huge challenge to national reconstruction.

"Archaeology," Hiebert noted, "is not the highest priority."

The Kabul museum has been restored with the help of international donations. It also receives a share of income from the exhibition, which has already toured Europe and North America — but has gained a new postscript in London.

The final room of the exhibition displays delicately carved ivory inlays, showing scenes of bare-breasted women, exotic animals and mythical beasts that adorned Indian-made furniture built 2,000 years ago.

Like so much else, the ivories were missing and presumed lost, but were recently purchased by a London dealer who handed them back to Afghanistan. They have been restored by British Museum experts and after the exhibition closes will be returned to the Kabul museum.

British Museum director Neil MacGregor said they were a fitting close to the exhibition's story of "creation, of exchange, of destruction and recovery."

"We wanted," he said, "to end on a note of hope."

"Afghanistan: Crossroads of the Ancient World"is at the British Museum in London from Thursday until July 3. By: Jill Lawless, Associated Press.Copyright 2011 The Associated Press.
Gold crown from Tillya Tepe, 1st century AD. Image: National Museum of Afghanistan © Thierry Ollivier / Musée Guimet
This astonishing object was found in the tomb of a nomadic woman. It was designed and assembled from different pieces which allowed it to be folded when not in use. It is the ultimate example of portable nomadic wealth.
Gold bowl from Tepe Fullol, 2200–1900 BC. Image: National Museum of Afghanistan © Thierry Ollivier / Musée Guimet
This fragment was part of a large group of gold and silver vessels found at Tepe Fullol in northern Afghanistan. Its discovery in 1965 suddenly revealed new evidence for the early antiquity of the region. The design on it resembles that of bulls shown in ancient Mesopotamian art – the two regions were connected by trade.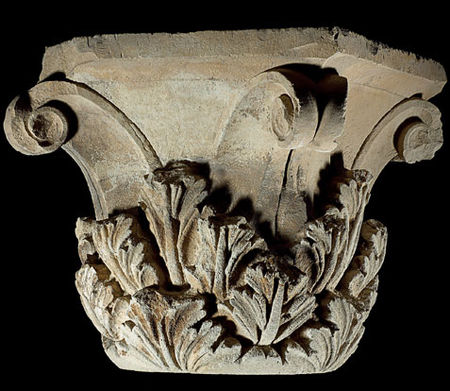 Corinthian capital found at Ai Khanum, before 145 BC. Image: National Museum of Afghanistan © Thierry Ollivier / Musée Guimet
Ai Khanum is the modern name of a Hellenistic Greek city built on the banks of the river Oxus (Amu darya) in the 3rd and 2nd centuries BC. Extensively excavated by French archaeologists in the 1960s and 1970s, it gives an almost complete city plan. The architecture is a combination of local tradition and imported Classical styles.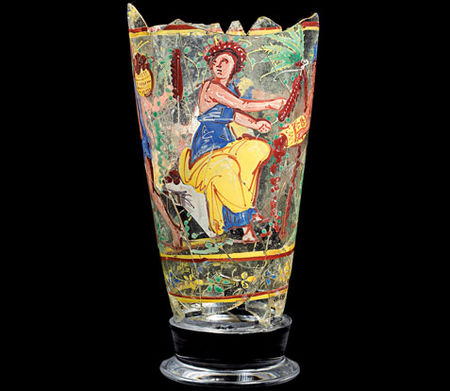 Enamelled glass goblet from Begram, 1st century AD. Image: National Museum of Afghanistan © Thierry Ollivier / Musée Guimet
This was made in Roman Egypt and exported by sea via the Red Sea and Indian Ocean to India. It was then brought overland to Begram which was the summer capital of the Kushan Kingdom. It was found in a storeroom at the heart of a palace. The decoration shows a scene of people harvesting dates.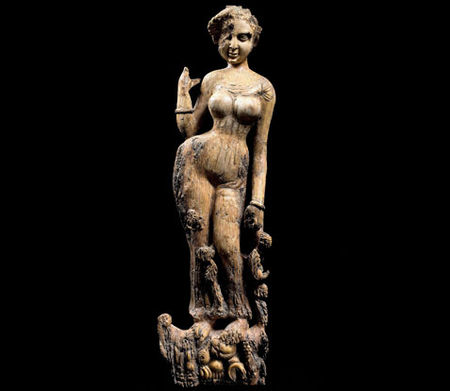 Indian ivory furniture support from Begram, 1st century AD. Image: National Museum of Afghanistan © Thierry Ollivier / Musée Guimet
A large number of heavily decorated pieces of furniture were found in the palace storerooms at Begram. The wood had disintegrated but the ivory and bone inlays survived. These were originally heavily painted. The style of carving suggests they were imported from India.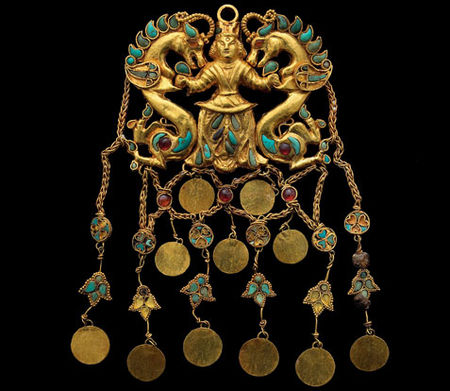 Inlaid gold pendant from Tillya Tepe, 1st century AD. Image: National Museum of Afghanistan © Thierry Ollivier / Musée Guimet
This is one of a pair of identical pendants found in a tomb. It shows a figure subduing a pair of mythical beasts. It is heavily inlaid with different coloured materials, including turquoise, garnet, lapis lazuli, carnelian, and pearl, some of which are long-distance imports. This underlines the position of Afghanistan on the crossroads of the world
Commentaires sur "Afghanistan: Crossroads of the Ancient World" @ British Museum