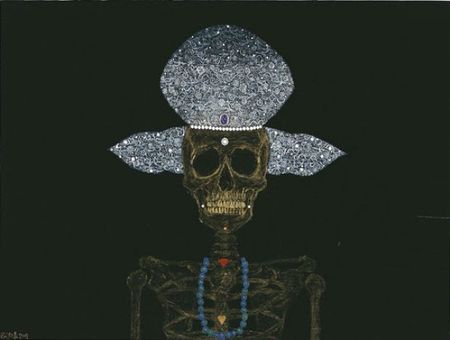 Ouyang Chun, The King's Woman (2008) © Li Liang
VIENNA.- Ouyang Chun's Painting The King is the first institutional one-man show to present the artist, who was born in Beijing in 1974, outside of China. The exhibition is on view from March 2, 2011 and runs June 12, 2011 at Augarten Contemporary. His cycle King, consisting of thirty paintings, some of which are more than five metres long, relates episodes from the life of a king in a breathtakingly painterly diversity, telling about his victories and defeats, about love and death. The pictures, which are partly crowded with figures and rendered in minute detail and partly feature an expressive and impasto brushwork, amalgamate history and fiction, as well as the search for beauty and the description of moral failure.
Ouyang Chun, © Li Liang
Exhibition curator Margrit Brehm: "The artist additionally augments the tension that arises from differences in the painterly rhythm and which marks the hybrid character of his art through the use of gold leaf and gold paint. Although Ouyang Chun thus refers to an old tradition of Chinese art, his pictures are anything but traditional. Their charm lies in the fact that they defy any attempt at categorization, which strikes Western spectators all the more since a large part of contemporary art from China that was on display in Europe in recent years was committed to Political Pop or Cynical Realism and was therefore characterized by a certain degree of predictability.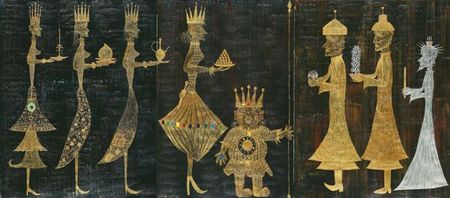 Cherishing the Memory of the Tyrannical King and the Fearless Assasin © Li Liang
Chun's art is different. Its quality lies in its diversity and authenticity, which in the present case indeed means that the artist gives room in his painterly cosmos to exterior influences and inspirations just as self-evidently as he does to his own ideas, dreams, and concepts. The unifying force is painting as such, which Chun pursues with great absoluteness and seriousness.

Grown up in Xi'an, far away from the capital of Beijing, he conquered painting for himself through the process of painting. It is not his unusual talent or his education at the Xi'an Art Academy that account for his art, but his boisterous resolution to find images for what he has to say. Motifs, imagery, and the use of media are subjected to this end, so that his pictures – regardless of their recognizable references to sources in art and reality – emanate a great amount of immediacy.
Gold Crown and Silver Crown (2006) © Li Liang
This paradox is partly responsible for the mixture of fascination and irritation that makes looking at Ouyang Chun's art so stimulating and which becomes particularly manifest in his cycle King, which has been chosen for this exhibition. In adapting the Western language of painting, the artist has created new images for motifs rooted in the Chinese tradition in which the past and the present, East and West, and narration and abstraction are caused to merge."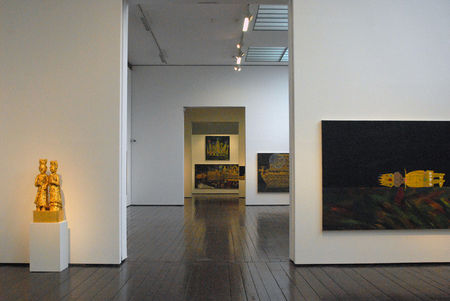 Ouyang Chun - Painting The King Exhibition view © Belvedere, Vienna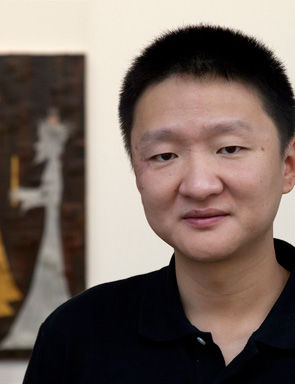 Ouyang Chun © me Collectors Room, Berlin, Photo: Achim Kleuker