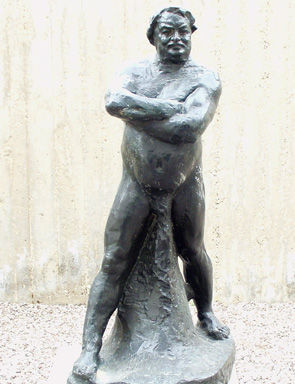 Auguste Rodin, Balzac Nude with Arms Crossed / Study for Balzac Nude / Balzac, etude type C, grand modèle, 1892. Bronze, 127 x 61 x 54.5 cm (50 x 24 x 21.5 in) Signed on base: Rodin; on side of base: Original/no. 1 and Alexis Rudier/Fondeur Paris Billy Rose Collection, Acquired 1966. Image Courtesy of the Israel Museum Jerusalem.
JERUSALEM (AP).- A statue by French sculptor Auguste Rodin was stolen from the Israel Museum during the facility's recently completed renovation, the museum said Wednesday.

The nude bronze of French novelist Honore de Balzac was one of a series of studies Rodin cast for a monument to Balzac on display in Paris. It was donated to the museum in 1966 by the Jewish-American impresario and lyricist Billy Rose.

The museum said the theft was discovered three months ago and immediately reported to police. Police says an investigation is ongoing but would provide no further details.

The statue is 50 inches high by 24 inches wide (127 centimeters high and 61 centimeters wide) and weighs about 140 pounds (about 65 kilograms). It was molded in 1892 and cast posthumously between 1918 and 1926.

Rodin, who lived between the years 1840-1917, is renowned for masterpieces such as "The Thinker" and "The Kiss."

The museum said it could not provide a value for the Balzac piece. But based on Rodin sculptures of similar dimensions put the estimated value of the stolen item at approximately $350,000, according to the Art Loss Register, which specializes in recovering stolen art.

Christopher Marinello, the executive director and general counsel of The Art Loss Register, said it would be very difficult to sell such a high-profile piece of stolen art in the open market without detection.

He said it was most likely that the thieves would move the piece underground, shop it on the black market or ransom it to an insurance company.

"Thieves don't always think about Plan B. If the opportunity arises ... they seize upon the opportunity they have to remove it," he said. "Sadly, many of these bronze items are sold for scrap, as horrific as that may sound." Copyright 2011 The Associated Press.