26 mars 2011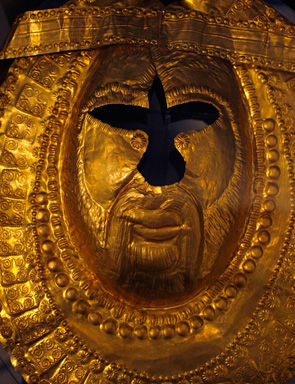 A 5th century B.C. golden mask is pictured at the "Thrace and the Ancient World" exhibition at the National History Museum in Sofia. REUTERS/Stoyan Nenov
SOFIA (REUTERS).- Bulgarian mogul Vasil Bozhkov is opening up his private collection of rare Thracian artefacts, offering a glimpse of a little-known ancient civilization which has left no written records.

"Thrace and the Ancient World" runs until June 21 and shows over 200 artefacts including objects of Greek classical art, some of which are being displayed in public for the first time.

The oldest article in the exhibition dates back to the 15th century B.C.

Not much history has survived of the Thracians, who some experts say lived in what is now Bulgaria, Romania, northern Greece and Turkey's European territory from as early as 4000 B.C. until being absorbed by the Roman Empire in 46 AD.

But archaeologists have discovered a large number of artefacts in Bulgaria's Thracian tombs in recent decades, which provide most of what is known of the civilization's culture, as it had no written language and produced no lasting records.

The centerpiece of the exhibition at the National History Museum is 20 rhytons, drinking vessels each with a pointed end shaped like an animal or an animal's head, for which Bozhkov has a particular passion.

An ardent art collector, he is among the richest businessmen in eastern Europe, with interests ranging from gambling to road construction.

When the exhibition in Bulgaria ends, organizers are considering sending it to The Louvre museum in Paris. (Reporting by Irina Ivanova; Editing by Steve Addison)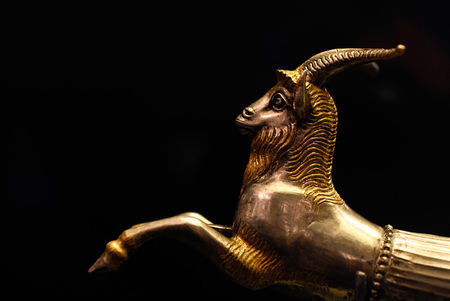 A 5th century B.C. gold-plated silver rython is pictured at the "Thrace and the Ancient World" exhibition at the National History Museum in Sofia. A new exhibition of art from the little-known ancient Thracians, owned by Bulgarian mogul Vasil Bozhkov, opened on Monday in Bulgaria's capital Sofia, showing over 200 artefacts, including objects of Greek classical art, some of which have never been seen before. REUTERS/Stoyan Nenov.
The National Museum of History is the host of the exhibition "Thrace and the Ancient World – Vasil Bozhkov's Collection" which was officially inaugurated on March 21st, 2011. For the first time the Bulgarian audience will be able to see an exposition of one of the richest collections in the world. The exhibition will show over 200 unique exhibits. Exhibitions of the collection have been successfully held in Brussels, Bon and Moscow, rousing great interest. First the Bulgarian connoisseurs will have the pleasure to see masterpieces of the ancient art unshown up to now.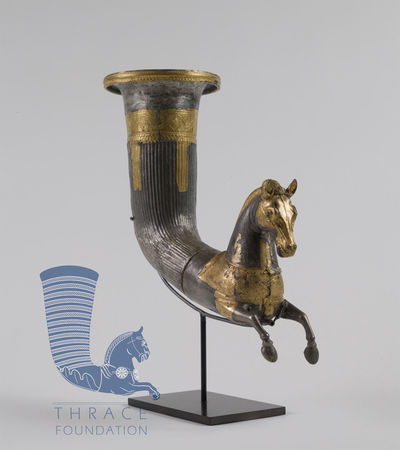 The exhibition displays artifacts from the 15th century BC till the 1st century BC. They show all the periods of the development of the Thracian art. The exhibition starts with a bronze sword from the Late Bronze Age. The Old Iron Age is represented by a gold vessel with protuberances. The exposition also includes a collection of pieces of the Greek Classical art from the second half of the 5th century BC. It displays a few myths unknown up to now in the ancient iconography: for Orpheus, beautiful Helene and Melanipe. The local style in the Thracian toreutics is represented in its all object forms: vessels, horse trappings and helmet decoration. The exposition from the late Hellenic Age perhaps is the richest one among the famous world collections and includes vessels, phiales, phaleras, etc. Magnificent patterns of the Greek vase painting are shown as well. A black – figure crater from the end of the 6th century BC is among them. The exquisite cylixes, rhyta, a sheath for a sword which is silver gilt and decorated with scenes of ancient myths are undoubtedly exceptional masterpieces. The exposition also includes local style in the Thracian art which is shown in all its object forms: weapons, vessels for ritual feasts, ornaments for the ruler's wife and decoration for the ruler's horse. The precious rhyta, dated from the 6th century BC till the 1st century BC illustrate well the development of this object form in the antiquity. The best pieces of them will be shown to the Bulgarian visitors.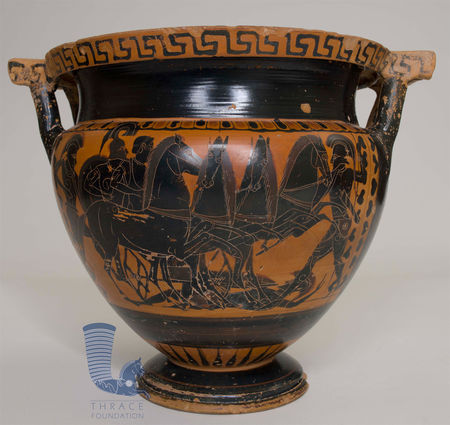 The organizers of the exhibition are "Thrace" Foundation, the National Museum of History and the Alliance of the Collectors.
Commentaires sur "Thrace and the Ancient World – Vasil Bozhkov's Collection" @ National History Museum in Sofia