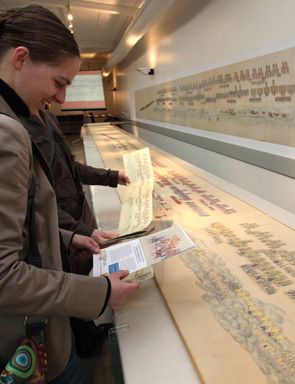 Visitors look on a Qianlong-dynasty painting, representing a military parade, at a action house in Toulouse. AP Photo/Manuel Blondau
PARIS (AP).- A giant 18th-century Chinese silk scroll painting of a military troop review has been sold at auction for more than euro22 million ($30.8 million), the highest auction price for a Chinese work in France.

The work, found in a Paris attic and sold in Toulouse by auctioneer Marc Labarbe, is one of a series of four works of 17th-century maneuvers that mobilized some 20,000 men.

A Hong Kong collector, who asked to remain anonymous, made the winning bid Saturday of euro22,057,000 after a ferocious bidding war with seven others.

The 24-meter-long (78.7 feet) horizontal scroll was painted around 1748 under Emperor Qianlong.

One of the four scrolls is in the Palace Museum of Beijing, and another was auctioned off in 2008 at Sotheby's in Hong Kong — for $67.86 million. Copyright 2011 The Associated Press.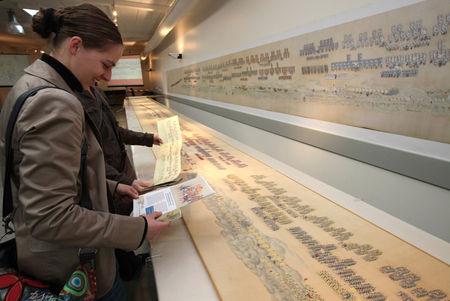 Visitors look on a Qianlong-dynasty painting, representing a military parade, at a action house in Toulouse, south-west of France, Wednesday, March 23, 2011.The Qianlong-dynasty scroll painting was sold Saturday March 26, 2011 in Toulouse, for a record euro22.1 million. US$ 31 million. The price of the 24 meters (79-foot ) scroll, including fees, was the most paid for a Chinese artwork at a French auction. AP Photo/Manuel Blondau
NDB: http://alaintruong.canalblog.com/archives/2011/03/12/20609577.html about this painting
Un rouleau impérial chinois a été vendu 17 millions d'euros samedi 26 mars à Toulouse, lors d'une vente aux enchères.
La pièce, qui appartenait à une famille parisienne, a été acquise par un collectionneur chinois à l'hôtel de Saint-Aubin.

Ce week-end se déroulait le « Week-end au marteau », soit deux journées d'enchères partout en France. Pour l'occasion, deux pièces chinoises d'une valeur dépassant largement le million d'euros étaient proposées à l'hôtel de Saint-Aubin de la Ville Rose par l'expert Marc Labarde.

Un rouleau impérial, datant de l'époque de l'empereur Qianlong (1736-1795) a été adjugé pour 17 millions d'euros, soit 22 057 760, frais inclus. Intitulé « Manœuvres », le rouleau mesure 24 mètres de long pour 69 cm de large. Plus de 9 000 soldats y sont représentés à l'encre et à la gouache. « Manœuvre » est le quatrième rouleau d'une série dénommée « La grande revue » produite à l'occasion du premier recensement militaire du règne de l'Empereur Qianlong. Ce rouleau est le plus important de la série, étant le seul à porter les cachets des peintres, selon l'AFP.

Le rouleau appartenait à une famille parisienne et se trouvait en parfait état. Un deuxième est conservé au musée de Pékin, un autre propriétaire privé en détient un troisième et le quatrième a été détruit. Mis à prix pour 4 millions d'euros, huit enchérisseurs se sont battus avant qu'un collectionneur chinois n'emporte la mise, quatre fois au-dessus de son prix de départ. Il s'agit de la plus haute enchère en France pour un objet chinois, d'après l'Indépendant.
Le Journal des Arts www.artclair.com