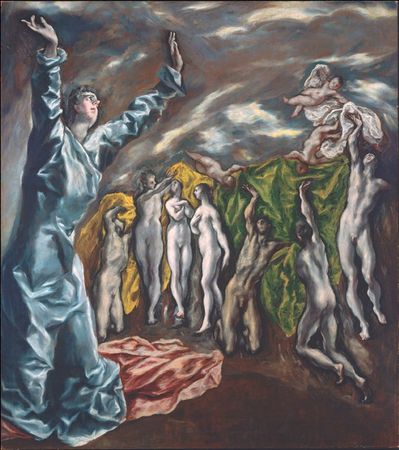 El Greco, The Vision of Saint John. Loaned by: The Metropolitan Museum of Art, New York.
LONDON.- Every month during the Gallery's Bicentenary celebration year a spectacular masterpiece will hang on the end wall of the Gallery's enfilade.

It is difficult to decipher this great, enigmatic masterpiece for not only is it unfinished, but it has also been cut down. Whatever vision Saint John is experiencing clearly inhabited a lost upper section. The subject of the picture is from the Book of Revelation (6:9 - 11): Saint John the Evangelist, in a vision set in Heaven, sees the Lamb (Jesus) opening the Seven Seals. The first four unleash the four horsemen of the Apocalypse, but on the opening of the Fifth Seal (the subject of this image), the martyrs of God, 'under the altar', cry out for justice. Angels hand out the white robes symbolising salvation. How El Greco would have depicted the Lamb opening the Fifth Seal (presumably the subject of the lost upper section) is anyone's guess, but there is no doubt that his interpretation would have been both visionary and dramatic.

This was a very large altarpiece commissioned in 1608 for the Church of the Hospital of Saint John the Baptist in Toledo, but it was listed in an inventory of the contents of the artist's studio after his death in 1614. El Greco's personal artistic journey, from icon-painting in Greece to creating altarpieces for Catholic Spain via the extremes of Venetian mannerism, resulted in one of the most original and unique visual languages of any artist and he produced some of the most intensely painterly and downright strange imagery of his time.

Ironcially, cutting the picture down turned it into one of the seminal influences of the twentieth century. It seemed to Picasso, working on his ground-breaking Les Demoiselles d'Avignon in Paris, that it offered a justification for tearing up the rule book. To this day, The Vision of St John is one of the most arresting images at The Metropolitan.

The masterpiece will be on display from 5 April - 9 May 2011. The accompanying lecture will be given by Rosalind Whyte on 14 April 2011.