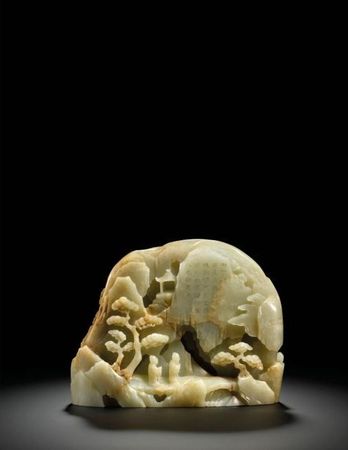 An inscribed Imperial Jade Boulder. Qing dynasty, Qianlong period. Photo Sotheby's
well carved in varying layers of depth with a craggy mountainscape, the front depicting two scholars strolling in a rocky landscape amidst pine trees and below a five-column inscription finely incised in lishu (clerical script), a fast flowing waterfall tumbling over a precipice crossed by a small stone bridge leading to a small pavilion, the reverse carved with an immortal and his attendant walking towards a small thatched pavilion, followed by two deer and surrounded by lofty pine trees, all beside a similar decor as the front with a pagoda, the mountain crags cleverly worked into the natural fissures of the stone of pale celadon-green tone, suffused with light russet and brownish inclusions; 19 cm., 7 1/2 in. Estimate 1,200,000—1,500,000 HKD. Lot Sold 1,460,000 HKD
NOTE: The inscribed poem can be translated as follows:
At a thatched cottage deeply hidden
among ridges and peaks,
Hemmed in by precipitous river cliffs,
I gaze up at the long stretch of sky.
More beautiful here than at other valley mouths
locked up in clouds,
Where on the embankment I've come
to pay a visit to Ge Hong.
Ge Hong (284- 363), the great Daoist author of the Baopu zi ('Sayings of the Master Who Embraces Simplicity'). The emperor in the poem is paying a visit to a contemporary Daoist recluse.
Sotheby's. Vestiges from China's Imperial History, 08 Apr 11 11:00 AM, Hong Kong www.sothebys.com