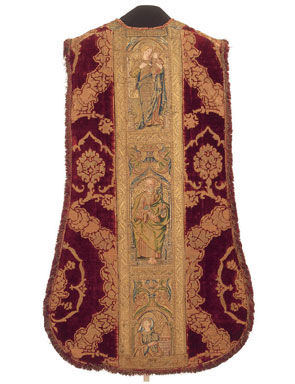 Church vestment (chasuble), Italy. Back, 1700s; velvet, about 1475; orphreys, 1500-1550; silk velvet and silk and metallic threads; length: 45 1/2 inches (115.6 cm). The Orville A. and Elma D. Wilkinson Fund. 74.114.
INDIANAPOLIS, IN.- From court dress to couture, the objects in Material World, on view from April 22 to February 5, 2012 at the Indianapolis Museum of Art, features extravagant ornamentation of textiles and personal adornment from cultures around the world while highlighting the significance of textiles in displaying wealth, status and power. The exhibition showcases items adorned with luxurious materials including gold and metallic threads, beads, shells, mirrors, semi-precious stones, bones, fur and feathers, ranging from a Buddhist bone apron to Dior and Chanel couture pieces, spanning several centuries to the present day.

"Material World juxtaposes exotic textiles from the IMA's extensive collection that are not typically exhibited together, providing a rare opportunity for visitors," said Maxwell L. Anderson, The Melvin & Bren Simon Director and CEO of the IMA. "This exhibition unites some of the Museum's most dazzling pieces to illustrate a theme prevalent in cultures around the world – the relationship between materialism and wealth."

"Since ancient times, dress and other material possessions have indicated a person's status and role in the community," said Niloo Paydar, curator of textile and fashion arts at the IMA. "Material World reveals the allure of exotic materials used to decorate clothing and furnishings in diverse societies. As clothing is the oldest and historically definitive communicator of status, it also serves as an indicator of the differences and commonalities that exist among cultures."

Representing a variety of cultures from Asia, Africa, Europe and the Americas, Material World traces how different societies use luxurious materials in rituals and customs. The exhibition features royal garments, personal attire and furnishings, ceremonial costumes and religious garments.

Among highlights of the exhibition are an intricately embroidered Russian court gown designed by Charles Frederick Worth, a Norman Norell sequin mermaid dress, an Indonesian skirt adorned with cowry shells, a Chinese imperial robe embroidered with gold threads, a Bill Blass snakeskin evening jacket, a Buddhist ceremonial bone apron, a group of fashion and ceremonial feathered hats, an African king's beaded robe, and couture from Dior and Chanel. A selection of ritual textiles include a gold thread Buddhist temple hanging and a velvet Italian chasuble.
Charles Fredrick Worth (designer), English (1825-1895), Imperial Russian court dress, about 1888, silk velvet, lamé moiré, embroidered with clear glass crystals, silver foil, silver strips; length: 47 1/2 in. (skirt). Gift of the Alliance of the Indianapolis Museum of Art.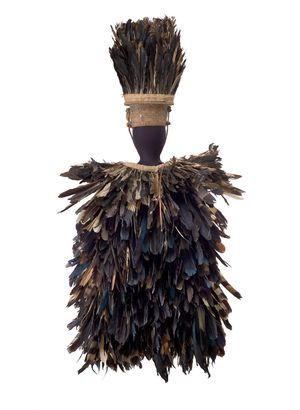 Cloak and headdress for Wenilegei dancers,feather, fiber cloth. Poro culture, Guinean, Liberian; H:of a (cloak)44' | H:of b (headdress)22'. Gift of Mr. and Mrs. Harrison Eiteljorg, 1989.369A-B