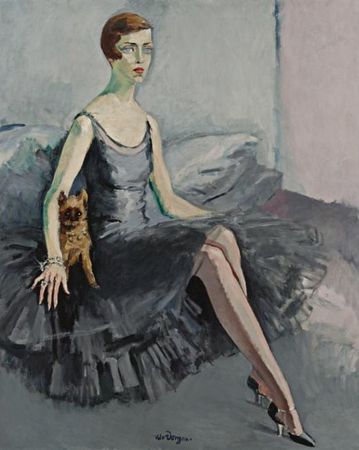 Kees van Dongen (1877 - 1968), Portrait de Mrs. Jean McKelvie Sclater-Booth. Photo Sotheby's
Oil on canvas. Painted circa 1920. Signed Van Dongen (bottom center); signed Van Dongen and inscribed En Paris on the stretcher; 162.5 by 130.2 cm. Estimate 1,000,000—1,500,000 USD. Lot Sold 1,082,500 USD
This work will be included in the forthcoming catalogue raisonné being prepared by Jacques Chalom des Cordes under the sponsorship of the Wildenstein Institute.
PROVENANCE: Mrs. Jean McKelvie Sclater-Booth (commissioned from the artist)
Knoedler Gallery, New York
Sale: Christie's, New York, May 17, 1977, lot 97
Private Collection, United States
Gasiunasen Gallery, Palm Beach
Acquired from the above in 2003
EXHIBITED: Kansas City, William Rockhill Nelson Gallery of Art, 1954 (on loan)
Cambridge, Busch-Reisinger Museum, Havard University Art Galleries, 1966 (on loan)
Palm Springs, Desert Art Museum (on loan)
Roslyn Harbor, Nassau County Museum of Art, European Art between the World Wars, 2004 (titled La Fifille et sa mère)
Roslyn Harbor, Nassau County Museum of Art, Art & Fashion, 2006 (titled La Fifille et sa mère)
NOTE: Van Dongen's fashionable portraits of society doyennes synthesize all that was chic and desirable during the 1920s. To have a portrait painted by van Dongen was a coveted status symbol for the most fashionable women of the era known as the années folles, and this image of the svelte Mrs. Jean McKelvie Sclater-Booth exemplifes what all the fuss was about. Here the sitter is depicted at her glamorous best -- bejewelled, wearing the latest gown straight from the showroom of one of Paris's couturiers and sporting a sophisticated 'page boy' hair cut -- and signifying all that was in vogue for the Modern Woman.
Known as the principal portraitist among the Fauve artists, Van Dongen executed paintings inspired by his visits to the cabarets and cafés where dancers performed in exotic costumes. In 1917, the artist began a relationship with Léa Jacob, also known as Jasmy, who helped launch his career in Parisian fashion circles. In 1922 the couple moved to a new residence at 5 rue Juliette Lamber, the address referred to on the reverse of the present work. Here Van Dongen held exhibitions and Jasmy hosted extravagant parties attended by influential members of society. Writing about this period of Van Dongen's career, Denys Sutton commented: "During the 1920s, Van Dongen became one of the most talked of figures in the French art world and it is only necessary to run through the volume of press cuttings belonging to [his daughter] to be aware of the fact that his name was news. He was a frequent visitor to Deauville, where the smart world gathered, and to the cabarets and restaurants of Paris. What appealed to him about the années folles were their movement and gaiety. He once said: 'I passionately love the life of my time so animated, so feverish! Ah! Life is even more beautiful than painting'" (Denys Sutton in Cornelius Theodorus Marie Van Dongen (exhibition catalogue), Tucson, 1971, p. 46).
Sotheby's. Impressionist & Modern Art Evening Sale,| 03 May 11, New York www.sothebys.com