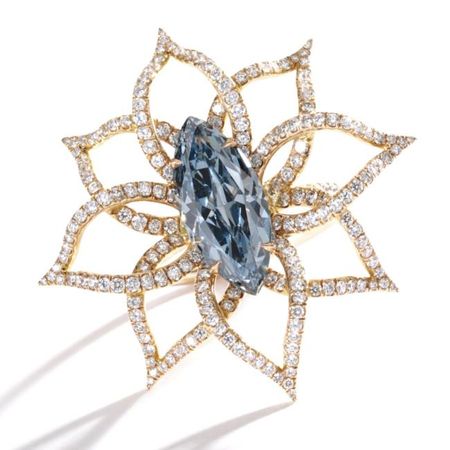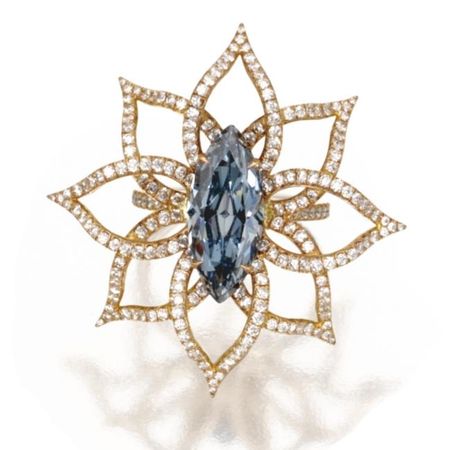 A Magnificent and Rare Fancy Vivid Blue Diamond Ring. Photo Sotheby's
The marquise-shaped diamond of fancy vivid blue color weighing 3.18 carats, within an openwork mounting designed as a flower set throughout with small round near colorless diamonds, mounted in 18 karat pink gold, size 6. Estimate 3,000,000—4,000,000 USD. Lot Sold 3,274,500 USD
Accompanied by GIA report no. 2125196928 stating that the diamond is Fancy Vivid Blue, Natural Color, Internally Flawless.
When Jean-Baptiste Tavernier, the explorer and merchant, sold the French Blue to King Louis XIV in 1668, thus began the world's fascination with blue diamonds. The Hope Diamond, the most famous diamond in the world, is long believed to have been cut from the Sun King's blue gem and its legendary history has drawn millions of people to the Smithsonian Institution every year since 1958. In 2000, to celebrate the arrival of the new millennium, a spectacular collection of De Beers Millennium blue diamonds was exhibited at London's Millennium Dome, shining international attention on one of the earth's rarest natural creations.
Historically blue diamonds were recovered in India and Brazil, but today blue diamonds are primarily mined in South Africa. Their production is limited compared to pink and yellow stones, as the conditions required to form a blue diamond hardly ever occur in nature. Blue diamonds are free from nitrogen, the most abundant element in the atmosphere, and they owe their color to contact with the element boron during formation. The resulting color may range from a pale blue to a dark blue, many with secondary tones of grey. The rarest of the blue diamond grades is fancy vivid blue, a deeper intense blue which balances the tone and saturation of color. The scarce availability of fancy vivid blue diamonds has propelled them to the forefront of the world's most coveted colored diamonds and their occasional appearance at auction is an exceptional opportunity for collectors mesmerized by the beauty and brilliance of this miracle of nature.
Magnificent Fancy Vivid Blue Diamonds Sold at Sotheby's
$1,246,661 per carat, April 2010
De Beers Millennium Jewel II
5.16 carats, Pear-shape, Internally Flawless
$1,349,752 per carat, May 2009
Star of Josephine
7.03 carats, Cushion-shaped, Internally Flawless
$1,328,444 per carat, May 2008
3.73 carats, Pear-shape, VVS1
$1,136,535 per carat, November 2007
4.16 carats, Pear-shape, VS1
$1,321,496 per carat, October 2007
6.04 carats, Emerald-cut, Internally Flawless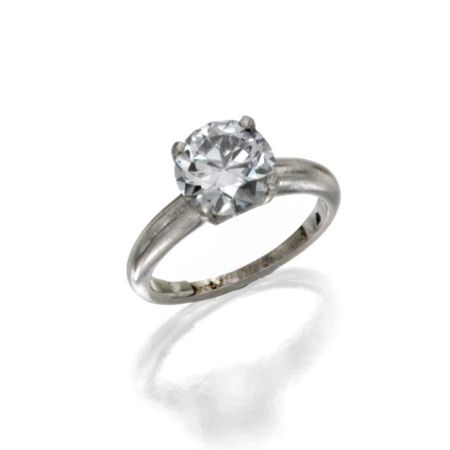 Platinum and Fancy Gray-Blue Diamond Ring. Photo Sotheby's
The round diamond of fancy gray-blue color weighing 1.96 carats, size 4¼.. Estimate 80,000—100,000 USD. Lot Sold 140,500 USD
Accompanied by GIA report no. 11927963 stating that the diamond is Fancy Gray-Blue, Natural Color, SI1 clarity.
Sotheby's. Magnificent Jewels. 14 Apr 11. New York www.sothebys.com