Spectucular pair of gem-set and diamond ear clips, JAR. Photo Sotheby's
Each designed as a stylised articulated feather, set with circular-cut gemstones such as sapphires, garnets, tourmalines and spinels of various sizes and colours, accented with single-cut diamonds, mounted in gold and silver, signed JAR's Paris, French assay and maker's marks, case. Estimate 95,000 - 185,000 CHF
LITERATURE: Cf: JAR Paris, London, 2002 for several examples of jewels of naturalistic inspiration using faceted gemstones in graduated colours.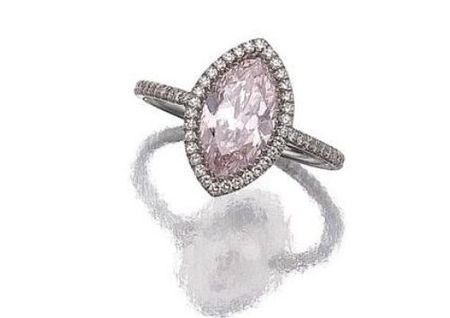 Diamond rIng, JAR. Photo Sotheby's
The marquise-shaped diamond of pink tint to a frame and mount entirely set with single-cut stones, mounted in platinum, size 48, signed JAR, case. Estimate 95,000 - 140,000 CHF.
Diamond Bangle, JAR. Photo Sotheby's
The penannular bangle set with single-cut diamonds arranged in a twisted design, embellished with a tassel of brilliant-cut diamond fringes, unsigned, case. Estimate 48,000 - 85,000 CHF
Diamond ring, JAR. Photo Sotheby's
Of twisted torsade design, set throughout with single-cut diamonds, size 50, unsigned, case. Estimate 9,500 - 14,500 CHF
Note: Widely acknowledged as being the most talented jeweller of his generation, JAR was established on the Place Vendôme in Paris in 1977 by Joël Arthur Rosenthal, better known by his trade name JAR. Born in New York City, Rosenthal studied art history at Harvard University, later working in the film industry and then with Bulgari. Drawing upon the past, but allowing his natural creativity to dominate, he has reinterpreted jewellery as an art form, crossing the boundaries between ornamental jewels and sculpture. JAR's work is always imaginative and beautifully crafted and often incorporates unusual gemstones in brilliant and unexpected combinations. A 10th anniversary celebration exhibition was held in New York in 1987 and a larger highly glamorous retrospective of 400 jewels was on show at The Gilbert Collection, Somerset House in London in 2002.
Sotheby's. Magnificent Jewels and Noble Jewels, Geneva, 17 May 2011, 10:00 AM & 2:00 PM & 7:00 PM www.sothebys.com