10 mai 2011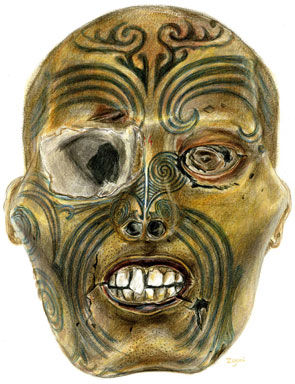 France joins the U.S., Australia and other European countries in returning Maori objects to their native land. AP Photo/Delphine Zigoni; Rouen Museum
Le muséum de Rouen rendra lundi aux Maoris une tête tatouée entrée mystérieusement dans ses collections en 1875. Ce sera la première des 16 têtes maories détenues par des institutions françaises à regagner la Nouvelle-Zélande.
La ville de Rouen avait déjà tenté de restituer ces restes humains en 2007 mais le ministère de la Culture l'en avait empêchée en saisissant la justice administrative. Cette dernière avait donné raison au ministère, estimant que la municipalité n'avait pas respecté la procédure de déclassement de ce "bien" appartenant au domaine public.
La sénatrice de Seine-Maritime Catherine Morin-Desailly avait alors déposé une proposition de loi. Adopté en mai 2010, le texte dispose que "les têtes maories conservées par des musées de France cessent de faire partie de leurs collections pour être remises à la Nouvelle-Zélande".
D'après l'inventaire dressé par le ministère de la Culture, sept têtes maories sont conservées au musée du quai Branly, à Paris, deux au musée de médecine de l'université de Montpellier, une au musée de la Vieille Charité à Marseille, une au musée des Beaux-Arts de Dunkerque et une dans chacun des muséums suivants: Lille, Lyon, Nantes, La Rochelle et Rouen. Le ministère assure qu'elles ne sont plus aujourd'hui exposées.
Les Maoris avaient "coutume de conserver les têtes tatouées des guerriers morts au combat et de les exposer dans un endroit consacré à leur mémoire, où chacun pouvait les vénérer jusqu'au moment où ils estimaient que l'âme du défunt était partie. Les têtes étaient alors inhumées près du village", expliquait Mme Morin-Desailly en juin 2009 lorsqu'elle défendait sa proposition de loi au Sénat.
Or, "à partir de la colonisation de la Nouvelle-Zélande au XVIIIe siècle, l'engouement pour ces têtes fut tel en Europe qu'elles firent l'objet d'un commerce particulièrement macabre", souligne un rapport parlementaire d'avril 2010. Les tatouages étant réservés aux Maoris de haut rang, le nombre de têtes disponibles ne satisfaisait plus la demande des cabinets de curiosité. Si bien que des esclaves furent "capturés, tatoués puis mis à mort", raconte ce rapport.
En 1831, une loi britannique interdit le commerce de ces restes humains vers l'Australie, alors plaque tournante du trafic, mais des têtes maories se trouvent déjà un peu partout en Europe et aux Etats-Unis.
Le muséum de Rouen ne sait pas grand-chose de celle qui lui a été offerte en 1875. "C'est une énigme", résume son directeur Sébastien Minchin, dans un entretien téléphonique à l'Associated Press. La tête maorie a été donnée "par un certain Drouet, habitant à Paris", dont on ignore le prénom et la profession.
Jusqu'à la fermeture du musée pour raisons de sécurité en 1996, la tête tatouée était exhibée dans une vitrine ethnographique, dans la même salle que les collections préhistoriques. Le muséum était en effet resté "dans son jus 1900", explique le directeur: "On comparait, tel que ça se faisait à l'époque, le 'sauvage' du bout du monde (avec) notre homme des cavernes local".
Sébastien Minchin prend la direction du muséum en 2006, supervisant six mois de rénovations. Découvrant la tête, il se dit que "l'exposition d'un reste humain tel que celui-là peut poser des problèmes vis-à-vis des Maoris et vis-à-vis du public". La tête reste donc en réserve lorsque le musée rouvre ses portes en 2007. Et Rouen tente de la rendre à la Nouvelle-Zélande, qui la réclame depuis les années 1980.
La Suisse, la Grande-Bretagne, le Danemark, les Pays-Bas, l'Allemagne, l'Argentine et l'Australie ont déjà restitué plus de 320 restes humains maoris sur les quelque 500 dispersés à travers le monde, selon le rapport parlementaire.
La France, elle, a buté sur un obstacle: les restes humains conservés dans des musées sont considérés comme biens culturels ou scientifiques. Déjà en 2002, le Parlement avait dû voter une loi spéciale pour que puisse être restituée à l'Afrique du Sud la dépouille mortelle de Saartjie Baartman, surnommée la "Vénus hottentote".
L'obstacle n'était pas uniquement légal, considère Sébastien Minchin. Il confie qu'on lui a reproché d'avoir ouvert la "boîte de Pandore" en voulant rendre la tête maorie rouennaise: "Il y a une peur de vider les musées, il y a une peur d'avoir des demandes de restitution d'autres restes humains, et notamment des momies égyptiennes".
La loi votée il y a un an porte exclusivement sur les têtes maories.
Wellington se réjouit de ce dénouement, préférant ne pas s'appesantir sur les lenteurs de Paris. "Ce n'est pas tous les jours qu'on a un changement législatif pour rendre une telle chose possible", souligne Victoria Hallum, conseillère à l'ambassade de Nouvelle-Zélande à Paris. Et d'ajouter, tout en diplomatie: "On apprécie beaucoup le geste".
Rien de concret n'a encore été annoncé pour les 15 autres têtes tatouées. Cependant, Victoria Hallum assure que l'ambassade est en liaison avec le ministère français de la Culture "afin que toutes les têtes soient rendues à la Nouvelle-Zélande". AP. Cécile Buisson
ROUEN, FRANCE (AP).- A French museum has returned the mummified and tattooed head of a Maori to New Zealand officials after spending 136 years in a Normandy museum, a belated gesture to restore dignity to the first of 16 such human heads once displayed as exotic curiosities.

Representatives of New Zealand's native Maori people sang traditional songs during an elaborate ceremony at Rouen City Hall to hand over the head to New Zealand diplomats, the first to be returned from of a total of 16 in France.

"It's truly a solemn and symbolic day," New Zealand ambassador Rosmary Banks said. "We are very happy at the return" of the tattooed head after so many years in Rouen, Banks said.

For years, New Zealand has sought the return of Maori heads kept in collections abroad, many of which were obtained by Westerners in exchange for weapons and other goods.

Dozens of museums worldwide, though not all, have agreed to return them. Maori, the island nation's indigenous people, believe their ancestors' remains should be respected in their home area without being disturbed.

Michelle Hippolite, a Maori spiritual leader and co-director of the museum in Wellington that will take possession of the head, welcomed the return. She said that the other 15, now at museum all around France, will be returned in 2012.

Hippolite said that "though it may appear" that Rouen's museum is losing part of its collection, it is gaining "an ongoing relationship with a modern people, a people of its time who are tenacious, a people of its time who are courageous."

The Rouen Museum tried once before, in 2007, to return the head but was stopped at the last minute by the Culture Ministry of France. France considers human remains conserved in museums to be part of its cultural or scientific heritage. A law was passed last year allowing the return of the heads.

French Sen. Catherine Morin-Desailly authored the bill to return the heads. Scientists at Wellington's Te Papa museum will attempt to identify the head's tribe, after which it will be returned to the tribe for burial.

Some Maori heads, with intricate tattoos, were traditionally kept as trophies from tribal warfare. But once Westerners began offering prized goods in exchange for them, men were in danger of being killed simply for their tattoos, French museum officials have said.

Little is known about how the Rouen Museum acquired a Maori head in 1875, offered by a Parisian named Drouet.

"It's an enigma," said museum director Sebastien Minchin, adding that neither Drouet's full name nor profession is known.

The head has not been displayed since 1996, when the museum was closed for a decade. Prior to that the head was displayed with the prehistoric collection.

"As was done at the time, they compared the 'savage' from the other side of the world with our local cavemen," Minchin said in a telephone interview.

It isn't known whether the Rouen museum's head belonged to a warrior or a slave.

The head will be first taken to London where New Zealand officials are collecting other Maori heads that have been returned from collections in Germany, Sweden and Norway, before being flown to New Zealand, where they will be handed over during a ceremony at the Te Papa museum on Thursday.

So far the Te Papa museum has repatriated more than 180 ancestral remains from 12 countries. Museum officials estimate that there are still more than 500 around the world.

When Minchin became director in 2006 and discovered the head, he decided to store it because exposing it "could pose problems" for both the Maoris and the public.

Minchin said that the problem goes beyond legal issues in France. He said he was criticized for opening "Pandora's box" when he first tried to return the head.

"There is a fear of emptying our museums," he said. "There is a fear of restitution demands for other human remains, and notably Egyptian mummies."

France passed a special law before the 2002 return to South Africa of the skeleton and bottled organs of Saartjie Baartman, a 19th century African woman exhibited in Paris and London, sometimes in a cage, sometimes dressed in feathers, under the pejorative nickname, "the Hottentot Venus." Copyright 2011 The Associated Press.
Commentaires sur La France restitue à la Nouvelle-Zélande la première de ses têtes maories